ANU hack details / Singapore's 'fake news' law comes into effect / Sydney IT contractor arrested over Landmark White data breach


Follow us on Twitter. The Daily Cyber Digest focuses on the topics we work on, including cyber, critical technologies & strategic issues like foreign interference.
The ANU hack came down to a single email — here's what we know. ABC News

Singapore's new law to combat "fake news" has come into effect despite criticism from tech giants and activists, who labelled the tough rules a "chilling" attempt to stifle dissent. The Guardian

Sydney IT contractor Stephen Grant was arrested on Wednesday following the high-profile cyber attacks targeting Landmark White, a property firm he had worked with for 12 years. The Sydney Morning Herald
ASPI ICPC
Mind your tongue: Language, public diplomacy and community cohesion in contemporary Australia–China relations
ASPI ICPC
John Fitzgerald
As Australia is compelled to engage a more confrontational China, there's a risk that political commentary and media reporting on China's influence and interference operations in Australia could affect Chinese-Australian communities adversely. What can well-meaning Australians do to help? And how can Chinese-Australian communities be enlisted as equal partners in meeting the challenges ahead?
Australia's Cyber Strategy, version 2.0
ASPI ICPC
Back in 2016, Australia launched its first national cybersecurity strategy. The strategy covers a four-year period to 2020, and given the changes in the security environment, an update is now clearly warranted. To that end, the government has just launched a discussion paper to kick off the public consultation. The closing date for submissions on the discussion paper is 1 November.To complement the public submission process, ASPI's International Cyber Policy Centre is initiating a public debate on what should be included in the next cybersecurity strategy. Contributions will be compiled into a report that we will deliver to the Department of Home Affairs to inform the strategy's development. Follow the debate here.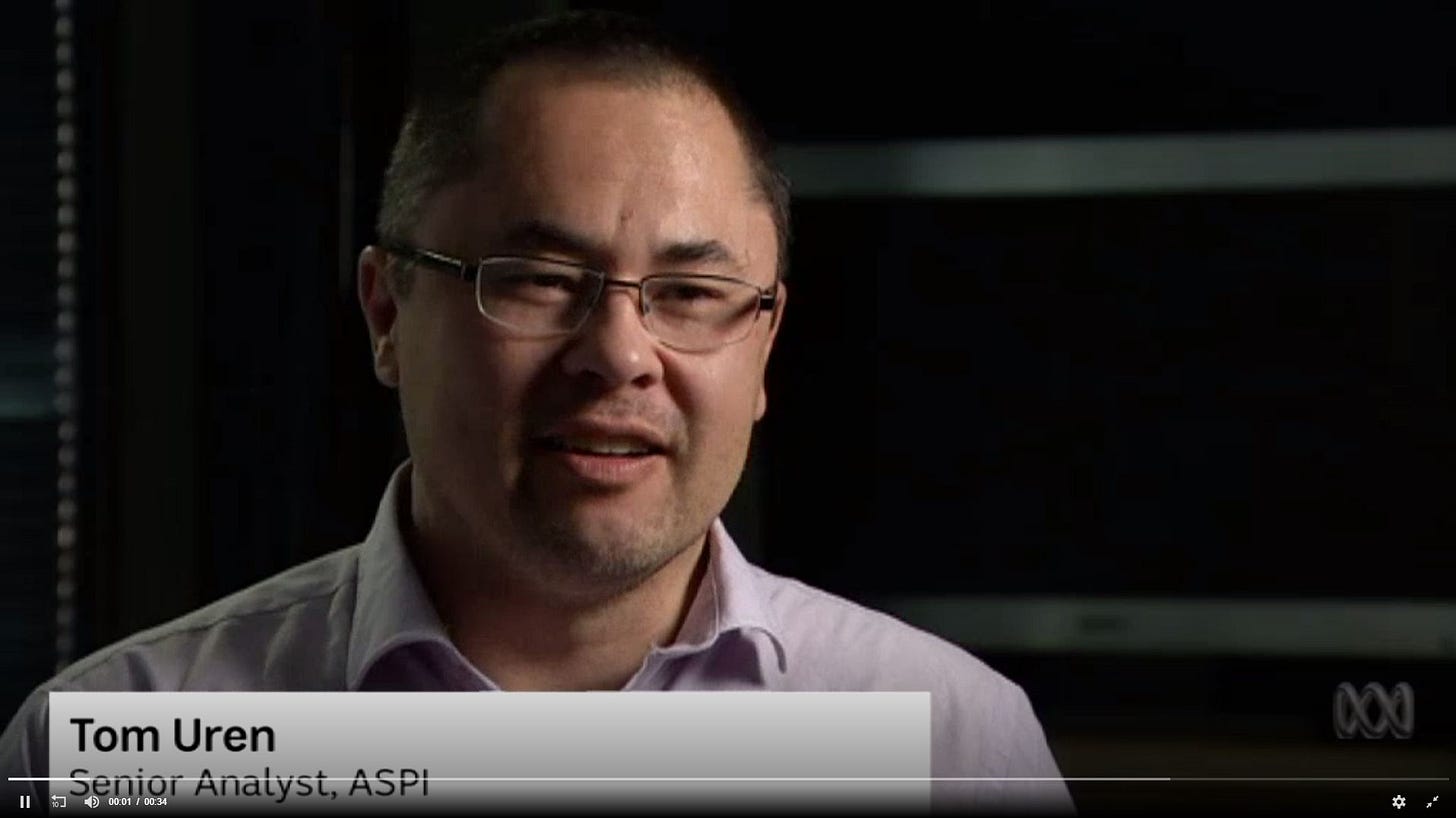 Tom Uren, a senior analyst with the Australian Strategic Policy Institute (ASPI), tells the ABC the evidence points towards China as a culprit behind the ANU hack.
The hack on a prestigious Australian university with far-reaching international implications.
ABC News
@StephieBorys
The ANU has refused to single out any one country. But Tom Uren, a senior analyst with the Australian Strategic Policy Institute (ASPI), said the evidence pointed to one suspect. "It's likely to be China, frankly, they've got strong interests in Australia for a number of different reasons," he said. "We're part of the Five Eyes alliance so there's a relationship with American military and intelligence. Canberra is the heart of government and there's many students at the ANU that go on to work in government. "Plus, there's also a lot of Chinese students who come to Australia to study and one theory that's been told to me is that perhaps the Chinese Government wants to keep tabs on what its students in Australia are doing as well."
ANU hack shocking in its precision, report finds
The Australian
@bennpackham
The director of the Australian Strategic Policy Institute's international cyber policy centre, Fergus Hanson, said he also believed China was the prime suspect. "It does speak very strongly to the probability that it is a state actor behind the attack. It also suggests the state actor was interrupted and was quite persistent in trying to get in when they were interrupted. "The obvious candidate is China, but there is not any evidence there that says this is definitely China."
Like a diamond heist': How hackers got into Australia's top uni
The Canberra Times
@Sherryn_G
Shoebridge thinks attribution, where possible, is important. "This should serve a lesson for all institutions, especially universities and good on ANU for publishing it," he says. "But it shouldn't be on them to take on foreign governments. Australia needs to attribute attacks like these. If you catch a burglar in your house, pretending it didn't happen just encourages them to come back the next night."
Australia
Trusted inside access': Sydney IT contractor arrested over Landmark White data breach
The Sydney Morning Herald
@sallyrawsthorne @lucycormack
Property valuations, personal details and driver's licences of a combined 275,000 individuals were made "readily available on the dark web" by a trusted contractor of a leading property valuation firm. Sydney IT contractor Stephen Grant was arrested on Wednesday following the high-profile cyber attacks targeting Landmark White, a property firm he had worked with for 12 years.
China
Chinese-linked hacking group gets crafty to avoid detection
Cyber Scoop
@shanvav
Over the last several months, Chinese-linked hackers have been targeting a Southeast Asian government using simple spearphishing emails and hundreds of malicious documents with a focus on consistently changing their tactics to avoid detection, according to Check Point research.
China's New Cybersecurity Program: NO Place to Hide
China Law Blog
Steve Dickinson
The Chinese government has been working for several years on a comprehensive Internet security/surveillance program. This program is based on the Cybersecurity Law adopted on 2016. The plan is vast and includes a number of subsidiary laws and regulations. On December 1, 2018, the Chinese Ministry of Public Security announced it will finally roll-out the full plan.
USA
US hospitals turn away patients as ransomware strikes
BBC News
Three US hospitals have been forced to temporarily close their doors to "all but the most critical new patients" following a ransomware outbreak.
Ahead of 2020, Facebook Falls Short on Plan to Share Data on Disinformation
The New York Times
@daveyalba
Nearly 18 months later, much of the data remains unavailable to academics because Facebook says it has struggled to share the information while also protecting its users' privacy. And the information the company eventually releases is expected to be far less comprehensive than originally described. As a result, researchers say, the public may have little more insight into disinformation campaigns on the social network heading into the 2020 presidential election than they had in 2016.
FBI investigating alleged hacking attempt into mobile voting app during 2018 midterms
CNN
@kevincollier
The FBI is investigating after someone allegedly tried to hack into West Virginia's mobile voting app during the 2018 midterm elections. One or more people allegedly attempted to hack into Voatz, an experimental app that lets voters who are active military or registered to vote abroad cast their votes from their phones, Mike Stuart, the US attorney for the Southern District of West Virginia, announced Tuesday.
The FBI is running Facebook ads targeting Russians in Washington
CNN
@donie @davidgshortell
The FBI is running ads on Facebook in the Washington DC area seemingly designed to target and recruit Russian spies as well as those who know about their work, CNN has learned.
How ICE Picks Its Targets in the Surveillance Age
The New York Times
@McKenzieFunk
After two officers came to a Pacific Northwest community, longtime residents began to disappear — a testament to the agency's quiet embrace of big data.
Science and Technology Cooperation: Reevaluating Assumptions, Risks to Research, and a Way Forward - United States Department of State
United States Department of State
David R. Stilwell U.S. Assistant Secretary of State for East Asian and Pacific Affairs
This is the backdrop for the alarm raised in recent years by government agencies, NGOs, and academics about challenges they face in international S&T cooperation with China.
South & Central Asia
Chilling': Singapore's 'fake news' law comes into effect
The Guardian
Singapore's new law to combat "fake news" has come into effect despite criticism from tech giants and activists, who labelled the tough rules a "chilling" attempt to stifle dissent. The law gives government ministers powers to order social media sites to put warnings next to posts authorities deem to be false, and in extreme cases get them taken down.
UK
Huawei buys access to UK innovation with Oxford stake
FT
Huawei has bought a stake in the company that commercialises research at Oxford university, giving the Chinese telecoms maker access to some of the most promising early stage technology developed by British academics.
Middle East
Iraq blocks Facebook, Twitter, WhatsApp and Instagram, then shuts down internet amid civil unrest
Netblocks
Iraq has blocked Facebook, Twitter, WhatsApp, Instagram and other platforms as of 12:30 UTC amid growing unrest as protesters approach Green Zone; network data show multiple providers affected; incident ongoing.
Islamic State 2.0 and the information war
The Strategist
@SlaughterAM @AshaCastleberry
Similarly, the resurgent IS 2.0 uses press releases and social-media savvy to spread its influence worldwide and recruit foreign fighters, sympathisers and financial backers. In April, for example, the group released a video of its leader, Abu Bakr al-Baghdadi, who claimed responsibility for the deadly Easter Sunday bomb attacks in Sri Lanka. IS's global media operation also produces Soldiers Harvest II, an upgraded weekly publication covering the group's military operations.
Misc
Watch Steve Jobs Assure People In 1981 That Computers Wouldn't Be A Privacy Nightmare
Gizmodo
@paleofuture
From the perspective of the early 21st century, it's safe to say that computers have been a privacy nightmare. Our world is so interconnected by machines that corporations, governments and almost anyone can find out almost anything they want about an average citizen thanks to our digital footprints. But the late Apple cofounder Steve Jobs gave an interesting ABC News Nightline interview in 1981 where he assured people that privacy wouldn't be a problem if people became computer literate. The newscast, hosted by Ted Koppel and currently available on YouTube, opens with a fascinating snapshot of the era, and I highly recommend watching the entire 12-minute segment.
Events
The Digital Revolution in the Pacific
ASPI ICPC
ASPI's International Cyber Policy Centre warmly invites you to attend a panel discussion to consider how governments and businesses in the Pacific Islands are reaping the benefits and tackling the challenges stemming from increased internet and mobile connectivity.
The rise of information warfare: in-conversation with Peter W. Singer
ASPI ICPC
ASPI's International Cyber Policy Centre invites you to an in-conversation with Peter W. Singer and Danielle Cave to consider the rise of information warfare. Peter Warren Singer is strategist and senior fellow at New America. He has been named by the Smithsonian as one of the nation's 100 leading innovators, by Defense News as one of the 100 most influential people in defense issues, by Foreign Policy to their Top 100 Global Thinkers List, and as an official "Mad Scientist" for the U.S. Army's Training and Doctrine Command. A drinks and canapes reception will conclude the event. This event is kindly supported by Microsoft.
Cyber Security Hypothetical – Panel
UNSW
We invite you to join us on 22 October, in challenging paradigms and provoking discussion around this important topic that impacts and targets us all. Cyber Security Hypothetical will be led and moderated by Mr Steve Wilson and panellists will include MAJGEN Marcus Thompson, Professor Michael Frater, Mr Alastair MacGibbon, Ms Kate Carruthers and Mr Justin Warren.