Apple and Google team up to fight COVID | London believes it needs to rethink China | Beijing's social media ad buy.


Follow us on Twitter. The Daily Cyber Digest focuses on the topics we work on, including cyber, critical technologies & strategic issues like foreign interference.
ASPI ICPC



Canada and France say donations of coronavirus masks won't influence decisions on Huawei and 5G
CNBC
@ArjunKharpal @FRyan
"It would be naive in the extreme to think that these efforts were totally altruistic," Fergus Ryan, an analyst at the Australian Strategic Policy Institute (ASPI), told CNBC. "Inevitably, these large Chinese corporates — like large corporates from any other country — would be aligning this largesse with their own commercial goals."
World
We need mass surveillance to fight covid-19—but it doesn't have to be creepy
MIT Technology Review
This is a chance to reinvent the way we collect and share personal data while protecting individual privacy.
Cybercrime May Be the World's Third-Largest Economy by 2021
DarkReading
@MarcWilczek
The underground economy is undergoing an industrialization wave and booming like never before.
UN's partnership with Tencent at odds with its push for global unity
Financial Times
But the UN's partnership with Tencent has given privacy campaigners cause for concern. For one thing, it means sending global conversation data — at some points unencrypted, and so visible to Tencent — through a country known for its invasive line on privacy.
Australia
Beyond cybersecurity: China's 'discourse power' and the Indo-Pacific
Young Australians in International Affairs
Leveraging its existing cybersecurity infrastructure, Australia can lead regional awareness of China's growing cyber and discourse power across the Indo-Pacific.
China
China Pushes Viral Messages to Shape Coronavirus Narrative
Wall Street Journal
China has been buying up ads on U.S. social-media sites and adopting online tactics reminiscent of Russian disinformation campaigns in an apparent attempt to shape the story internationally about the coronavirus response, according to researchers analyzing the activity.
China Bans Sales of Animal Crossing as Feature Likely Triggers Censorship
PingWest
The ban likely came after gamers were found using a pattern creation feature of Animal Crossing to draw up and share materials that are generally sensitive on the Chinese internet, including political slogans and portraits of senior leaders.
Linux Security: Chinese State Hackers May Have Compromised 'Holy Grail' Targets Since 2012
Forbes
@happygeek
For the best part of the last decade, according to a new report from the BlackBerry research and intelligence team, advanced hackers working in the interests of China have been attacking Linux targets with a lot of success and little to no detection.
For China, the 'USA Virus' Is a Geopolitical Ploy
The Atlantic
State-sponsored media have long played a role in geopolitical power games. In the present day, white propaganda has expanded to include the social-network presences of official channels, as well as the individual accounts of bureaucrats and top politicians. Sometimes, the messages these outlets carry are meant for a regime's own citizens; other times, the outside world.
Chinese victims' families struggle to access digital legacies
Financial Times
Ms Liu has so far struggled to get access to her aunt's accounts. And she is not alone. In China at least 3,336 have died, often suddenly, of Covid-19, according to official figures that are likely be underestimated. Compared to the Sars epidemic 17 years ago, before the dawn of social media and digital financial services, their closest of kin have an additional worry — what to do with their loved ones' online assets and accounts, or "digital legacies".
VC investment in China's tech sector down more than 30 per cent in first quarter as coronavirus takes its toll
The South China Morning Post
@YujieXuett
The number of investment deals also fell, from 1,143 in the first quarter last year to 634 in the same period this year, representing a 44.5 per cent decline.
China clamping down on coronavirus research, deleted pages suggest.
The Guardian
@skirchy @lilkuo
China is cracking down on publication of academic research about the origins of the novel coronavirus, in what is likely to be part of a wider attempt to control the narrative surrounding the pandemic, documents published online by Chinese universities appear to show.
United States
Open standards, not sanctions, are America's best weapon against Huawei
The Economist
America needs a new way to deal with the Chinese telecoms giant. Its own tech industry points the way.
Experts: Internet voting isn't ready for COVID-19 crisis
CyberScoop
Internet technologies are set to play a critical role in the 2020 presidential election, but precisely which voting alternatives will be pursued – and whether they can adequately be secured – is now a $400 million question.
Pentagon bristles at anti-American rhetoric in foreign coronavirus reports
CyberScoop
U.S. military officials are criticizing foreign governments for spreading disinformation related to the coronavirus pandemic. In the latest example of the Pentagon trying to mitigate foreign propaganda, U.S. officials admonished the governments of Russia, China and Iran for leveraging the international COVID-19 outbreak to summon anti-American sentiment.
US DoD Declares "Can No Longer Do Business" With Contractors Using Dahua, Hikvision, Huawei
IPVM
@CharlesRollet1
The US Department of Defense has confirmed to IPVM that they fully support and intend to proceed with the NDAA 'blacklist clause' covering Dahua, Hikvision, and Huawei video surveillance.
Zero Hedge Permanently Suspended From Twitter for 'Harassment'
Bloomberg
The libertarian financial website Zero Hedge was permanently suspended from Twitter on Friday after it published an article questioning the involvement of a Chinese scientist in the outbreak of the deadly novel coronavirus.
Accelerating the Defense Department's AI Adoption
The Council on Foreign Relations
Shortcomings in technology, workforce, computing infrastructure, data, and policy slow the ability of the U.S. Department of Defense (DOD) to develop, acquire, and deploy AI capabilities essential to national security.
US Senate tells members not to use Zoom
Financial Times
Organisation is latest to warn over data security worries on videoconferencing platform.
Executive Branch Agencies Recommend the FCC Revoke and Terminate China Telecom's Authorizations to Provide International Telecommunications Services in the United States
US DOJ
Today, interested Executive Branch agencies unanimously recommended that the Federal Communications Commission (FCC) revoke and terminate China Telecom (Americas) Corp.'s authorizations to provide international telecommunications services to and from the United States. China Telecom is the U.S. subsidiary of a People's Republic of China (PRC) state-owned telecommunications company.
Trump administration moves against Chinese telecom firms citing national security
The Washington Post
@nakashimae
The Trump administration is moving aggressively on national security grounds against Chinese telecom firms, with key agencies this week recommending that a subsidiary of China's largest landline provider have its U.S. license revoked.
North Asia
Japan to Fund Firms to Shift Production Out of China
Bloomberg
@IsabelRTokyo
Japan has earmarked $2.2 billion of its record economic stimulus package to help its manufacturers shift production out of China.
South-East Asia
South East Asia - After COVID
The Lowy Institute
Authoritarianism will intensify in Southeast Asia but effective governance won't necessarily follow.
NZ & Pacific Islands
South Asia
In case you weren't able to join the discussion, here's the video presentation of my paper on why
#Huawei
must not be allowed into India's
#5G
infrastructure. With questions from participants across the world. Link to the paper below.
youtu.be/Vj5WIFeZgl8
via
@orfonline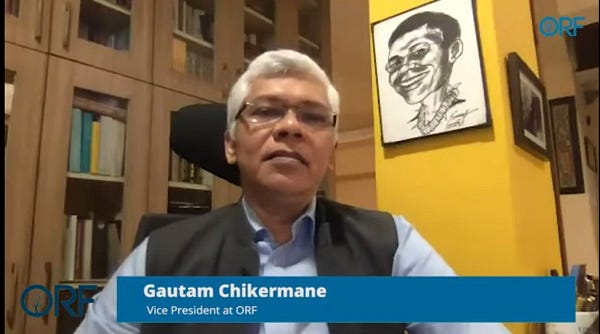 Gautam Chikermane @gchikermane
My new paper argues that despite all the technological and pricing advantages it offers, #Huawei must be kept out of India's #5G infrastructure https://t.co/OSKrktKHPc Do read, share and comment
The United Kingdom
UK spy agencies urge China rethink once Covid-19 crisis is over
The Guardian
Britain's intelligence community believes the UK needs to reassess its relationship with China after the coronavirus crisis subsides and consider if tighter controls are needed over high-tech and other strategic industries.
MPs launch inquiry into potential Chinese asset stripping of UK firms
The Guardian
An emergency Commons inquiry into potential Chinese asset-stripping of UK hi-tech firms has been launched following an aborted Chinese boardroom takeover of a chip designer at the cutting edge of AI and communications technology.
UK government using confidential patient data in coronavirus response
The Guardian
@paullewis @davidtpegg
Documents seen by Guardian show tech firms using information to build 'Covid-19 datastore'.
How a Virus Conspiracy Theory Fueled Arson and Harassment in Britain
The New York Times
@satariano @daveyalba
A conspiracy theory linking the spread of the coronavirus to 5G wireless technology has spurred more than 100 incidents this month, British officials said.
Europe
Allies Wary of U.S. Stance on Huawei and 5G
Wall Street Journal
America's global campaign to prevent Huawei Technologies from building the next generation of superfast internet has faltered on the continent where Washington finds some of its closest allies: Europe.
Beijing tried to make German officials praise China over coronavirus outbreak – report
AFP
However a German intelligence source told Die Welt that "Chinese officials are pursuing an intensified information and propaganda policy with regard to the coronavirus".
Russia
Putin Takes Another Step in Bid to Control Russia's Internet
Defense One
@jshermcyber
As Vladimir Putin pushes ahead with a plan to create a domestic internet he can control, his government is concentrating more regulatory authority in Roskomnadzor, the internet and media regulator, to make that happen.
Misc
Apple and Google launch a joint contact-tracing system for iOS and Android
The Verge
@thedextriarchy
On Friday, Apple and Google announced a system for tracking the spread of the new coronavirus, allowing users to share data through Bluetooth Low Energy (BLE) transmissions and approved apps from health organizations.
Google bans its employees from using Zoom over security concerns
The Verge
@nickstatt
Google is issuing a ban on the use of the Zoom teleconferencing platform for employees. The company is citing security concerns with the app that have arisen since Zoom became one of the most popular services for free video chatting.
Travelex Paid Hackers Multimillion-Dollar Ransom Before Hitting New Obstacles
Wall Street Journal
@annaisaac @ceostroff @bradleyhope
Less than three months before the owner of the world's largest chain of money-exchange shops unraveled in an accounting and governance scandal, it faced another challenge: It was at the mercy of hackers.It responded by paying the hackers the equivalent of $2.3 million, according to a person familiar with the transaction.
Intent to Infekt: 'Operation Pinball' Tactics Reminiscent of 'Operation Secondary Infektion'
Recorded Future
Insikt Group recently identified an ongoing information operation that we assess with high confidence shares significant overlap with what the Atlantic Council's Digital Forensics Lab (DFRLab) refers to as Operation Secondary Infektion (Secondary Infektion); a covert information operation targeting governments in the United States and Europe and believed to originate from Russia. We have named this information operation "Operation Pinball."
Twitter notifies users that it's now sharing more data with advertisers
The Verge
@jake_k
Twitter has removed a privacy feature that allowed all users to stop sharing some private information with advertisers.
Events
ASPI Roundtable: ICTs and emerging technologies in the Pacific
ASPI ICPC
Join ASPI's Bart Hogeveen and Hannes Astok, e-Governance Academy's Deputy Director for Strategy and Development, as they present their observations from the baseline assessment on e-government capabilities in six Pacific countries, as published by ASPI and EGA in February 2020.