BBC-ASPI ICPC joint investigation: Papua unrest, social media bots 'skewing the narrative' | EU warns of 5G risks amid scrutiny of Huawei | Dutton takes aim at CCP for hostile conduct


Follow us on Twitter. The Daily Cyber Digest focuses on the topics we work on, including cyber, critical technologies & strategic issues like foreign interference.
ASPI ICPC
Bots 'skewing the narrative' on Papua unrest
BBC
@BenDoBrown @cyapila @elisethoma5
Joint BBC-ASPI International Cyber Policy Centre investigation looking at the well-funded social media campaign using Facebook & Twitter bots to promote a pro-government agenda in West Papua. The Twitter accounts were all using fake or stolen profile photos, including images of K-pop stars or random people, and were clearly not functioning as "real" people do on social media. This led to the discovery of a network of automated fake accounts spread across at least four social media platforms and numerous websites which could be traced to a Jakarta-based media company, InsightID. The bots would jump on to hashtags being used by groups supporting independence, such as #freewestpapua, so they swamped negative reporting with positive stories about investment in the region, a process known as "hashtag hijacking".. "The risk of a campaign like this, in a place with so little access to truly independent media, is it skews the perceptions and understanding of the international community in a way that doesn't reflect reality," says ASPI cyber researcher Elise Thomas. "That appears to be the goal, one which someone is willing to spend hundreds of dollars and many months to achieve."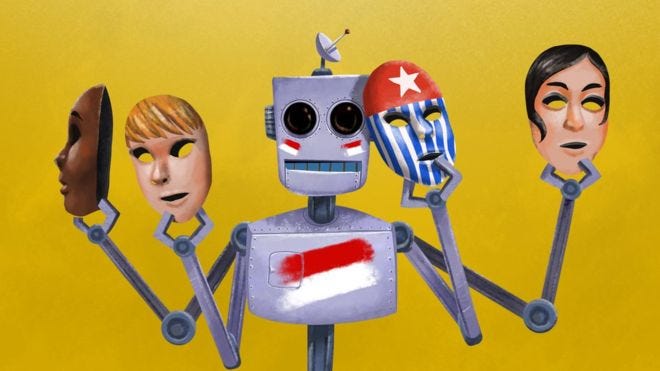 Are Australians aiding China's surveillance state?
Background Briefing ABC RN
@mariochristo
In the shadow of the Hong Kong protests on university campuses, Australia's top universities are working with blacklisted Chinese entities involved in Beijing's surveillance state. This week Background Briefing and Four Corners investigate how. Featuring ICPC's Alex Joske and Vicky Xu.
Why Huawei Isn't So Scary
Foreign Policy
@EBKania @lindseysheppard
US - Huawei's marketing—and Chinese government propaganda—has built the impression that it's either Huawei or no way to 5G. The telecommunications firm declares itself the unparalleled leader in 5G as it attempts to secure commercial partnerships around the world, now boasting more than 50 contracts across some 30 countries. In Europe, Huawei has even launched a campaign urging residents to "Vote for 5G," as if its 5G technologies were the only way for Europe to achieve a smarter future. Huawei's claims to be No. 1 in 5G can be misleading. Huawei is a leader and a powerhouse, but it is not the only top player. And it isn't clear that the company is winning—at least, not yet. Although Huawei's technological capabilities shouldn't be underestimated, there are reasons to look skeptically at its supposed superiority in 5G.
Calls to reinstate cyber minister role
InnovationsAus
@denhamsadler
On reflection, the first strategy was a bit too ambitious and given that we'll have a few more funding constraints, it needs to be more targeted. One way is looking to do more through government policy rather than big spending initiatives," Mr Hanson told InnovationAus.com. "We probably need to reduce the scope a little bit. There are lots of things that are really important and we need to be refining it down to things that are really essential."
Video: You've been Hacked! event at ANU
ANU Observer
Panel discussion at the ANU about the intersection of data, privacy, cyber espionage, and democracy with Dr Lesley Seebeck @lesleyseebeck, Alastair MacGibbon @macgibbon and Thomas Uren @tomatospy, moderated by Katherine Mansted @KMansted
Police turn to hackers in Australia's first crowdsourced attempt to find missing people
ABC News
@MarkusMannheim
An analyst at the Australian Strategic Policy Institute, Nathan Ruser, explained how he had been able to check when and where the footage was taken by comparing details such as plant growth and building shadows with public satellite images. "Through all of those methods I was able to basically verify that that video is legitimate," he told the ABC. Other techniques include mining the vast amount of information posted on social media and the simplest but most-used tool in the OSINT arsenal: Google searches.
The World
Information war between nations means the 'splinternet' is inevitable
The Telegraph
@GarryWhite
This week we have seen further evidence that the fractures in the global order are increasing – and that they are being driven by technology. Not only has Donald Trump banned several Chinese artificial intelligence (AI) companies from doing business with US companies, but the European Union (EU) has issued a warning about cyberattacks from state-backed companies that have equipment in the bloc's 5G networks.
Australia
Dutton takes aim at Chinese Communist Party for hostile conduct
The Sydney Morning Herald
@fergushunter
Home Affairs Minister Peter Dutton has taken aim at the Chinese Communist Party, accusing it of conduct ""inconsistent"" with Australian values and declaring the government would call out cyber attacks, theft of intellectual property and undue influence at universities. Mr Dutton's comments about Beijing's activities are unusually strong for an Australian government official in that he has publicly and directly attributed to China a pattern of hostile conduct, rather than talking about the threats in general terms.
Update on cyber-attack investigation
Vic Gov
On Monday 30 September, a cyber-attack impacted a number of hospitals and health services in Gippsland and south-west Victoria. Over the past week, the Victorian Government have been involved in a detailed and complex forensic investigation to uncover the source and severity of the cyber-attack. The investigation involved a mix of state and federal police and cyber security experts, and support from private industry.
Woolworths ponders opening up on its data use
iTnews
Woolworths is "exploring" whether to provide greater visibility of how it collects and handles data associated with its Rewards loyalty scheme.
China
China's Global Reach: Surveillance and Censorship Beyond the Great Firewall
Electronic Frontier Foundation
Danny O'Brien
The ongoing Hong Kong protests, and mainland China's pervasive attempts to disrupt and discredit the movement globally, have highlighted that China is not above trying to extend its reach beyond the Great Firewall, and beyond its own borders. In attempting to silence protests that lie outside the Firewall, in full view of the rest of the world, China is showing its hand, and revealing the tools it can use to silence dissent or criticism worldwide.
Apple's diplomatic dance on China is coming to an end
Financial Times
In China, while most of US big tech is barred by Beijing, Mr Cook has turned the country into a $50bn business for Apple, where a fifth of smartphones are iPhones. But now the diplomatic dance is getting more difficult. This is the year when western business's love affair with social justice messaging has clashed with its growing dependency on China's economy. It is hard to pretend to be a touchy-feely humanitarian company while bowing to a country that imprisons innocent Uighurs on a mass scale.
Playing with ire: China's crowdsourced outrage dialled up over Hong Kong
The Sydney Morning Herald
@KnottMatthew @chrizap
The NBA is the latest Western giant to suffer a backlash in the Chinese market.
Protestors are trying to get Overwatch banned in China, using memes of popular hero Mei
Polygon
@sweetpotatoes
People are furious after Blizzard Entertainment suspended Hearthstone player Chung "blitzchung" Ng Wai for expressing support for Hong Kong during an official tournament broadcast. Gamers are calling for a boycott of Blizzard games — and now, some are turning Overwatch hero Mei into a symbol of the Hong Kong resistance.
Chinese app on Xi's ideology allows data access to users' phones, report says
The Washington Post
@annafifield
The Chinese Communist Party appears to have "superuser" access to all the data on more than 100 million cellphones, owing to a back door in a propaganda app that the government has been promoting aggressively this year. An examination of the code in the app shows it enables authorities to retrieve every message and photo from a user's phone, browse their contacts and Internet history, and activate an audio recorder inside the device, according to a U.S.-funded analysis.. The Open Tech Fund contracted Cure53, a German cybersecurity firm, to break apart the app and determine its exact capabilities.
Firing of Chinese Facebook Engineer Ignites Fury Back Home
Bloomberg
@pingroma
The firing of a Chinese Facebook Inc. coder who accused the social media giant of mistreating foreign employees has provoked an outpouring of outrage on domestic social media.
China's Cloud Computing Market To Reach $42 Billion by 2023
Sixth Tone
@YujieXuett
China's cloud computing industry is projected to exceed 300 billion yuan ($42.3 billion) by 2023, by which time an estimated 60% of domestic companies and government agencies will be using cloud computing services, according to a new report.
All Carrots and No Sticks: A Case Study on Social Credit Scores in Xiamen and Fuzhou
Medium
@devlewis18
Over two trips to Xiamen and Fuzhou in the spring of 2019 to study the implementation of these scores, this author, and a group of Yenching scholars, visited and interviewed officials from the Xiamen Guoxin Credit Big Data Innovation Research Institute, guided by the National Development and Reform Council (NDRC), the nodal government body responsible for operationalizing the social credit system nationwide; the Xiamen Information Group which developed and operates Xiamen's Bailu score; as well as the Fuzhou NDRC Big Data office that developed and operates the Fuzhou Moli score.
Will China's revised cybersecurity law put foreign firms at risk of losing their secrets?
South China Morning Post
Beijing is putting in place new tools that make it 'much more difficult for companies to keep their information private', cybersecurity expert says.
US
The Week in Tech: Navigating the Chinese Minefield
The New York Times
@eringriffith
American tech companies want access to customers in China. But they're learning that can come with a lot of baggage.
Kicking out the adversary' is part of new Cybersecurity Directorate's mission, NSA says
Cyberscoop
@shanvav
The National Security Agency's new Cybersecurity Directorate, charged with helping protect the defense industrial base and sensitive government computers by providing insights on foreign hackers, is now at initial operating capability, senior NSA officials informed reporters at a rare briefing Thursday at Fort Meade.
Rudy Giuliani Sent Trump On A Wild Goose Chase With A Bunch Of Fake Internet Nonsense
Buzz Feed
@broderick
To understand why Trump is so obsessed with Ukraine, you have to understand the nonsense Rudy Giuliani reads on the internet.
Facebook to Pay $40M Under Proposed Settlement in Video Metrics Suit
The Hollywood Reporter
@eriqgardner
On Friday, several advertising agencies revealed the details of a proposed settlement with Facebook that would end a class action alleging the social media giant overstated the average time its users spent watching video.
This story about a billion dollar scam to build an undersea Arctic cable is wild
The Verge
@jaypeters
Elizabeth Pierce apparently had huge ambitions to build an undersea cable to give Alaskans (and eventually, parts of Japan, the Pacific Northwest, Greenland, Iceland, and London) better internet access. It was a noble cause. Internet for much of rural Alaska is slow and depends on expensive satellites, and an undersea cable could bring much faster speeds at cheaper prices for consumers.
North Asia
The Tycoons Behind China's Gadget Factories Boom Prepare to Pivot
Bloomberg
@debbywuintaipei
Thirty years ago, Taiwanese tech entrepreneurs started moving factories to the mainland, kicking off a global economic transformation that's made China the world's top manufacturer of electronics. Today, four Taiwan-based companies—Foxconn Technology Group, Inventec, Quanta Computer, and Compal—together account for some 40% of exports from China to the U.S. of computers, phones, and related items. But faced with growing trade tensions and U.S. tariffs, the leaders of those companies are reconsidering their commitment to China.
Arrested Japanese stalker used pupil image reflections
ABC News
A man arrested on suspicion of stalking a female pop idol used the reflections of her pupils in photos she shared on social media and Google Street View to find where she lived.
UK
Former UK spymaster plays down national security fears over Huawei
CNBC
@Ryan_Browne_
John Sawers, who served as the chief of MI6 from 2009 to 2014, played down national security concerns over the Chinese tech giant, telling an audience in London that Beijing has not "sought to exploit, or been able to exploit, Huawei equipment in our telecoms national infrastructure" for espionage.. MI6's current chief, Alex Younger, last year flagged concerns about companies like Huawei, specifically targeting "Chinese ownership of these technologies" as a primary risk. Under Chinese law, companies are obliged to hand over data to assist state intelligence.
Europe
EU Warns of 5G Risks Amid Scrutiny of Huawei
The Wall Street Journal
@Annaisaac @parmy
The European Union has identified a series of specific security threats posed by foreign vendors of telecommunications equipment, significantly heightening the bloc's scrutiny of suppliers like Huawei Technologies Co., according to officials familiar with the matter and a privately circulated risk assessment prepared by European governments.
Middle East
The Instagram influencers hired to rehabilitate Saudi Arabia's image
The Guardian
@edengillespie
Social media stars have been taking paid trips to the kingdom and posting lavish praise in return – avoiding its troubling human rights record
China Could Be the Big Winner of Saudi Arabia's Race to Become a Tech Hub
Foreign Policy
Robert Mogielnicki
Over the summer, with little notice, Saudi Arabia issued a royal decree mandating the establishment of the Authority for Data and Artificial Intelligence. The decree also ordered the creation of the National Center for Artificial Intelligence and the National Data Management Office.
Misc
Amazon Workers May Be Watching Your Cloud Cam Home Footage
Bloomberg
Teams in India and Romania use video snippets sent by customers for troubleshooting purposes and to train artificial intelligence algorithms.
Contributing Data to Deepfake Detection Research
Google AI Blog
Today, in collaboration with Jigsaw, we're announcing the release of a large dataset of visual deepfakes we've produced that has been incorporated into the Technical University of Munich and the University Federico II of Naples' new FaceForensics benchmark, an effort that Google co-sponsors. The incorporation of these data into the FaceForensics video benchmark is in partnership with leading researchers, including Prof. Matthias Niessner, Prof. Luisa Verdoliva and the FaceForensics team. You can download the data on the FaceForensics github page.
Events
Cyber Security Hypothetical – Panel
UNSW
We invite you to join us on 22 October, in challenging paradigms and provoking discussion around this important topic that impacts and targets us all. Cyber Security Hypothetical will be led and moderated by Mr Steve Wilson and panellists will include MAJGEN Marcus Thompson, Professor Michael Frater, Mr Alastair MacGibbon, Ms Kate Carruthers and Mr Justin Warren.
The rise of information warfare: in-conversation with Peter W. Singer
ASPI ICPC
This event for 29 October is SOLD OUT but you can watch a livestream on the ASPI facebook page - ASPI's International Cyber Policy Centre invites you to an in-conversation with Peter W. Singer and Danielle Cave to consider the rise of information warfare. Peter Warren Singer is strategist and senior fellow at New America. He has been named by the Smithsonian as one of the nation's 100 leading innovators, by Defense News as one of the 100 most influential people in defense issues, by Foreign Policy to their Top 100 Global Thinkers List, and as an official "Mad Scientist" for the U.S. Army's Training and Doctrine Command. A drinks and canapes reception will conclude the event. This event is kindly supported by Microsoft.