Biden's massive plans for semi-conductor chip funding | The YouTubers who revealed a Anti-Vax for hire plot | New China sanctions include politicians and researchers
Follow us on Twitter. The Daily Cyber Digest focuses on the topics we work on, including cyber, critical technologies & strategic issues like foreign interference.
The Biden administration is laying the groundwork to spend roughly $52 billion on semiconductor research and manufacturing even as it's awaiting congressional approval of the funding, Commerce Secretary Gina Raimondo said. Bloomberg

A mysterious marketing agency secretly offered to pay social media stars to spread disinformation about Covid-19 vaccines. Their plan failed when the influencers went public about the attempt to recruit them. BBC News

China said it has sanctioned seven people, including former Trump Commerce Secretary Wilbur Ross, in response to U.S. penalties imposed on Chinese officials over Beijing's clampdown on democracy in Hong Kong. In addition to Ross, others sanctioned include Carolyn Bartholomew, chair of the U.S.-China Economic Security Review Commission; Jonathan Stivers, former staff director of the Congressional Executive Commission on China; and Sophie Richardson, Human Rights Watch's China director. CNBC
ASPI ICPC
A far-right troll's journey from an Ipswich bedroom to global infamy - Podcast
Background Briefing
@alexsmann @arielbogle
A young Australian far-right troll was known to his online fans as 'Catboy Kami'. Thousands followed his 'edgy' videos where he targeted children online with a mix of racial stereotypes and hardcore shock tactics. With that fame and notoriety, he's become a useful recruitment tool in the expansion of one of the globe's most extreme social movements. Ariel Bogle contributed research to this investigation.
Australia's national security: Telco Digicel is a new front in the strategy to counter China in the Pacific
Australian Financial Review
@Johnkehoe23 @andrewtillett @jemimawhyte1
Fergus Hanson, Australian Strategic Policy Institute head of international cyber policy, says China is contesting Australia's standing in the region, so Canberra must step up. "In the era of geostrategic competition this is a really fundamental network that in years ahead will be key to the internet of things if 5G is eventually rolled out in the Pacific," Hanson says. But he's not sure that a deal has the same strategic urgency for Telstra and its investors. "For Telstra shareholders it won't be a fun piece of infrastructure to operate because it will require upgrades." "It puts Telstra in an awkward position as a former government enterprise acting in the national interests and could conflict with its China business," he says.
Lauren got TikTok for a laugh. The app would change the direction of her life
ABC News
@AvaniDias @jeanavivem @L_Day
The Australian Strategic Policy Institute (ASPI) did the first academic investigation into censorship on TikTok and found the company actively uses its algorithm to hide political speech it deems controversial. "We see evidence of how content moderation that takes place in China, how that type of thinking is still applied to TikTok outside of China," ASPI's Fergus Ryan says.
Facebook's Super Spreaders
The Wire China
@NorthropKatrina
Many Facebook users, for instance, are likely unaware of the Chinese government's huge presence on the platform. Facebook is not allowed to even operate inside China, and yet, somewhat amazingly, of the platform's top 25 most "liked" accounts four are Chinese state media outlets, according to Social Blade data... "They want to control the narrative," says Albert Zhang, a researcher with the Australian Strategic Policy Institute (ASPI) and the author of a recent report on the Chinese government's information campaigns on Western social media. "Having official accounts on Facebook and buying ads is one way to do that. But their accounts use covert tactics as well, such as interacting with fake accounts to boost their messaging."
Australian Companies Are Sitting Ducks for Ransomware Attacks
Tech Bullion
The Australian Strategic Policy Institute has reported that Australian organizations make a "soft target" for ransomware because of their relatively weak cybersecurity. Further, it has warned that the situation will only get worse unless urgent strategic measures are taken.
World
The YouTubers who blew the whistle on an anti-vax plot
BBC News
@charliehtweets @FloraCarmichael
A mysterious marketing agency secretly offered to pay social media stars to spread disinformation about Covid-19 vaccines. Their plan failed when the influencers went public about the attempt to recruit them.
Disinformation for Hire, a Shadow Industry, Is Quietly Booming
The New York Times
@Max_Fisher
Private firms, straddling traditional marketing and the shadow world of geopolitical influence operations, are selling services once conducted principally by intelligence agencies. They sow discord, meddle in elections, seed false narratives and push viral conspiracies, mostly on social media. And they offer clients something precious: deniability.
Botnet operator who proxied traffic for other cybercrime groups pleads guilty
The Record by Recorded Future
@campuscodi
An Estonian national pleaded guilty this week in an Alaska court on charges of building and operating a botnet comprised of internet routers that proxied malicious traffic for other cybercrime gangs.
Australia
Facebook forced to limit misinformation spread via WhatsApp amid Sydney lockdown
The Guardian
@joshgnosis
The head of WhatsApp, Will Cathcart, told an Australian Strategic Policy Institute briefing earlier this month that part of the difficulty in combatting misinformation being spread over a private messaging service like WhatsApp is that the company doesn't have access to the messages being sent. But he said WhatsApp was partnering with fact-checking services and embarking on public education campaigns about whether people should question rumours before they're shared. He said in countries like Brazil it had been having an impact.
See our webinar, interviewing Will Cathcart, the head of WhatsApp
We will not rest': Anti-vaxxers promise more huge lockdown protests
The New Daily
@JoshButler @arielbogle
Ariel Bogle, disinformation researcher at the Australian Strategic Policy Institute's Cyber Policy Centre, warned against "reductive" explanations of the protesters' intentions and said they drew from a wide range of origins. "It was such a grab bag," she told TND. "There was talk of lockdowns hurting business, economic and poverty arguments, sprinklings of global conspiracy theories, anti-vaxxer ideas." Ms Bogle said this "big tent" protest meant the message and event was spread through many different social media groups, amplifying it to a far wider range of people than standard anti-vaxxer or conspiracy events.
China
China sanctions Wilbur Ross, others over U.S. warning about Hong Kong business conditions
CNBC
China said Friday it has sanctioned seven people, including former Trump Commerce Secretary Wilbur Ross, in response to U.S. penalties imposed on Chinese officials over Beijing's clampdown on democracy in Hong Kong… White House press secretary Jen Psaki said at a Friday press briefing that the U.S. is aware of China's newest sanctions. "We are undeterred by these actions and we remain fully committed to implementing all relevant U.S. sanctions on authorities," Psaki said at the briefing. "These actions are the latest examples of how Beijing punishes private citizens, companies and civil society organizations as a way to send political signals and further illustrates the PRC's deteriorating investment climate and rising political risks."
Operation Fox Hunt: How China Exports Repression Using a Network of Spies Hidden in Plain Sight
ProPublica
Fox Hunt, experts say, is part of a calculated offensive to send a message that no one is beyond the reach of Beijing. As the Chinese Communist Party builds the largest police state in history, it is exporting repression. A report by Freedom House, a nonprofit human rights group, concluded that China conducts "the most sophisticated, global, and comprehensive campaign of transnational repression in the world." With the West preoccupied by other threats such as terrorism, Chinese spies have saturated diaspora communities with conscripted agents.

As China Rolled Out Its COVID-19 Shots, Victims of Earlier Vaccine Scandals Vanished
The Diplomat
@ReneeXiaCHRD
China's habit of disappearing and censoring critics is not the way to win trust in its vaccine industry.
What Makes This Attribution of Chinese Hacking Different
Carnegie Endowment for International Peace
@eborghard
U.S. allies have joined Washington in voicing concerns about Chinese cyber behavior after the Microsoft Exchange hack. But lingering differences between the partners could still blunt an effective response.
Xi Jinping reels in his tech titans
Australian Financial Review
@mcgregorrichard
Chinese tech companies are not about to shut down. But their wealthy bosses have been rudely reminded about who's in charge, and it isn't them, no matter how many billions they've made. The centralised big data analytics that the tech titans have at their fingertips, after all, isn't a tool to allow free markets to prosper. In Xi's hands, it is a device to bring markets more firmly under control, and strengthen the state and the ruling party for the battles ahead, at home and abroad.
USA
Biden Team Plans for Chips Funding Even Before Congress Acts
Bloomberg
@jendeben
The Biden administration is laying the groundwork to spend roughly $52 billion on semiconductor research and manufacturing even as it's awaiting congressional approval of the funding, Commerce Secretary Gina Raimondo said. "We're putting plans in place right now already on the team to invest the $52 billion," she said Thursday during a White House press briefing. "We need to incentivize the manufacturing of chips in America and so we are very focused on putting the pieces in place so that can happen."
Department Statement on DJI Systems
US Department of Defense
The Department of Defense (DOD) position is that systems produced by Da Jiang Innovations (DJI) pose potential threats to national security. Existing DOD policy and practices associated with the use of these systems by U.S. government entities and forces working with U.S. military services remain unchanged contrary to any written reports not approved for release by the DOD. A recent report indicated that certain models of DJI systems had been found to be approved for procurement and operations for US government departments and agencies. This report was inaccurate.
China's Huawei Hires Democratic Lobbyist Tony Podesta
The Wall Street Journal
@DanStrumpf @bykowicz @jacquiemcnish
Hiring comes amid renewed D.C. lobbying push by company that was target of Trump administration.
U.S. moves to drop visa fraud charges against Chinese researcher
Reuters
@leejane71
The U.S. Justice Department moved on Thursday to drop all charges against a Chinese researcher arrested last year over visa fraud in its "China Initiative" that aims to prevent the transfer of U.S. technology. Tang Juan, a visiting researcher at the University of California Davis school of medicine, whose jury trial was set to start on Monday, was arrested in July last year for allegedly concealing her military affiliation.
North-East Asia
Manufactured Whistleblowing: Data Leaks as Subversion
Lawfare
@pismono
Information operations have become a pernicious staple in interstate relations, especially between Taiwan and the People's Republic of China (PRC). Taiwan has long been a key battleground of disinformation and cyber operations in the Chinese Communist Party's (CCP's) efforts to disrupt the organic political process across the strait.
The US and China started a battle for global chip dominance. Then a small but mighty competitor entered the race
ABC News
@carringtonAU
Nestled between the two global powers, both geographically and strategically, South Korea is already a major player in chip manufacturing and it's not going to give up its position without a fight. The current chip crunch has demonstrated how crucial they are to the present, and future.
UK
Sale of semiconductor factory to Chinese-owned firm presents bigger UK risk than Huawei
The Telegraph
@HarryYorke1
Ciaran Martin, the UK's former cybersecurity chief, has criticised the Government's failure to set out why it did not intervene.
Europe
Semiconductors: Europe's expensive plan to reach the top tier of chipmakers
Financial Times
The EU is seeking to launch itself into the global premier league of semiconductor manufacturing, setting itself the daunting goal of doubling its share of the global chip market by 2030. Intel has placed itself at the heart of those ambitions, with the US company proposing to build a brand new $20bn semiconductor factory on the continent.
Chinese APT Group Attacks French Organizations
Bank Info Security
APT 31, a China-linked hacking group, is targeting French organizations by exploiting home and office routers in an espionage campaign, warns CERT-FR, the French government's computer emergency readiness team that's part of the National Cybersecurity Agency of France, or ANSSI.
Non-profit organization targeted by cyberattack: valuable lessons for you
Cyber Peace Institute
EU DisinfoLab is an independent non-profit organization tackling sophisticated disinformation campaigns. They recently were targeted in a cyberattack. With their co-founder and executive director we discuss how they managed this and what such attacks mean for civil society.
Volkswagen to industrialize EV battery production in Germany with partner Guoxuan
Tech Wire Asia
@DashveenjitK
The German car manufacturer will manufacture batteries for EVs in Germany together with Chinese EV battery maker Goxuan High-tech. They aim to industrialize the planned battery cell production and develop first-use cases of the Volkswagen unified cell concept for the volume segment.
The Americas
CSIS has been highlighting the threat of foreign interference for some time. For more information, watch this video and follow these links: 2020 Public Report:
ow.ly/j6VH50FBKlW
CSIS Director's speech to CIGI:
ow.ly/nzYF50FBKlZ
Far From Home:
ow.ly/QtgT50FBKlV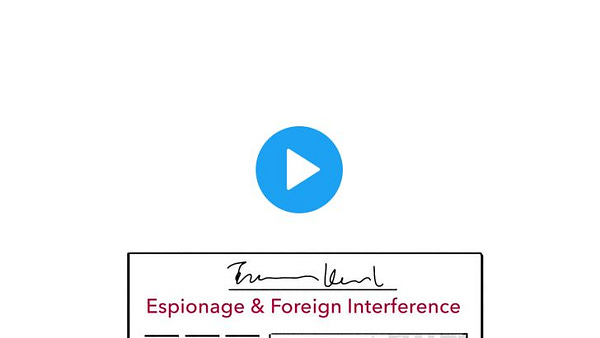 Middle East
NSO Group CEO Claims BDS Is Probably Behind Damning Investigation
Vice News
@emanuelmaiberg
Shalev Hulio, the CEO and cofounder of NSO, the Israeli surveillance company at the center of a bombshell investigation this week that found its tools have been used to spy on journalists, politicians, and human rights activists around the world, is now suggesting that the Boycott, Divestment, and Sanctions (BDS) movement that's trying to pressure Israel to end its occupation of Palestine is somehow behind the story.
Israel to examine whether spyware export rules should be tightened
The Guardian
@philipoltermann
An Israeli commission reviewing allegations that NSO Group's Pegasus spyware was misused by its customers to target journalists and human rights activists will examine whether rules on Israel's export of cyberweapons such as Pegasus should be tightened, a senior MP has said.
Pegasus Affair: Morocco sues Amnesty International, French NGO for defamation
AFP
Morocco has filed defamation claims against Amnesty International and a French NGO who claim its intelligence services used the Pegasus mobile phone spyware against dozens of French journalists, lawyers for the government said Thursday.
Misc
Researchers Hid Malware Inside an AI's 'Neurons' And It Worked Scarily Well
Vice News
@radhamely
In a proof-of-concept, researchers reported they could embed malware in up to half of an AI model's nodes and still obtain very high accuracy.
Amazon is hiring a digital currency and blockchain expert, signaling a growing interest in cryptocurrency
CNBC
@annierpalmer
Amazon's payments team is looking to hire a digital currency and blockchain expert, according to a recent job posting. The posting signals that Amazon may be taking a more serious look at cryptocurrencies, such as bitcoin. Amazon doesn't accept any cryptocurrencies as payment for its products.
Akamai software update triggered a bug that took offline major sites
Security Affaris
Multiple major websites, including Steam, AWS, Amazon, Google, and Salesforce, went offline due to Akamai DNS global outage.
Events
ASPI Webinar: In-Conversation with Marietje Schaake
ASPI ICPC
SPI's International Cyber Policy Centre is delighted to invite you to an in-conversation with Marietje Schaake, President of the Cyber Peace Institute, the International Policy Director at Stanford's Cyber Policy Center and International Policy Fellow at Stanford's Institute for Human-Centered Artificial Intelligence. Join Fergus Hanson for an online 'fireside chat' with Marietje focusing on technology, democracy and the question of accountability. They will discuss how democracies can cooperate amidst rising authoritarianism and the privatised governance of technologies. They will also consider the rule of law and how it relates to the oversight of existing and emerging technologies. 27 July 2021 5:00 pm - 6:00 pm
Digital Politics in the Asia Pacific Seminar Series
ANU Coral Bell School of Asia Pacific Affairs
The role of technology in political and social movements like the Arab Spring is widely considered by scholars to be important, but not revolutionary. But significant political upheaval in Asia is powered by highly online protest communities operating in media environments unique to our region. Does tech power protest differently in Asia? Join the second seminar in the Digital Politics in the Asia Pacific series to find out. 4 August 2021 11:00 AM – 12:30 PM
Jobs
ICPC Senior Analyst or Analyst - Information operations & disinformation
ASPI ICPC
ASPI's International Cyber Policy Centre has an outstanding opportunity for a talented and proactive senior analyst or analyst to join its centre. The successful candidate will work with a small, high-performing team to produce original research and analysis centred around policy responses to information operations and disinformation by state and non-state actors. They will also work with senior staff in the centre to engage globally with governments, social media and Internet companies.
ICPC Senior Analyst or Analyst - China
ASPI ICPC
ASPI's International Cyber Policy Centre (ICPC) has a unique opportunity for exceptional and experienced China-focused senior analysts or analysts to join its centre. This role will focus on original research and analysis centred around the (growing) range of topics which our ICPC China team work on. Our China team produces some of the most impactful and well-read policy-relevant research in the world, with our experts often being called upon by politicians, governments, corporates and civil society actors to provide briefings and advice. Analysts usually have at least 5 years, often 7-10 years' of work experience. Senior analysts usually have a minimum of 15 years relevant work experience and, in addition to research, they take on a leadership role in the centre and tend to be involved in staff and project management, fundraising and stakeholder engagement.
Director of Research
Data & Society Research Institute
The Director of Research (DoR) at Data & Society is a senior scholar with a commitment to empirical, multidisciplinary, and intersectional research to advance scholarship on the social and cultural implications of data-centric and automated technologies. The DoR is a rotational role, designed for a tenured academic with an interest in leading Data & Society's public scholarship. They will bring their own disciplinary and topical expertise to the team while developing and supporting research across a range of themes, disciplines, methods, epistemic frames, and topics. The DoR is both an accomplished scholar in their own right, a dedicated academic mentor, and an administrator capable of, and committed to leading a research enterprise consistent with Data & Society's collective organizational development.
Deputy Director, Digital Investigations Lab
Human Rights Watch
HRW is seeking an experienced, innovative and strategic Deputy Director to lead our Digital Investigations Lab, which deploys non-qualitative research methodologies, such as data analysis, remote sensing and open source techniques, to our human rights investigations. The position will oversee an experienced, multi-disciplinary team, and reports to the director of the Technology and Human Rights division. The person will be based in a location where HRW has a larger office, such as Beirut, Berlin, Brussels, Geneva, London, Nairobi, New York, San Francisco, or Washington D.C.