Boris Johnson resists US pressure to ban Huawei | UK Home Office proposes offence of possessing terrorist propaganda | Slate's 30 "most evil" tech companies


Follow us on Twitter. The Daily Cyber Digest focuses on the topics we work on, including cyber, critical technologies & strategic issues like foreign interference.

ASPI ICPC
ASPI's International Cyber Policy is delighted to announce that the centre has joined the Carnegie Endowment for International Peace's new Partnership for Countering Influence Operations. As a founding partner in this new initiative the centre will collaborate closely with governments, the tech industry, media, academia and civil society to help Carnegie's Partnership for Countering Influence Operations advance more effective whole-of-society, evidence-based strategies to counter influence operations. Dr Jake Wallis – who started at the centre in 2019 and is part of a growing team working in this space – will represent the centre in this new partnership initiative. Other partners in this new Carnegie-led initiative include the Hewlett Foundation, Stanford University, Microsoft, Mozilla, Facebook, Twitter and SaferNet.
TikTok not approved for use on Australia's Defence devices
ABC News
@arielbogle
Fergus Ryan, Australian Strategic Policy Institute (ASPI) analyst, said the decision was "prudent" in both cases. In his view, we do not yet know enough about how ByteDance protects or manages the data of TikTok users, many of them teenagers. "It's unclear to what extent information that those apps are gathering is being sent back to Beijing," he said.
The World
The Evil List
Slate
Which tech companies are really doing the most harm? Here are the 30 most dangerous, ranked by the people who know.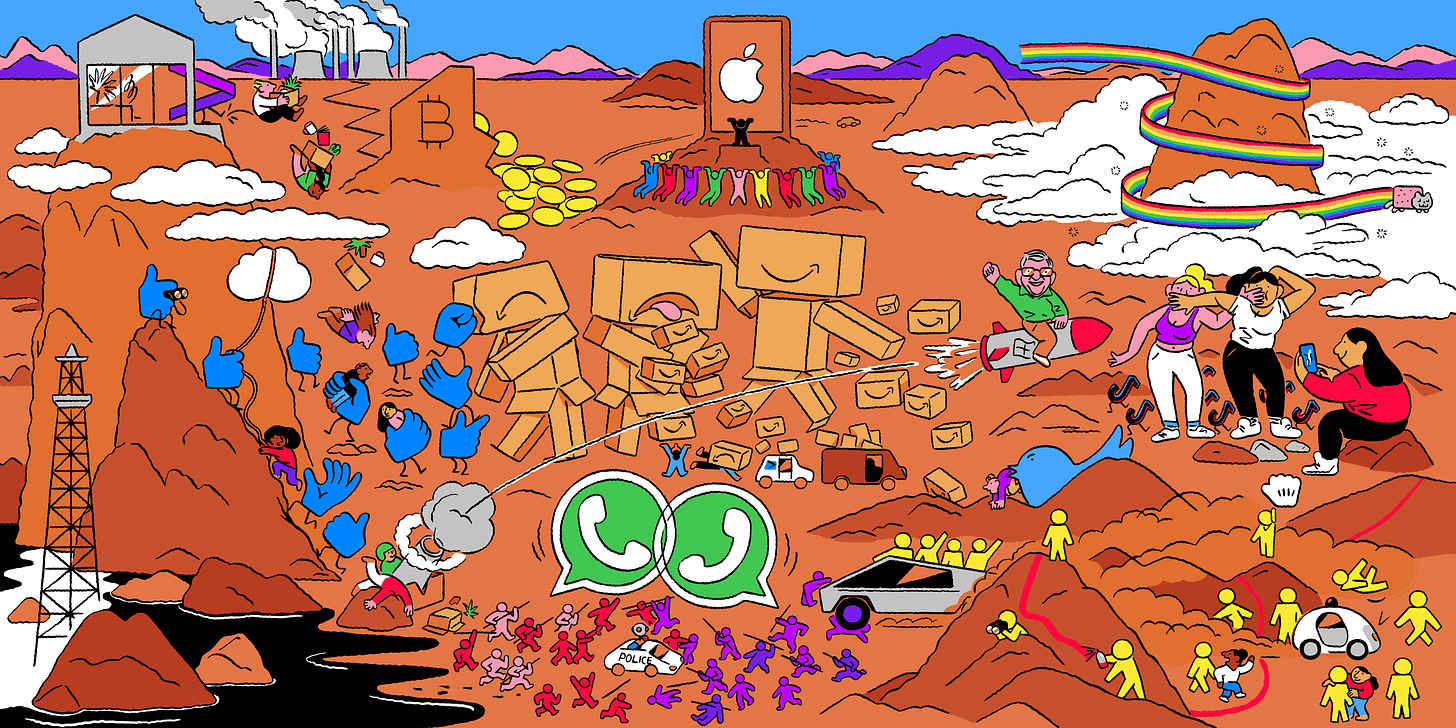 Gwendal Le Bec

Tech groups cannot be allowed to hide from scrutiny
FT
@MarietjeSchaake
To mitigate concerns about the power of AI, provider companies routinely promise that the applications will be understandable, explainable, accountable, reliable, contestable, fair and — don't forget — ethical. Yet there is no way to test these subjective notions without access to the underlying data and information. Without clear benchmarks and information to match, proper scrutiny of the way vital data is processed and used will be impossible.
Australia
ADVICE: ACSC recommends users patch urgently to protect against critical vulnerabilities in Microsoft Windows. Read more:
cyber.gov.au/threats/adviso…
NSA/CSS @NSAGov
This #PatchTuesday you are strongly encouraged to implement the recently released CVE-2020-0601 patch immediately. https://t.co/czVrSdMwCR https://t.co/log6OU93cV
Cyber scammers take advantage of bushfire crisis
CIO
@samira_sarraf
With the fire season in Australia resulting in loss of lives, property damage and unprecedented loss of wildlife, scammers are wasting no time to take advantage of those wishing to help.
China
US tech backlash forces China to be more self-sufficient
FT
@yuanfenyang
The acrimony between China and the US over technology transfers has created plenty of losers during the past year. There are the US companies which have missed out on business as a result of sanctions, and the Chinese groups that have had to find alternative supplies. But there is one group that has emerged as a winner: the security hawks who say they saw it coming and who are now pushing Beijing to be more self-sufficient.
USA
Tech Tensions Simmer in Washington as U.S., China Near Trade Truce
WSJ
@bobdavis187 @KatyStech
While the U.S. and China are set to sign an initial trade pact this week, White House and congressional policy makers disagree over technology issues relating to Beijing and telecom giant Huawei.
Trump administration moves toward blocking more sales to Huawei: sources
Yahoo
@alexalper @karen_freifeld @StephenNellis
The U.S. government is nearing publication of a rule that would vastly expand its powers to block shipments of foreign-made goods to China's Huawei, as it seeks to squeeze the blacklisted telecoms company, two sources said.
Trump tears into Apple for refusing to unlock Pensacola shooter's cell phones
Politico
@MyahWard
"We are helping Apple all of the time on TRADE and so many other issues," Trump's tweeted in his complaint.
Pete Buttigieg's Campaign Cybersecurity Chief Resigns
WSJ
@dnvolz
The cybersecurity chief for Democratic candidate for president Pete Buttigieg's campaign has resigned, as concerns mount about attempts by foreign governments and hackers to interfere in the 2020 election.
Twitter's Top Lawyer Is Final Word on Blocking Tweets-Even Donald Trump's
Bloomberg
@KurtWagner8
Whenever somebody on Twitter takes issue with the network's rules or content policies, they almost always resort to the same strategy: They send a tweet to @jack. A quick scan of Chief Executive Officer Jack Dorsey's mentions show just how often he's called upon to lay down the law for the service he helped create. But what users don't know is that they're imploring the wrong Twitter Inc. executive. While Dorsey is the company's public face, and the final word on all things product and strategy, the taxing job of creating and enforcing Twitter's rules don't actually land on the CEO's shoulders. Instead, that falls to Twitter's top lawyer, Vijaya Gadde.
Equifax to pay customers $380.5 million as part of final breach settlement
Cyberscoop
@jeffstone500
Equifax has agreed to pay $380.5 million to resolve allegations related to the 2017 data breach in which hackers stole information belonging to some 147 million Americans, under the terms of a settlement approved by a federal judge.
NZ & Pacific Islands
Deactivation of mobile phones in Papua New Guinea imminent [analysis]
Business Advantage PNG
Amanda Watson
No phone calls and no text messages could be the future for Papua New Guineans who haven't registered their SIM cards, while telcos could receive fines.
South & Central Asia
At Raisina Dialogue, world leaders discuss climate change, tech
The Indian Express
@ShubhajitRoy
Stephen Harper and Andreas Fogh Rasmussen, former PMs of Canada and Denmark, respectively, said "technology" is one challenge they would like to resolve in future. Sweden's former PM Carl Bildt underlined climate change, tech, cyber and space among the challenges that are to be resolved together. This was the highlight of the panel discussion, moderated by Observer Research Foundation (ORF) president Samir Saran, who asked the visiting dignitaries about that one challenge they would like to see resolved in the coming years. Prime Minister Narendra Modi and External Affairs Minister S Jaishankar, among others, were in audience during the discussion.
India needs to move aggressively in areas of cybersecurity, cyber hygiene: IT Secretary
The Economic Times
As connected systems and increasing use of smartphones raise risk of vulnerabilities, India with its proven prowess in software and services should now move aggressively in the area of cybersecurity, a senior IT Ministry official said on Wednesday.
India establishes a Seven (7) pronged scheme to fight cyber crime with the inauguration of Indian Cyber Crime Coordination Centre (I4C) and launching of the National Cyber Crime Reporting Portal
Cyber Secure India
India establishes a Seven (7) pronged scheme to fight cyber crime with the inauguration of Indian Cyber Crime Coordination Centre (I4C) and launching of the National Cyber Crime Reporting Portal.
Jeff Bezos Came To India To Invest A Billion Dollars But Still Got Shouted At
BuzzFeed News
Amazon's aggressive discounts in India have angered traditional retailers who say that online shopping is killing their business.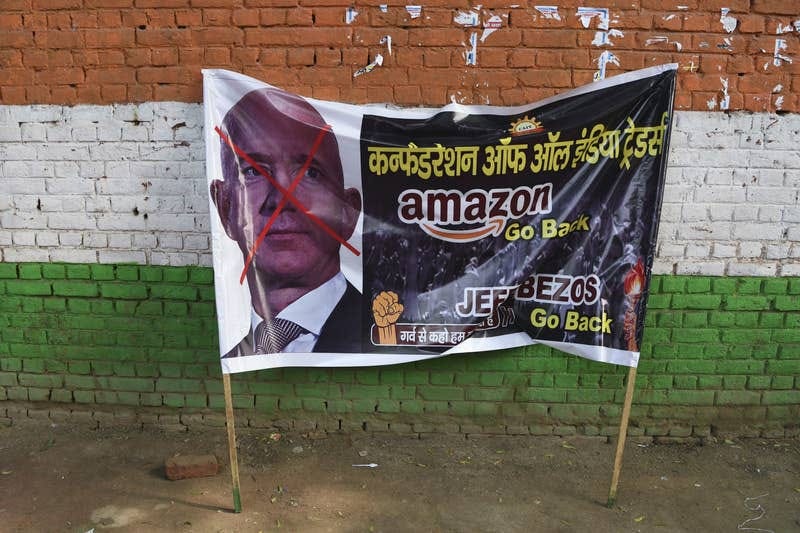 Sajjad Hussain / Getty Images
UK
Home Office proposes offence of possessing terrorist propaganda
The Guardian
@Haroon_Siddique @jamiegrierson
A new offence relating to possession of terrorist propaganda that glorifies or encourages extremism could be introduced to toughen up UK anti-terror laws. The Home Office said it was considering fresh legislation in response to the Prevention of Future Deaths Report by Mark Lucraft QC concerning last year's inquests into the eight people killed in the 2017 London Bridge terrorist attack.
Boris Johnson resists US pressure to ban Huawei
The Times
@Steven_Swinford @elliotttimes
Sajid Javid has abandoned his opposition to allowing Huawei into Britain's 5G network, with Boris Johnson resisting US pressure to ban the Chinese company. Mr Javid, when home secretary, was one of five cabinet ministers on the National Security Council (NSC) who effectively prevented Theresa May from giving Huawei the go-ahead last year. A new NSC, chaired by Mr Johnson, is due to make a final decision about the UK wireless network as soon as a week today, with opinion leaning towards rejecting US demands to ban the company on security grounds.
Europe
Germany investigates three over 'spying for China'
AFP
German prosecutors on Wednesday said they were investigating three people who allegedly spied for China, with media reporting that a German former EU diplomat was among the suspects.. The probe comes at a time of intense debate in Europe's top economy about whether or not to exclude Chinese tech giant Huawei from developing Germany's 5G mobile networks. Critics, led by Washington, say Huawei is too close to Beijing and its equipment could be used as a tool for spying -- an allegation Huawei strongly denies.
Putin calls for breakthroughs in AI and other high-tech areas
TASS
Russian President Vladimir Putin called for a breakthrough in Russian science in the field of artificial intelligence and other high-tech areas. "The speed of technological changes in the world is increasing many times over, and we must create our own technologies and standards in the areas that determine the future. It primarily includes artificial intelligence, genetics, new materials, energy sources, digital technologies. I am convinced that we are able to achieve the same breakthrough here as in the defense sphere," Putin said in his annual State of the Nation Address to the Federal Assembly.
Misc
Grindr and OkCupid Spread Personal Details, Study Says
NYT
@natashanyt @aaron_krolik
Norwegian research raises questions about whether certain ways of sharing of information violate data privacy laws in Europe and the United States.
How to Organize Your Workplace Without Getting Caught
Vice
@lorenzofb @laurenkgurley
Do you want to protest your company's crappy record on sexual harassment? Are you thinking of unionizing? Here's the Motherboard Guide to Secure Labor Organizing.