China and Huawei propose reinvention of the internet I US Govt Tracking Peoples Movements Around Coronavirus Pandemic I Russia Pushing Coronavirus Lies As Part of Anti-NATO Influence Ops in Europe


Follow us on Twitter. The Daily Cyber Digest focuses on the topics we work on, including cyber, critical technologies & strategic issues like foreign interference.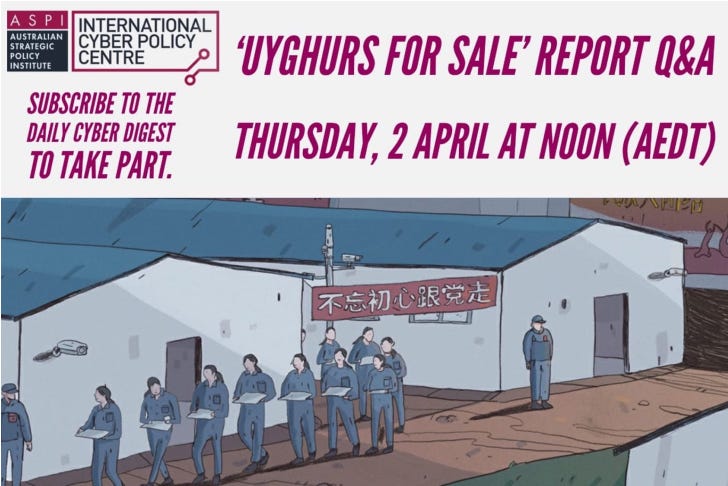 On Thursday, 2 April at noon (AEDT), ASPI's International Cyber Policy Centre is running an online Q&A with the co-authors of the 'Uyghurs for sale' report.
Co-authors Vicky Xiuzhong Xu, Dr James Leibold, Kelsey Munro & Nathan Ruser will be on hand to take your questions for an hour on what has quickly become ASPI's most-read report ever.

Subscribe to the Daily Cyber Digest newsletter to take part.
ASPI ICPC
Don't Kick China's Propagandists Off Twitter
Foreign Policy
@fryan
Twitter can't do much about the CCP's decision to exclude its own people from the conversation, but it can help ensure that Beijing's diplomats don't transform its global public square into their own echo chamber.
The war within the war over coronavirus
The Sydney Morning Herald
@chrizap
Australian Strategic Policy Institute's Fergus Ryan said that the worse "the West does at preventing the spread of the virus, the easier it will be for China to promote an image of itself as a responsible and humanitarian global power". Yet the more China tries to hide its role about the initial coronavirus outbreak, "the more damage it will do to its image in the world".
Healthcare sector must be protected from cyberattacks as it deals with Covid-19
The Strategist
@tomatospy
The security of hospitals has always been seen as crucial, but just mere weeks ago we were content to (literally) live with the consequences of poor hospital cybersecurity. Just weeks later and the consequences of disruption are unthinkable. Hacking groups are already taking advantage of the chaos caused by the global outbreak of the virus.
How Huawei is dividing Western nations
TechCrunch
@scottabade
"The fundamental issue is one of trust between nations in cyberspace," writes Simeon Gilding, until recently the head of the Australian Signals Directorate's signals intelligence and offensive cyber missions. That lack of trust between China and Australia is compounded by the difficult geopolitics of the Asia-Pacific. "It's not hard to imagine a time when the U.S. and China end up in some sort of conflict," says Tom Uren of the Australian Strategic Policy Institute (ASPI). "If there was a shooting war, it is almost inevitable that the U.S. would ask Australia for assistance and then we'd be in this uncomfortable situation if we had Huawei in our networks that our critical telecommunications networks would literally be run by an adversary we were at war with." Gilding warned, "It's simply not reasonable to expect that Huawei would refuse a direction from the Chinese Communist Party." And no matter what reassurances Huawei executives have given, they just simply haven't been able to ally those concerns.
Right-wing extremism needs to confronted, says researcher
The Canberra Times
@dougdingwall
ASPI International Cyber Policy Centre researcher Elise Thomas said the Christchurch massacre video in 2019 turned an unknown number of web users in online extremist communities from passive consumers into active propagandists, or worse. "Even if well-intentioned efforts to prevent content like this from reaching mainstream audiences in the future succeed, they won't address the most significant threat: the radicalisation of the online extremist communities who are the true target audience."
The World
AI Can Help Scientists Find a Covid-19 Vaccine
Wired
@etzioni @NicoleDeCario
The Covid-19 pandemic illustrates how AI can do a world of good in the race to find a vaccine. AI is playing two important supporting roles in this quest: suggesting components of a vaccine by understanding viral protein structures, and helping medical researchers scour tens of thousands of relevant research papers at an unprecedented pace. Over the last few weeks, teams at the Allen Institute for AI, Google DeepMind, and elsewhere have created AI tools, shared datasets and research results, and shared them freely with the global scientific community.
Identifying vulnerabilities and protecting you from phishing
Google's Threat Analysis Group
Upon reviewing phishing attempts since the beginning of this year, we've seen a rising number of attackers, including those from Iran and North Korea, impersonating news outlets or journalists.. Government-backed attackers continue to consistently target geopolitical rivals, government officials, journalists, dissidents and activists.
Australia
Launched Australian Gov't WhatsApp channel! Simple COVID-19 govt / health info, 🔢 latest numbers, restrictions, 🗞️news &🏠emojis →
aus.gov.au/whatsapp
Amazing team at
@Atlassian
working _incredibly_ hard together with
@DTA
(Aus Govt) &
@turn_io
to get live in days 👏🏻
Share on WhatsApp
WhatsApp Messenger: More than 2 billion people in over 180 countries use WhatsApp to stay in touch with friends and family, anytime and anywhere. WhatsApp is free and offers simple, secure, reliable messaging and calling, available on phones all over the world.
aus.gov.au
Cyber crime threat advice updated over coronavirus scams
The Sydney Morning Herald
@Gallo_Ways
Fergus Hanson, the director of the Australian Strategic Policy Institute's International Cyber Policy Centre, said hackers were already targeting people working from home as it provided additional access points to a network. He said companies and organisations could address the concern by limiting access to parts of the network to the employees who actually need it, using VPNs to log on remotely and separate work and personal computers. "There's absolutely more vulnerabilities and probably softer targets in a work-from-home arrangement and there does anecdotally seem to be an upticking on attention on those issues," he said.
Today the ACSC issued a Threat Update
cyber.gov.au/threats/threat…
containing important advice and mitigation strategies to help you avoid being impacted by COVID-19 themed malicious cyber activity.
#ozcyber
#cybersecurity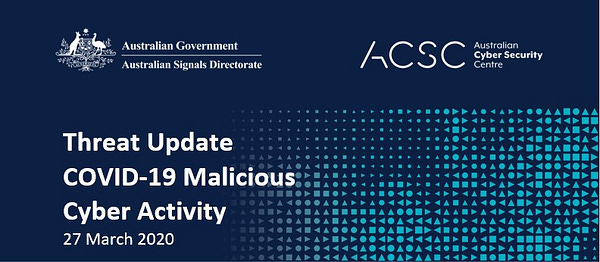 New campaign warns of growing risk to children from online predators
The Sydney Morning Herald
@fergushunter
Crime Stoppers and Australia's eSafety commissioner are launching a new campaign about child sexual abuse and online predators, warning the growing problem has become even more acute as people spend more time on the internet during the COVID-19 crisis.
China
China and Huawei propose reinvention of the internet
Financial Times
@AnnaSophieGross @MadhumitaMurgia
China has suggested a radical change to the way the internet works to the UN, in a proposal that claims to enable cutting-edge technologies such as holograms and self-driving cars but which critics say will also bake authoritarianism into the architecture underpinning the web. The telecoms group Huawei, together with state-run companies China Unicom and China Telecom, and the country's Ministry of Industry and Information Technology (MIIT), jointly proposed a new standard for core network technology, called "New IP", at the UN's International Telecommunication Union (ITU). The proposal has caused concerns among western countries including the UK, Sweden and the US, who believe the system would splinter the global internet and give state-run internet service providers granular control over citizens' internet use. It has gained the support of Russia, and potentially Saudi Arabia, according to western representatives at the ITU.
Ministry of Defense urges US to stop stealing cyber secrets & conducting cyberattacks
buff.ly/2QLTcr6
Responding to Qihoo report of CIA attack, MOD said US violated international law and norms for long time, has history of large-scale cyber theft, espionage, and attacks
国防部:敦促美方停止网络窃密和攻击活动 - 中国军网
我们再次强烈敦促美方立即停止对中方进行网络窃密和攻击活动,还中国和世界一个和平、安全、开放、合作的网络空间。
buff.ly
China's IT ministry urges faster 5G rollout: government document
Reuters
@horwitzjosh
China's Ministry of Industry and Information Technology (MIIT) published a lengthy document on Tuesday calling on localities to accelerate 5G network buildouts and applications to minimize the impact of the coronavirus. The directive comes as China continues its aggressive 5G network expansion, which was disrupted when the coronavirus outbreak halted construction of base stations in February and fibreoptic factories ceased production.
Coronavirus Is Expediting iPhone Makers' Plans to Move Beyond China
Bloomberg
@debbywuintaipei
The move in production out of China has been underway since the trade war between Washington and Beijing reached its zenith last year. Now, Covid-19 is expediting that. Decisions by companies like Wistron and other Apple Inc. partners including Hon Hai Precision Industry Co., Inventec Corp. and Pegatron Corp., could re-shape tech supply chains.
USA
Government Tracking How People Move Around in Coronavirus Pandemic
Wall Street Journal
@byrontau
Government officials across the U.S. are using location data from millions of cellphones in a bid to better understand the movements of Americans during the coronavirus pandemic and how they may be affecting the spread of the disease.
As Virus Spreads, China and Russia See Openings for Disinformation
The New York Times
@julianbarnes @AllMattNYT @ewong
China and Russia have both seized on the novel coronavirus to wage disinformation campaigns that seek to sow doubts about the United States' handling of the crisis and deflect attention from their own struggles with the pandemic, according to American intelligence officials and diplomats.
COVID-19: $800+ million to support small businesses and crisis
Google
Google has announced a new $800+ million commitment to support small- and medium-sized businesses (SMBs), health organizations and governments, and health workers on the frontline of this global pandemic.
Durbin, Merkley, Colleagues Press State Department To Address False Narratives Regarding Coronavirus
Dick Durbin United States Senator Illinois
U.S. Senators Dick Durbin (D-IL) and Jeff Merkley (D-OR) today led a group of eight Democratic Senators in urging the State Department to take action against foreign actors who are weaponizing disinformation to undermine efforts by the United States and our global partners to inform the public about efforts to address the coronavirus (COVID-19) outbreak. In their letter to Secretary of State Mike Pompeo, the Senators also pressed U.S. officials to refrain from using derogatory and inaccurate language that attributes COVID-19 to a specific region or country.
South & Central Asia
COVID-19 can speed 'Make High-Tech in India'
Gateway House
@girichaitanya19
The COVID-19 pandemic has exposed the deficiencies of India's precision instrument import-dependency and the global supply-chain vulnerabilities of international high-tech manufacturing giants.
Southeast Asia
UK
Palantir, a data firm loved by spooks, teams up with Britain's health service
The Economist
Palantir takes its name from crystal ball-like artefacts in the "Lord of the Rings" novels. The secretive Silicon Valley data-analysis company is used to working with governments. Now, as the covid-19 pandemic rages, several independent sources say that Palantir has started work with a new client: Britain's National Health Service.
Europe
Will Germans trade privacy for coronavirus protection?
Deutsche Welle
Asian countries have used digital tracking to fight the new coronavirus, while Europe has put its faith in social distancing. Germany's government is debating how much privacy should and can be protected amid a pandemic.
Huawei to 'scale down' supply of COVID-19 masks, after Borrell comments
Euractiv
@SamuelStolton
Chinese telecommunications giant Huawei will scale down its European mask donation programme for fear of becoming embroiled in a wider geopolitical powerplay, following comments from the EU's Foreign Chief Josep Borrell that a 'politics of generosity' is being played out, as well as a 'global battle of narratives'.
Russia
Russia Pushing Coronavirus Lies As Part of Anti-NATO Influence Ops in Europe
Defense One
@DefTechPat
Russia is directing coronavirus-related disinformation at Eastern European audiences in a bid to drive anti-NATO sentiment among virus-spooked populations. The tactics range from the usual sort of anti-Western commentary on pro-Russian sites to hacking a legitimate news site to post a false story.
Russia Has New Tool For Massive Internet Shutdown Attack, Leaked Documents Claim
Defense One
@DefTechPat
As the world hunkers down in coronavirus isolation and relies on the internet more than ever, a group of dissidents has revealed that Russia has new tools to shut down internet services by tapping internet-connected cameras and similar smart devices. It's a new version of an old weapon - a creator of botnets that can drive an internet service offline with floods of fake data - that puts to use a previously untapped source of computing power: the ever-growing "internet of things."
Middle East
Microsoft sells stake in Israeli facial recognition company
NBC News
@oliviasolon
Microsoft has announced plans to divest its shareholding in the Israeli facial recognition company AnyVision following an investigation of the company by former United States Attorney General Eric Holder.. Holder and his team at the law firm Covington & Burling conducted an audit of AnyVision starting in October 2019 after NBC News and other news outlets including Forbes and Israeli business publication TheMarker reported that the facial recognition startup was surveilling Palestinians throughout the West Bank.
Misc
5 cyber issues the coronavirus lays bare
The Conversation
@jendaskal @LauraDeNardis
As vast segments of society are temporarily forced into isolation to achieve social distancing, the internet is their window into the world. Online social events like virtual happy hours foster a sense of connectedness amid social distancing. While the online world is often portrayed as a societal ill, this pandemic is a reminder of how much the digital world has to offer.
How the viral app Houseparty is entertaining a generation in lockdown
Financial Times
@MsHannahMurphy
As millions of people have been told to stay at home in an unprecedented bid to curb the spread of the virus, Houseparty has become an overnight sensation - not only among company-starved millennials and Generation Z teenagers - but also their parents. Last week alone, the San Francisco-based app, which is owned by Fortnite developer Epic Games, raked in 2m downloads worldwide, compared with around 130,000 the same week a month ago, according to data from App Annie. It currently ranks at number one in the Apple app store in 17 countries including the United Kingdom, Spain and Italy.
Google Bans Infowars Android App Over Coronavirus Claims
Wired
@lilyhnewman
Apple kicked Alex Jones out of the App Store in 2018. The Google Play Store has finally followed suit.
Research
What do young Chinese think about social credit? It's complicated
Mercator Institute for China Studies
Our results also show a complex picture of how Chinese respondents think about social credit and the associated risks: e.g. government surveillance was rated as a higher risk in China than abuse of data by private companies, although media discussions related to "privacy protection" in China's official media has focused predominantly on the latter.