China's push to overtake US in emerging tech | White supremacists strategising around COVID | Taiwan's "Nerd immunity" against disinformation


Follow us on Twitter. The Daily Cyber Digest focuses on the topics we work on, including cyber, critical technologies & strategic issues like foreign interference.
China has embarked on a new trillion-dollar campaign to develop next-generation technologies as it seeks to catapult the communist nation ahead of the U.S. in critical areas. The Wall Street Journal

Inside encrypted chat groups, members of white supremacist groups are talking tactics and strategising, while publicly using anti-China sentiment to promote their cause. ABC News

In a Telegraph interview, digital minister Audrey Tang explains Taiwan's innovative strategies to tackle false online claims. Taiwan has locked on to a winning strategy – "nerd immunity". The Telegraph
ASPI ICPC
Retweeting through the Great Firewall: A persistent and undeterred threat actor
ASPI ICPC
@JakeWallis_ASPI @tomatospy @elisethoma5 @AlbertYZhang@He_Shumei @AlexandraPasc_@DaniellesCave
This report analyses a persistent, large-scale influence campaign linked to Chinese state actors on Twitter and Facebook. This activity largely targeted Chinese-speaking audiences outside of the Chinese mainland (where Twitter is blocked) with the intention of influencing perceptions on key issues, including the Hong Kong protests, exiled Chinese billionaire Guo Wengui and, to a lesser extent Covid-19 and Taiwan. Extrapolating from the takedown dataset, to which we had advanced access, given to us by Twitter, we have identified that this operation continues and has pivoted to try to weaponise the US Government's response to current domestic protests and create the perception of a moral equivalence with the suppression of protests in Hong Kong.
Twitter data shows China using fake accounts to spread propaganda
The Strategist
@JakeWallis_ASPI
At times of political crisis, the Chinese government has demonstrated a willingness to deploy disinformation and influence operations to achieve its strategic goals.

Some great jobs going

@ASPI_ICPC

[1] A talented and efficient Program Manager/Senior Analyst to help us manage our growing team & number of large reseach projects - this is an incredibly important job for us:
aspi.org.au/jobs-at-ASPI/I…
ASPI @ASPI_org
Interested in joining the ASPI team? @ASPI_ICPC are currently recruiting for the roles of Program Manager / Senior Analyst and Analyst. To learn more about the roles and apply, visit https://t.co/9NrzfHAaIb. Applications close on 16 June! https://t.co/Ka8DR9JF58
The World
D10 or Bust? Finding purpose in the 5G club of democracies
Observer Reseatch Foundation
@whoknowstrish
Is being 'anti-China' a compelling enough driver to bring the ten disparate democracies together?
Australia
Extreme right-wing groups 'exploiting' COVID-19, Australian spy agency warns
ABC News
Inside encrypted chat groups, members of white supremacist groups are talking tactics and strategising, while publicly using anti-China sentiment to promote their cause.
It is bad. It is very bad': China's new pattern causes a breakout of pessimism
ABC News
@stephendziedzic
It's not just about buying and selling — the Morrison Government also believes that Five Eyes might provide a useful avenue to share valuable intellectual property that they want to protect from other nations. There are even murmurs that Five Eyes nations might need to pour their collective energy and resources into building crucial future technologies where Beijing already holds a clear edge.
China
China's Trillion-Dollar Campaign Fuels a Tech Race With the U.S.
The Wall Street Journal
@liz_in_shanghai
China has embarked on a new trillion-dollar campaign to develop next-generation technologies as it seeks to catapult the communist nation ahead of the U.S. in critical areas.
China Just Crossed Another Dangerous New Line For Huawei—But Is It Already Too Late?
Forbes
@ukzak
China's desperation to defend under-fire Huawei has escalated again this week, with a mix of threats and taunts as the knock-on affects of Washington's latest sanctions become clearer.
Chinese Army Major Arrested At LAX, Accused Of Stealing Medical Research from UCSF
KPIX5
A major in China's People's Liberation Army has been arrested at Los Angeles International Airport, telling federal authorities that he has been stealing secrets from the medical researchers at the University of California, San Francisco and sending them to a military lab in China.
China set to complete Beidou network rivalling GPS in global navigation
Reuters
The Chinese Beidou navigation network will be complete this month when its final satellite goes into orbit, giving China greater independence from U.S.-owned GPS and heating up competition in a sector long dominated by the United States.
A blockchain-based pyramid scheme packaged in a short video app defeats Douyin in China- PingWest
PingWest
As Zynn gets taken down from Google Play, another Chinese app employing questionable tactics that hints a pyramid scheme signed on more than 35 million users in just 5 months.
USA
US intelligence bill takes aim at commercial spyware makers
TechCrunch
A newly released draft intelligence bill, passed by the Senate Intelligence Committee last week, would require the government to detail the threats posed by commercial spyware and surveillance technology.
Lawmakers demand answers from Zoom CEO Eric Yuan
Axios
@BethanyAllenEbr
A bipartisan group of U.S. senators has sent a list of questions to U.S. video-conferencing company Zoom after it closed the accounts of several Chinese activists at Beijing's request.
New York City oversight bill to force police to detail surveillance tools
Reuters
@razhael
New York City politicians are expected to vote next week to force the largest police force in the United States to divulge the surveillance technology it uses, one of many reforms of law enforcement being considered across the country.
Pentagon Denies Spying on Americans Protesting Police Killings
New York Times
@EricSchmittNYT
The Defense Department's top intelligence official said that he had not been ordered to conduct surveillance on citizens, and that he supported their right to demonstrate peacefully.
#BlackLivesMatter momentum mostly free of bots
Sydney Morning Herald
@chrizap
Millions of people drove a surge of tweets around Black Lives Matter in the days after George Floyd's death in an authentic outpouring of rage and grief.
Global R&D and a New Era of Alliances
Center for Security and Emerging Technology
@csetgeorgetown
Research and development funding and technological leadership are crucial to sustaining America's comparative advantages. While the prevailing narrative suggests that China leads in a bipolar competition, in reality, the United States and its allies comprise a majority of global R&D.
After GitHub CEO backs Black Lives Matter, workers demand an end to ICE contract
LA Times
At Microsoft-owned GitHub, the parent company's decision to stop offering facial recognition software to police reinvigorated internal opposition to a deal with Immigration and Customs Enforcement.
Is OAN the Leading Edge of Russian Misinformation?
The Atlantic
In what appears to be a signal of intensifying political warfare ahead of the November election, One America News Network, the Trump-supporting cable channel that has been promoting anti-Biden conspiracies for several months, says it has obtained several hours of secret recordings of then–Vice President Biden's conversations with Ukrainian officials. If such recordings exist, they're likely linked to pro-Russian interests in Ukraine and a Russian intelligence operation, two former U.S. ambassadors to Ukraine and a former ambassador to Russia told me. The OAN employee who claims to have the tapes would not say what was on them, other than suggesting that they will be revelatory.
New Facebook Tool Allows Employers to Suppress "Unionize" in Workplace Chat
The Intercept
Facebook Workplace is used by employers as large as Walmart. The new tool would allow "content control" to prevent certain topics from trending internally.
A Quiet Panic Is Growing in U.S. Boardrooms Over Huawei Ban
Bloomberg
A quiet panic is spreading in Washington and corporate boardrooms that a law taking effect in two months, which bans Huawei Technologies Co. gear, will threaten the business of government contractors.
North-East Asia
Taiwan builds 'nerd immunity' to resist Chinese disinformation campaigns
The Telegraph
@niccijsmith
In a Telegraph interview, digital minister Audrey Tang explains Taiwan's innovative strategies to tackle false online claims. Taiwan has locked on to a winning strategy – "nerd immunity".
South-East Asia
Maria Ressa: Rappler editor found guilty of cyber libel charges in Philippines
The Guardian
One of the Philippines' most prominent journalists, Maria Ressa, has been found guilty of cyber libel charges, a verdict that could lead to six years in prison and is likely to be viewed as a major set back for democratic rights in the country.
UK
Boris Johnson faces losing billions if he bans Huawei in the UK
The Telegraph
@RachelMillardAS
China has threatened to pull out of major UK infrastructure projects including a nuclear power deal if the UK ditches Huawei.
Peers try to block Huawei from building 5G network
The Times
@LOS_Fisher
Members of the Lords are trying to curb Huawei's role in developing Britain's 5G network by seeking to ban companies that could use the telecoms networks to commit human rights abuses.
Europe
Germany calls for EU sanctions against Russia
DW
Germany is stepping up its demands for punitive measures againt Russian hackers who Berlin blames for an attack on the German parliament, the Bundestag. Germany sees itself as facing "hybrid warfare."
Russia
Meduza Moscow's digital permit system to delete personal data only after conclusion of lawsuits
Meduza
The personal data of Moscow residents recorded in the city's digital permit system will not be deleted until after the conclusion of all associated lawsuits, Alexey Nemeryuk, the head of Moscow's Trade and Services Department, told TASS.
Misc
IBM, Microsoft, and Amazon's face recognition bans don't go far enough
Fast Company
@KateKayeReports
While these tech giants may have stepped back from facial recognition, their bans don't encompass other technology they supply for police or square with their past lobbying and legislative efforts.
The Chip Wars of the 21st Century - War on the Rocks
War On The Rocks
Controlling advanced chip manufacturing in the 21st century may well prove to be like controlling the oil supply in the 20th. The country that controls this manufacturing can throttle the military and economic power of others. The United States recently did this to China by limiting Huawei's ability to outsource its in-house chip designs for manufacture by Taiwan Semiconductor Manufacturing Company (TSMC), a Taiwanese chip foundry.
Cybersecurity experts give a thumbs up to the Apple-Google coronavirus alert system
The Washington Post
Apple and Google struck the right balance between protecting privacy and combating the coronavirus in a tool they released to help alert people who've been exposed to the disease, according to a majority of cybersecurity experts.
Research
Pandemics & Propaganda: How Chinese State Media Creates and Propagates CCP Coronavirus Narratives
HKS Misinformation Review
To gain insight into how Chinese state media is communicating about the coronavirus pandemic to the outside world, we analyzed a collection of posts from their English-language presence on Facebook.
Jobs
Program Manager/Senior Analyst
ASPI's International Cyber Policy Centre (ICPC) has an outstanding opportunity for a talented, proactive and super efficient program manager/senior analyst to join its growing centre. The successful candidate will need to have a proven track record of leading teams and experience in project management including financial and stakeholder management (which will include industry, the Australian Government, Parliament and foreign governments). To succeed in this position candidates should have exceptional communication and problem-solving skills and experience in research, policy analysis or policy development. Deadline June 16.
Analyst
ASPI's International Cyber Policy Centre has an outstanding opportunity for a talented and proactive allrounder to join its growing centre. The ICPC is looking for someone who is an excellent writer and researcher and who is a team player - you will need to juggle multiple research projects that could span the range of topics listed above. This is not an entry level position. Analysts in ICPC have between 5-15 years' relevant work experience and, depending on experience, are involved in stakeholder and project management, fundraising and the management of small teams. Deadline June 16.
MANRS Fellowship Program Now Open
MANRS
The first-ever MANRS (Mutually Agreed Norms for Routing Security) Fellowship Program is now accepting applications. If you are an emerging leader eager to improve the well-being of the Internet's global routing system, apply now.
Events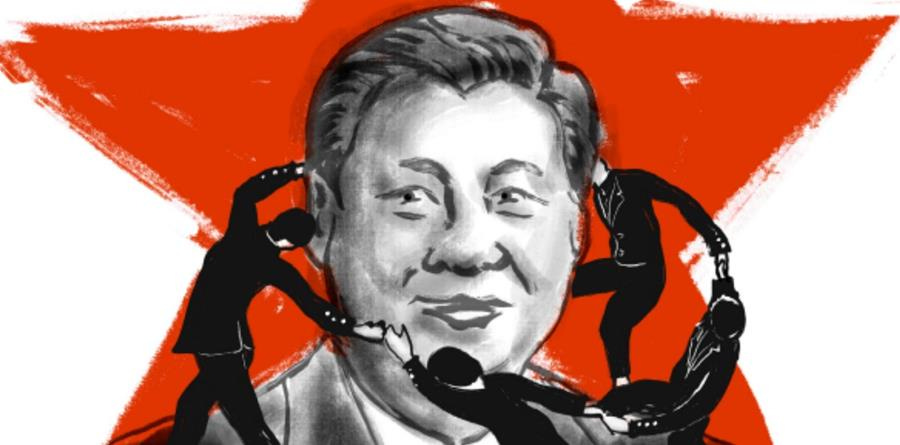 ASPI Webinar: Unraveling the Chinese Communist Party's overseas influence: United front work from Australia to Europe
ASPI
ASPI is delighted to invite you to the webinar discussion: 'Unraveling the Chinese Communist Party's overseas influence: United front work from Australia to Europe' on 18 June at 5pm. The ASPI International Cyber Policy Centre's recent report The party speaks for you: Foreign interference and the Chinese Communist Party's united front system revealed the structure and growing scale of Chinese Communist Party influence. These activities can involve political interference, technology transfer and media influence, and risk inflaming racial tensions around Chinese communities.