Facebook Names the 20 People Who Can Overrule Mark Zuckerberg | China Starts Major Trial of State-Run Digital Currency | Twitter Steps Up Its Fight Against 5G Coronavirus Conspiracy Theories


Follow us on Twitter. The Daily Cyber Digest focuses on the topics we work on, including cyber, critical technologies & strategic issues like foreign interference.
ASPI ICPC
How to stay cyber-secure when working from home during Covid-19.
As Australian organisations plan to slowly return to the office in the coming weeks and months, cyber security, and cyber safety, becomes even more important.

We asked experts for some tips on how to stay secure and safe when working from home, and as we transition back to the office, full-time or part-time.
Australian Group Chronicles the Growing Realism of 'Deep Fakes,' and Their Geopolitical Risk
Broadband Breakfast
A new report from the Australian Strategic Policy Institute and the International Cyber Policy Centre detailed the state of rapidly developing "deep fake" technology and its potential to produce propaganda and misleading imagery more easily than ever. The report, by Australian National University's Senior Advisor for Public Policy Katherine Mansted and Researcher Hannah Smith, explained the costs of artificial intelligence technology allowing users to falsify or misrepresent existing media, as well as generate new media entirely.
I reported for

@WIRED

earlier this year about coordinated efforts by QAnon to influence the US 2020 elections on Twitter. Really interesting to see Facebook also starting to pay more attention to QAnon CIB activity on their platform.
wired.com/story/qanon-de…
Ben Nimmo @benimmo
Separately, we looked at two other takedowns. Both small sets, both U.S. domestic, both based on coordinated inauthentic behaviour. One set inspired by QAnon, one set amplifying VDARE and Unz Review. https://t.co/26S0pCkg1o https://t.co/LqV3jwRSIi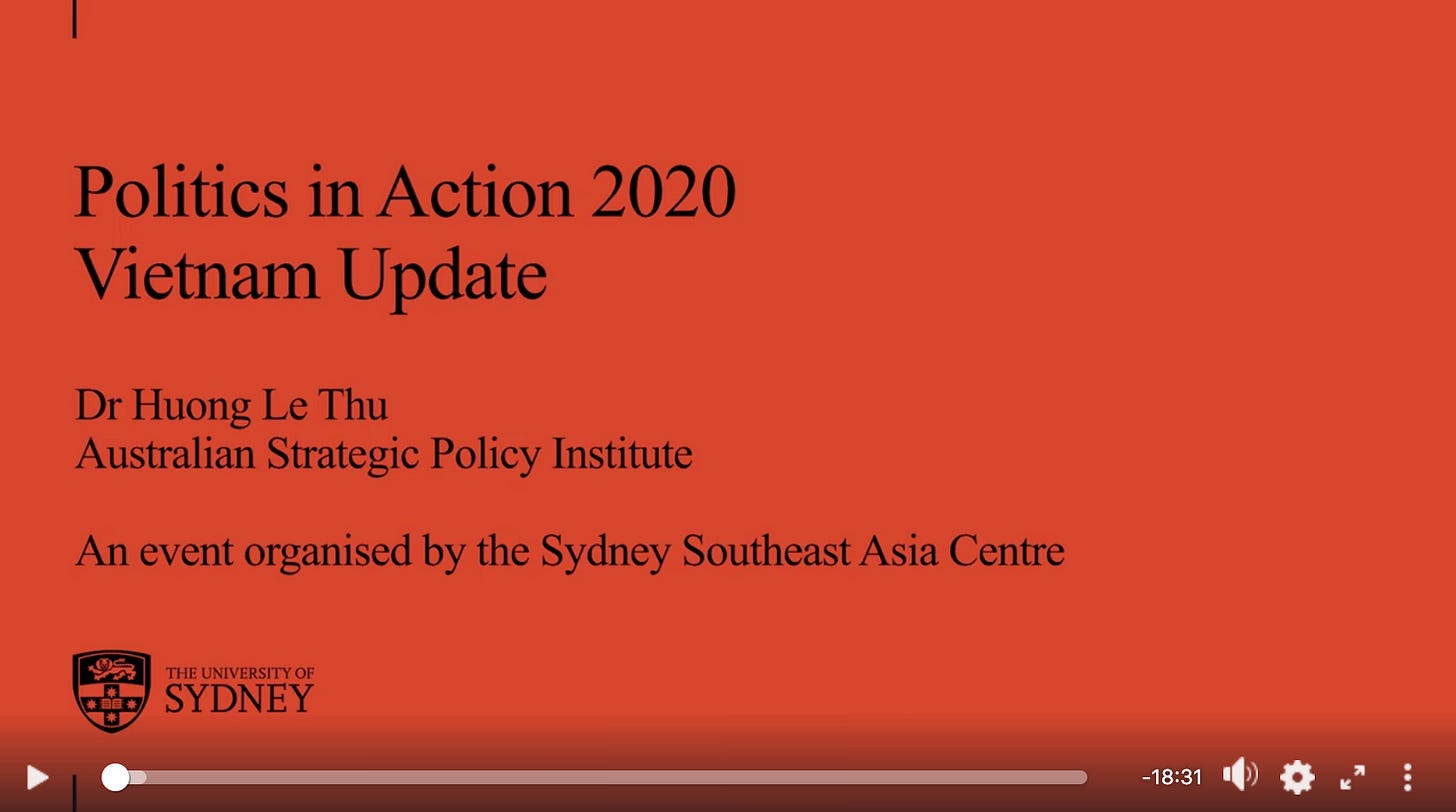 (ASPI's Dr Huong Le Thu discusses Politics in Vietnam in 2020 including; Vietnam's 4th Industrial Revolution, its digital transformation and Hanoi's efforts to lead on 5G in partnership with Nokia and Eriksson.)
The World
INTERPOL launches awareness campaign on COVID-19 cyberthreats
Interpol
In response to the rapidly changing cybercrime landscape during the COVID-19 pandemic, the global law enforcement and cybersecurity communities have formed an alliance to protect the public. Harnessing the expertise of this alliance, INTERPOL has launched a global awareness campaign to keep communities safe from cybercriminals seeking to exploit the outbreak to steal data, commit online fraud or simply disrupt the virtual world. The campaign will highlight top threats and offer advice to #WashYourCyberHands.
Freedom Online Coalition Program Of Action 2020
Freedom Coalition
The Freedom Online Coalition, a coalition of 31 states to promote internet freedom, presents its 2020 work plan.
Australia
The Coronavirus CovidSafe App Is Good For Us
The Australian
Some would have us believe the introduction of the COVIDSafe app signals our nation's slide towards a totalitarian state — citizens tracked by government, their data gathered, their privacy lost.
US access of COVIDSafe data 'not conceivable', but legal advice not released
SMH
@MaxKoslowski
A top official at the Attorney-General's Department has said it is extremely unlikely the United States would access data collected by the federal government's coronavirus contact tracing app, but has not ruled it out and will not release government legal advice on the issue.
China
China starts major trial of state-run digital currency
The Guradian
@heldavidson
China will begin trialling payments in its new digital currency in four major cities from next week, according to domestic media. The e-RMB has reportedly been adopted into the monetary systems of several cities.
Uyghurs – The Forgotten People
Faces of Democracy
On November 16, 2019, the New York Times published over 400 documents classified as secret, which had previously been leaked to the International Consortium of Investigative Journalists (ICIJ). These PDF files, known as the "China Cables", prove one of the most horrific human rights violations of our times, according to the ICIJ, and provide evidence of what the Chinese government has so far described as "one hundred percent pure lies": The existence of forced internment camps in the autonomous region of Xinjiang, located in the northwest of China, which were built – according to the conclusion drawn by the Journalists involved – for re-educating over a million Uyghurs, Kazakhs and other ethnic minorities.
US
Facebook Names the 20 People Who Can Overrule Mark Zuckerberg
Wired
@StevenLevy
Facebook has announced the names of the new oversight board members who will review decisions to remove content. The members are accomplished professionals who are independent of the company.
A $5 Billion Proposal to Fight Online Child Sexual Abuse
NYT
New legislation would try to curb the illegal imagery with record levels of funding for law enforcement. The bill, coming in response to a Times investigation, also calls for a new oversight position in the White House.
South Dakota's Official Coronavirus App Shows Limits of Contact Tracing Tech
Vice
@josephfcox
One of the first official contact tracing apps from U.S. state Departments of Health doesn't reliably record location data, which it is supposed to do in order to help state governments monitor coronavirus infections and warn other residents if they may have been exposed to the virus.
North Asia
What's Behind South Korea's COVID-19 Exceptionalism?
The Atlantic
@DKThomp
South Korea's covid-19 response strategy sits atop three pillars: fast and free testing, expansive tracing technology, and mandatory isolation of the most severe cases. Each pillar was shaped by the epidemics that preceded the 2019 novel coronavirus.
South Asia
India's Covid-19 Contact Tracing App Could Leak Patient Locations
Wired
@a_greenberg
The system's use of GPS data could let hackers pinpoint who reports a positive diagnosis.
UK
Integrating Huawei into the UK's 5G is a gift to China
The Telegraph
@TomTugendhat
Over the past three years many in the US have warned us. From President Donald Trump to Speaker Nancy Pelosi we have been told that the US views our choice of 5G provider with caution. It now seems clear they're following through.
Twitter steps up its fight back against 5G coronavirus conspiracy theories
The Telegraph
Twitter will begin prompting people who tweet about the 5G coronavirus conspiracy theory to read British government-verified information about the technology.
Europe
Europe's Largest Private Hospital Operator Fresenius Hit by Ransomware
Krebs on Security
@briankrebs
Fresenius, Europe's largest private hospital operator and a major provider of dialysis products and services that are in such high demand thanks to the COVID-19 pandemic, has been hit in a ransomware cyber attack on its technology systems. The company said the incident has limited some of its operations, but that patient care continues.
Cyber and Gender
Girls Do Porn Owners Pretended to Be Journalists to Harass Their Victims
Vice
@samleecole
A document detailing what the FBI found in a search of a Girls Do Porn office alleges that the owners were planning to flee the country and release fake porn in order to harass the women suing the company.
Misc
Twitter Asks Users to Reconsider Before Sending Vulgar Tweets
Bloomberg
@KurtWagner8
Twitter Inc. will ask users to watch their language as part of a new test to clean up parts of its service. When someone replies to another user's post, Twitter may prompt them to reconsider their response if it includes slurs, epithets or swear words, a company spokesperson said.
Hackers hide web skimmer behind a website's favicon
ZDNet
@campuscodi
Hackers created a fake image-hosting portal to hide a web skimming operation.
How My Boss Monitors Me While I Work From Home
NYT
@satariano
As we shelter in place in the pandemic, more employers are using software to track our work — and us. All of my online activities — from the websites I visited to my GPS coordinates — were available for my boss to review.
Research
Facebook Downs Inauthentic Cluster Inspired by QAnon
Graphika
@Graphika_NYC
On April 17, Facebook took down a small network of pages, groups, and accounts, based in the United States, that used coordinated inauthentic behavior to promote a range of conspiracy theories. Some users also used the network to advertise merchandise, especially T-shirts.
Future Digital Threats to Democracy
CNAS
@CNASdc
As part of the Center for a New American Security's (CNAS) broader Countering High-Tech Illiberalism project, this ongoing series from Technology for Global Security and CNAS examines the elements and potential implications of digital threats to democracy over the next ten years. Written by authors Nina Miller, Alexa Wehsener, and Vera Zakem, each of nine installments identifies a cross-cutting digital trend, based on a broad array of driving factors.