Facebook will ban Trump for the next two years | Chinese internet regulators investigate startup after Tiananmen square anniversary post | Nigeria says it suspends Twitter days after president's post
Follow us on Twitter. The Daily Cyber Digest focuses on the topics we work on, including cyber, critical technologies & strategic issues like foreign interference.
ASPI ICPC
World
The future of money: The digital currency revolution is here, and may sweep away 5,000 years of monetary history
The Globe and Mail
@MichaelDoyle10
There is a coming storm in the world of finance as governments around the world engage in a global contest to digitize their currencies.
As Dictators Target Citizens Abroad, Few Safe Spaces Remain
The New York Times
@Max_Fisher
For émigrés and exiles, pressure on families back home, social media intimidation, even kidnapping, have become a regular part of life.
Ransomware attacks are closing schools, delaying chemotherapy and derailing everyday life
The Washington Post
@heatherkelly
It can feel abstract: A group of organized but faceless criminals hijacking corporate computer systems and demanding millions of dollars in exchange for their safe return. But the impact of these ransomware attacks is increasingly, unavoidably, real for everyday people. These crimes have resulted in missed chemotherapy appointments and delayed ambulances, lost school days, and transportation problems.
China
Chinese Internet Regulators Investigate Startup After Tiananmen Square Anniversary Post
The Wall Street Journal
@QiZHAI
A buzzy Chinese Instagram-like startup backed by the country's two biggest technology giants had its domestic social media account shut down amid an investigation by Beijing's cyber watchdog into a post it shared on the anniversary of the 1989 Tiananmen Square crackdown, according to people familiar with the situation.
Bing Censors Image Search for 'Tank Man' Even in US
VICE
@josephfcox
Bing, the search engine owned by Microsoft, is not displaying image results for a search for "Tank man," even when searching from the United States. The apparent censorship comes on the anniversary of China's violent crackdown on protests in Tiananmen Square in 1989.
China's Tiananmen anniversary crackdowns reach far beyond the firewall
MIT Review
@eileenguo
Tactics used by Beijing to suppress mentions of pro-democracy protests are increasingly spilling over and affecting users around the world.
Beijing pushes podcast app Ximalaya to list in Hong Kong over US
Nikkei Asia
Naoki Matsuda
Chinese authorities reportedly have pressured podcast and audio app Ximalaya to scrap plans for an initial public offering in the U.S. and list in Hong Kong instead, as they seek to tighten their grip on tech companies. Ximalaya had applied to list on the New York Stock Exchange in late April, according to Reuters, which first reported Beijing's pressure campaign. Regulators including the Cyberspace Administration of China pressed the company to withdraw its plans and switch the IPO venue to Hong Kong.
China taps 12 universities to rival MIT and Stanford in science and tech
South China Morning Post
@YanziDeng_Iris
China has tapped 12 of the country's top universities to build "schools of future technology" in yet another move by the country to become a global science and technology powerhouse.
USA
Facebook Will Ban Trump For The Next Two Years
BuzzFeed News
@JaneLytv @caro1inehaskins @kadiagoba @RMac18
Facebook announced Friday that former president Donald Trump will be suspended for two years after his Facebook and Instagram accounts made posts that praised the violent insurrection at the US Capitol that sought to overturn his loss in the presidential election.
Could more money for DARPA backfire?
National Journal
A new tweak to the Endless Frontier Act doubles funding for the Pentagon's cutting-edge R&D agency. But experts warn more money could undercut DARPA's transformational mission.
Hackers Breached Colonial Pipeline Using Compromised Password
Bloomberg
The hack that took down the largest fuel pipeline in the U.S. and led to shortages across the East Coast was the result of a single compromised password, according to a cybersecurity consultant who responded to the attack.
Comparing Biden and Trump's banned Chinese company lists
Protocol
@ZeyiYang
When President Joe Biden released his own version of an investment ban on Chinese defense and surveillance companies on Thursday, he didn't just raise the total number of companies from 48 to 59. In fact, his administration made significant changes to the list first assembled under former President Donald Trump. Protocol | China has analyzed the discrepancy between the lists before and after the June 3 Executive Order. Of the 29 companies that didn't appear in the old list, at least 14 are aviation and aerospace firms with clear ties to the Chinese military. These include several affiliates of Aviation Industry Corporation of China, a defense aircraft manufacturer. The new list also adds Proven Glory Capital and Proven Honour Capital, two financing arms of Huawei.
Are We Waiting for Everyone to Get Hacked?
The New York Times
@nicoleperlroth
It's been almost a decade since Leon Panetta, then the secretary of defense, warned of an impending "Cyber Pearl Harbor." He didn't want to be right.
South and Central Asia
DoT allots 5G trial spectrum, paves way for development of use cases
ET Telecom
@kalyanparbatET
The Department of Telecommunications (DoT) has allotted 5G trial spectrum in the 700 Mhz, 3.5 Ghz and 26 Ghz bands, paving the way for Reliance Jio, Bharti Airtel and Vodafone Idea to partner with non-Chinese network vendors and develop India-relevant use cases on the next-gen fast wireless broadband technology.
UK
Cambridge professor whose role was 'funded by China' cautioned against Uyghur debate
openDemocracy
@samdunningo Martin Williams @PeterKGeoghegan @Gabriel_Pogrund
Cambridge professor, who took a role allegedly funded by the family of China's former prime minister, has cautioned students against holding debates on Uyghur human rights abuses, openDemocracy can reveal..Jesus College, where Nolan is based, has deep financial ties with China – including a £200,000 grant from the Chinese government in 2018 to its Global Issues Dialogue Centre (GIDC). It has also accepted £155,000 of funding from Chinese technology company Huawei. Last year, the company was accused of "reputation laundering" after it funded a study by Jesus College which presented the company in a favourable light.
Europe
UK and EU investigate Facebook over unfair use of data in digital advertising
The Guardian
@kalyeena @alexhern
UK and EU regulators are investigating Facebook over whether it is abusing its dominance in digital advertising. It marks the first time the regulators have coordinated on a major inquiry since Brexit, and strikes at the core of Facebook's revenues, which rely heavily on selling advertising on its platform.
Middle East
Israel's operation against Hamas was the world's first AI war
The Jerusalem Post
@AAhronheim
The IDF used artificial intelligence and supercomputing during the last conflict with Hamas in the Gaza Strip.
Beijing Is Trolling Biden Over Gaza
Foreign Policy
@MichaelSinghDC
China's wolf warrior diplomacy has discovered the Middle East, catching Washington unprepared.
Africa
Nigeria says it suspends Twitter days after president's post removed
Reuters
Nigeria said on Friday it had indefinitely suspended Twitter's activities, two days after the social media giant removed a post from President Muhammadu Buhari that threatened to punish regional secessionists.
Misc
The quest for quantum-proof encryption just made a leap forward
MIT Review
@HowellONeill
Quantum computers could make encryption a thing of the past, but 15 contenders are trying to prove they have what it takes to safeguard your data.
Events

I gave a talk on undersea

#internet

cables in the

#Pacific

region & a recording is now available:
dpa.bellschool.anu.edu.au/news-events/po…
#tech
#digital
#ICT
@anudpa
@devpolicy
@ANUasiapacific
@ANUBellSchool
@toni_erskine
@ShaneMcLeod
@rohan_fox_work
@RNZPacific
@Pacific_Connect
@BartHoogeveen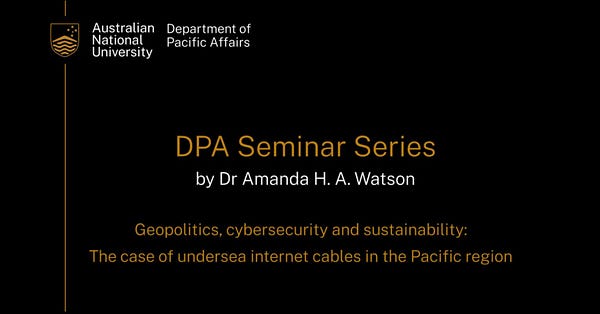 Geopolitics, cybersecurity and sustainability: The case of undersea internet cables in the Pacific region
dpa.bellschool.anu.edu.au
Research
Comrades in Tweets? The Contours and Limits of China-Russia Cooperation on Digital Propaganda
Carnegie Moscow Center
@AlexGabuev @LeonidKovachich
While increasingly compatible shared goals seem poised to unite Beijing's and Moscow's exploits in the digital domain and foretell future cooperation, the two countries have not reached that point just yet. Similarities between Chinese and Russian online behavior are largely the result of Chinese actors' careful but independent study of and creative adaptations of the Kremlin's tools, rather than an expression of active, ongoing cooperation between the two governments. Although future cooperation can hardly be ruled out, there are notable barriers that will likely continue to complicate the two sides' ability to work together on information operations in the near to medium term.
Artificial Intelligence and Democratic Norms: Meeting the Authoritarian Challenge
National Endowment for Democracy
Nicholas D. Wright
This report discusses how to establish democratically accountable rules and norms that harness the benefits of artificial intelligence-related technologies, without infringing on fundamental rights and creating technological affordances that could facilitate authoritarian concentration of power.
The Weaponized Web - The National Security Implications of Data
Alliance for Securing Democracy
@SecureDemocracy
The permissive and sector-based data governance laws that have shaped technological innovation in the United States have constituted both a tremendous boon to U.S. innovation and a growing vulnerability in our national security.
Jobs
ICPC Analyst or Senior Analyst - Cyber & technology
ASPI ICPC
ASPI's International Cyber Policy Centre (ICPC) has a unique opportunity for an exceptional cyber-security or technology focused analyst or senior analyst to join its centre in 2021. Please note that interviews have commenced for this position and will continue until the end of June. This role will focus on policy relevant cybersecurity analysis, informed public commentary and either original data-heavy research and/or technical analysis. Analysts usually have around 7-15 years work experience. Senior analysts usually have a minimum of 15 years relevant work experience and tend to be involved in staff and project management, fundraising and stakeholder engagement.