FBI, NSA: Russian military cyber-unit behind brute-force attacks | Malaysia picks Ericsson over Huawei to build 5G network | Chinese diaspora targeted by CCP disinfo campaign
Follow us on Twitter. The Daily Cyber Digest focuses on the topics we work on, including cyber, critical technologies & strategic issues like foreign interference.
ASPI ICPC
#StopAsianHate: Chinese diaspora targeted by CCP disinformation campaign
The Strategist
@albertyzhang
Chinese diaspora communities continue to be an 'essential target' of Chinese-state-linked social media manipulation taking place around the world. Chinese-state-linked accounts are running a multilingual, cross-platform campaign aimed at stoking the fears of these communities by drawing false equivalences between anti-Asian racism and increased speculation about Covid-19 laboratory-leak theories.
Twitter could face criminal charges over Kashmir error
ABC Radio National
Twitter has caused a political stir in India, after the tech site published a map that incorrectly showed the region of Kashmir as a separate country. Now the company is facing potential criminal charges, with the head of Twitter in India accused of committing "an act of treason". Guest: Ariel Bogle, Analyst with ASPI's International Cyber Policy Centre.
World
How Washington and Big Tech won the global tax fight
POLITICO
@markscott82 @birnbaum_e
Despite differences at home, US policymakers and tech executives worked together to steer international talks to revamp the world's tax regime.
Pentagon official touts NATO-Asia cooperation amid China threat
Nikkei Asia
Ryo Nakamura
The U.S. looks to bring together partners in Europe and the Indo-Pacific for more joint military exercises to tackle the threats posed by China and Russia, the U.S. Department of Defense's principal director for Europe and NATO policy told Nikkei. Cyber, space and nonproliferation are areas where "NATO sees that we have common security challenges" with partners such as Japan, Australia and South Korea, Andrew Winternitz said in a recent interview.
Australia
Australian universities may allow pseudonyms to protect students including those critical of China
The Guardian
@danielhurstbne
Australian universities may allow students to submit written assignments under pseudonyms and in hard copy amid growing concerns about foreign government-linked harassment over politically sensitive topics. The Guardian has learned university leaders are considering a range of options to protect academic freedom, including making it a disciplinary offence if students record some classes or share them with outside groups.
Calls to stop NSW police trial of national facial recognition system over lack of legal safeguards
The Guardian
New South Wales police officers are testing out the federal government's controversial facial recognition system to access passport photos as part of criminal investigations, despite legislation governing its use not yet passing parliament.
Australia-US in talks on space technology treaty
InnovationAus
The Australian government will negotiate a bilateral treaty with the US for protections of space technology, in a bid to attract more American investment and access to sensitive technology and data into the local market.. The treaty, known as a Technology Safeguards Agreement, is critical for allowing the use of US space technology in foreign space programs, and the US has already signed such arrangements with the UK and New Zealand.
From WhatsApp to William Bligh: The story behind the Archives battle
The Sydney Morning Herald
@anguslivingston
It started with a newsroom discussion about the Prime Minister's use of Facebook, and it ended with the National Archives getting $67.7 million to save Australia's crumbling history.
Who's been looking at your check-in data? We asked the states and territories to 'fess up
Crikey
@cameronwilson
Police in several states have owned up to accessing COVID check-in data to assist with investigations. Which states are letting the police have free rein and which are taking a stand?
Pirates of the cyber seas: How ransomware gangs have become security's biggest threat
The Sydney Morning Herald
@chrizap
Cyber security experts, ex-military officials and some politicians are pushing for ransomware gangs to be treated not as hackers but like "pirates" of the past, in a rethink of how to best counter their growing threat to businesses, industries and society.
China
Robots, electric cars and face-scanners: China and the US vie to build the future
The Sydney Morning Herald
@StephenBartho
Among the areas of technologies explicitly targeted by the Made in China 2025 plan are: electric vehicles, next-generation information technology and telecommunications, advanced robotics, artificial intelligence, aerospace engineering, new materials, bio-tech and agricultural science.
How China Steals US Tech to Catch Up in Underwater Warfare
Defense One
@conanwhatisbest @peterwsinger
In late April, Massachusetts-based businessman Qin Shuren became the latest person to plead guilty in the Justice Department's crackdown on the illegal export of strategic technologies. Qin's company, LinkOcean Technologies, falsified documentation to send a Chinese military-affiliated university some $100,000 worth of equipment, including hydrophones, sonobuoys, side-scan sonars, and even an autonomous underwater vehicle. The case is just one part of a long trail of open-source evidence that illustrates a larger issue: U.S. technology being used to advance Chinese military ends..Digging deeper, we learn that the lab occasionally goes by a second, decidedly more military name: the Key Lab of Torpedo Guidance Technology. The Australian Strategic Policy Institute first raised the possibility that the two labs are one and the same, and our research concurs, given the near-complete overlap in missions, personnel, and associated organizations.
Didi, the Chinese Ride-Hailing Giant, Makes Its Debut on Wall Street
The New York Times
@kateconger @zhonggg
The company is going public as investors continue to embrace share sales by tech companies. But Didi could face additional scrutiny because of its Chinese origins.
USA
Federal judge blocks Florida law that would penalize social media companies
The Washington Post
@Cat_Zakrzewski
A federal judge on Wednesday blocked a Florida law that would penalize social media companies for blocking a politician's posts, a blow to conservatives' efforts to respond to Facebook and other websites' suspension of former president Donald Trump.
Federal Trade Commission expands antitrust powers in Chair Lina Khan's first open proceeding
The Verge
@russellbrandom
In an open meeting on Thursday, the Federal Trade Commission passed a pair of pivotal measures expanding its power to regulate anti-competitive business practices, setting the stage for a more aggressive enforcement approach from the embattled agency.
US Secret Service brings back its Cyber Most Wanted list
The Record by Recorded Future
@campuscodi
The US Secret Service has updated its official website this month to add a new page where the agency is now listing the most sought-after fugitives involved in financially related cybercrime investigations. The new Most Wanted Fugitives page was re-added to the agency's site after the page had been removed from the site for the past few years.
Biden masks the tech clobbering coming China's way
Nikkei Asia
President Joe Biden recently rolled back a ban on WeChat and TikTok pushed through by his predecessor, Donald Trump. To Biden's critics, the move hinted at a softer approach to Chinese technology companies, and indeed China in general. That view is almost sure to be misleading. The fate of the two Chinese apps still looks far from certain. More important is Biden's new regulatory regime on data and technology -- which looks likely to be more coherent and potentially tougher on China than the rules they replace.
Team Trump quietly launches new social media platform
POLITICO
@meridithmcgraw @tina_nguyen @viaCristiano
GETTR will be the newest MAGA venture in this space. It's being led by Trump's former spokesman, Jason Miller.
South-East Asia
Malaysia picks Ericsson over Huawei to build 5G network
Nikkei Asia
@premk_my
The Malaysian government has awarded Sweden's Ericsson an 11 billion ringgit ($2.6 billion) contract to design and build its 5G telecommunications network, snubbing Chinese competitor Huawei Technologies.
Russia, ASEAN might create "environment of trust" in cyberspace — Medvedev
TASS
The struggle against cybercrime requires joint efforts by countries. For this reason, Russia and the ASEAN member-states should form an environment of trust in cyberspace, the leader of the United Russia party, deputy chairman of Russia's Security Council, Dmitry Medvedev, said in a round-table discussion with delegates from the ASEAN countries' political parties.
ASEAN Cyber Challenge in the Spotlight With New Center
The Diplomat
@theasianist
One of the items of note to have come out of the recently concluded virtual ASEAN Defense Ministers Meeting on June 15 was the formalization of a cyber center of excellence based in Singapore. While the development itself was not surprising, it nonetheless spotlighted the continued significance of cyber security as a defense issue of importance for Southeast Asian states, as well as some of their key partners.
The Rise of Local News on Instagram and What It Means for Indonesia's Democracy
Remotivi
@rosstapsell @simplysita
As local news accounts grow on Instagram, their potential impact on news audiences and the political process is worthy of examination.
The need for a stronger Philippine ICT infrastructure
Rappler
@louiemontemar
Only 83% of the Philippine population live in areas with sufficient fixed broadband speeds, while only 70% have mobile access. The limited access for rural populations not only shows how many are left without the means to fully participate in any shift to the digital space, but also indicates the disparity of quality digital infrastructure between more central and urban areas versus more remote and rural areas.
South and Central Asia
Govt launches national helpline no. to report cyber crime; all you need to know
Livemint
Reinforcing the commitment of the Modi government to provide safe and secure digital payments eco-system, the Ministry of Home Affairs has operationalised the national helpline 155260 and reporting platform for preventing financial loss due to cyber fraud, the Centre said in a statement.
Indian military personnel to train in US on cybersecurity, command in the offing
Hindustan Times
Shishir Gupta
With the threat of cyber attacks mounting against the Indian armed forces, the Department of Military Affairs is planning to send up to 100 personnel to US to train in latest cybersecurity technology and artificial intelligence for future warfare.
India's renewable energy sector is set to witness a clash between the country's two richest men
Quartz
@sharma_niaa
India's renewable energy sector is set to become a battleground for the country's top billionaires.
Europe
Russian Hackers Mounted Cyber Attack on German Banks, Bild Says
BNN
@patrickjdo @Rudnit
A hacker group linked to the Russian state known as "Fancy Bear" conducted a cyber attack on critical German infrastructure and the country's banking system in the past few days, Bild newspaper reported, citing unidentified Western intelligence sources.
Report: US demands delay to proposed new EU digital tax
Euronews
The United States has asked European countries to delay a proposed digital services tax, according to documents reportedly seen by the AFP news agency. Anonymous diplomatic sources told AFP that Washington put its case to selected European capitals, arguing the proposed digital tax could derail work on a planned global minimum tax rate.
Nordic payment groups merge to take on big tech
Financial Times
@rmilneNordic
Main providers in Norway, Denmark and Finland to join forces to become one of Europe's biggest mobile wallet groups.
Russia
Putin signs law forcing foreign social media giants to open Russian offices
Reuters
President Vladimir Putin has signed a law that obliges foreign social media giants to open offices in Russia, a document published by the government on Thursday showed, the latest move by Moscow to exert greater control over Big Tech.
Middle East
Iranian Disinformation Effort Went Small to Stay Under Big Tech's Radar
The New York Times
@sheeraf
The first-of-its-kind discovery of the Iranian campaign by FakeReporter, an Israeli disinformation watchdog group, offers insight into how countries have miniaturized their disinformation campaigns in an effort to stay under the radar of tech companies that have become more aggressive in rooting them out. Instead of speaking to broad audiences on Facebook or Twitter, these campaigns stir up antigovernment sentiment and gather information about activists' protests and organization by focusing on smaller and more private communications on WhatsApp, Telegram and other encrypted chat apps.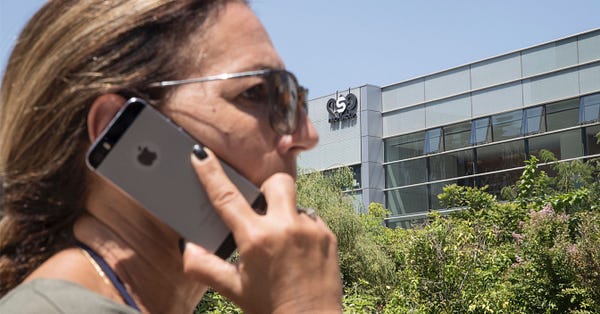 news.yahoo.com
An infamous Israeli spyware firm looks to bolster its image by scoring customers
NSO is reportedly considering going public with an estimated value of up to $2 billion. But serious questions remain about the firm's clientele, and how they...
Israeli charged in global hacker-for-hire scheme wants plea deal -court filing
Reuters
An Israeli private detective detained in New York since 2019 on charges of involvement in a hacker-for-hire scheme wants a plea deal, according to a letter filed in court by his lawyer. The unusual case has revealed the impacts of a secretive but thriving cyberespionage industry in India.
Misc
Facebook tests prompts that ask users if they're worried a friend is 'becoming an extremist'
CNN
@oliverdarcy
Some Facebook (FB) users in the United States are being served a prompt that asks if they are worried that someone they know might be becoming an extremist. Others are being notified that they may have been exposed to extremist content.
Facebook AI guru says regulate its use, not the tech
AFP
@laubarth
Artificial intelligence itself should not be targeted by regulators, but how it is used, Facebook's top executive developing the technology told AFP.
Research
Events
ASPI Webinar: Exfiltrate, encrypt, extort: The global rise of ransomware & Australia's policy options
ASPI ICPC
As the COVID-19 pandemic has swept across the world, another, less visible, epidemic has occurred concurrently – a tsunami of cyber-crime with global losses totalling more than US$1 trillion. While rampant in scale and diverse in form, there is one typology of cyber-crime that presents a unique threat to businesses and governments the world over: Ransomware. Please join us online on Tuesday 13 July at 5.30pm for the launch of the ASPI International Cyber Policy Centre's latest report on the global rise of ransomware and Australia's policy options. Authored by Rachael Falk and Anne-Louise Brown from Australia's Cyber Security Cooperative Research Centre, this report argues the current policy vacuum makes Australia an attractive market for these attacks and ransomware is a problem that will only get worse unless a concerted and strategic domestic effort to thwart these attacks is developed.
ASPI Webinar: In-conversation with Will Cathcart, Head of WhatsApp
ASPI
ASPI's International Cyber Policy Centre is delighted to invite you to the webinar 'In-conversation with Will Cathcart, Head of Whatsapp'. Join Fergus Hanson in a 'fireside chat' with the CEO of WhatsApp Will Cathcart as they discuss the big issues facing the world's largest messaging service. This webinar will include Q&A with the online audience. How do we balance requirements for safety, privacy and security? Why does WhatsApp use end-to-end encryption and how has WhatsApp evolved to combat misinformation? Join us at 10am on Thursday, 8 July to take part in this important conversation.
Jobs
ICPC Senior Analyst or Analyst - Information operations & disinformation
ASPI ICPC
ASPI's International Cyber Policy Centre has an outstanding opportunity for a talented and proactive senior analyst or analyst to join its centre. The successful candidate will work with a small, high-performing team to produce original research and analysis centred around policy responses to information operations and disinformation by state and non-state actors. They will also work with senior staff in the centre to engage globally with governments, social media and Internet companies.
ICPC Analyst or Senior Analyst - Cyber & technology
ASPI ICPC
ASPI's International Cyber Policy Centre (ICPC) has a unique opportunity for an exceptional cyber-security or technology focused analyst or senior analyst to join its centre in 2021. Please note that interviews have commenced for this position and will continue until the end of June. This role will focus on policy relevant cybersecurity analysis, informed public commentary and either original data-heavy research and/or technical analysis. Analysts usually have around 7-15 years work experience. Senior analysts usually have a minimum of 15 years relevant work experience and tend to be involved in staff and project management, fundraising and stakeholder engagement.
ICPC Senior Analyst or Analyst - China
ASPI ICPC
ASPI's International Cyber Policy Centre (ICPC) has a unique opportunity for exceptional and experienced China-focused senior analysts or analysts to join its centre. This role will focus on original research and analysis centred around the (growing) range of topics which our ICPC China team work on. Our China team produces some of the most impactful and well-read policy-relevant research in the world, with our experts often being called upon by politicians, governments, corporates and civil society actors to provide briefings and advice. Analysts usually have at least 5 years, often 7-10 years' of work experience. Senior analysts usually have a minimum of 15 years relevant work experience and, in addition to research, they take on a leadership role in the centre and tend to be involved in staff and project management, fundraising and stakeholder engagement.