Former Twitter employees spied for Saudi Arabia | Huawei threat uncovers enemy within UK spy agencies | Your DNA profile is private? A Florida judge just said otherwise


Follow us on Twitter. The Daily Cyber Digest focuses on the topics we work on, including cyber, critical technologies & strategic issues like foreign interference.
The U.S. Justice Department has charged two former Twitter employees with spying for Saudi Arabia in a case that raises concerns about the ability of Silicon Valley to protect the private information of dissidents and other users from repressive governments. Washington Post

UK's intelligence chiefs have been uncharacteristically outspoken on the threat posed to national security by Chinese telecom giant Huawei. However behind the scenes, the spying organisations' views diverge. Financial Times

Privacy experts say a warrant granted in Florida could set a precedent, opening up all consumer DNA sites to law enforcement agencies across the country. The New York Times
ASPI ICPC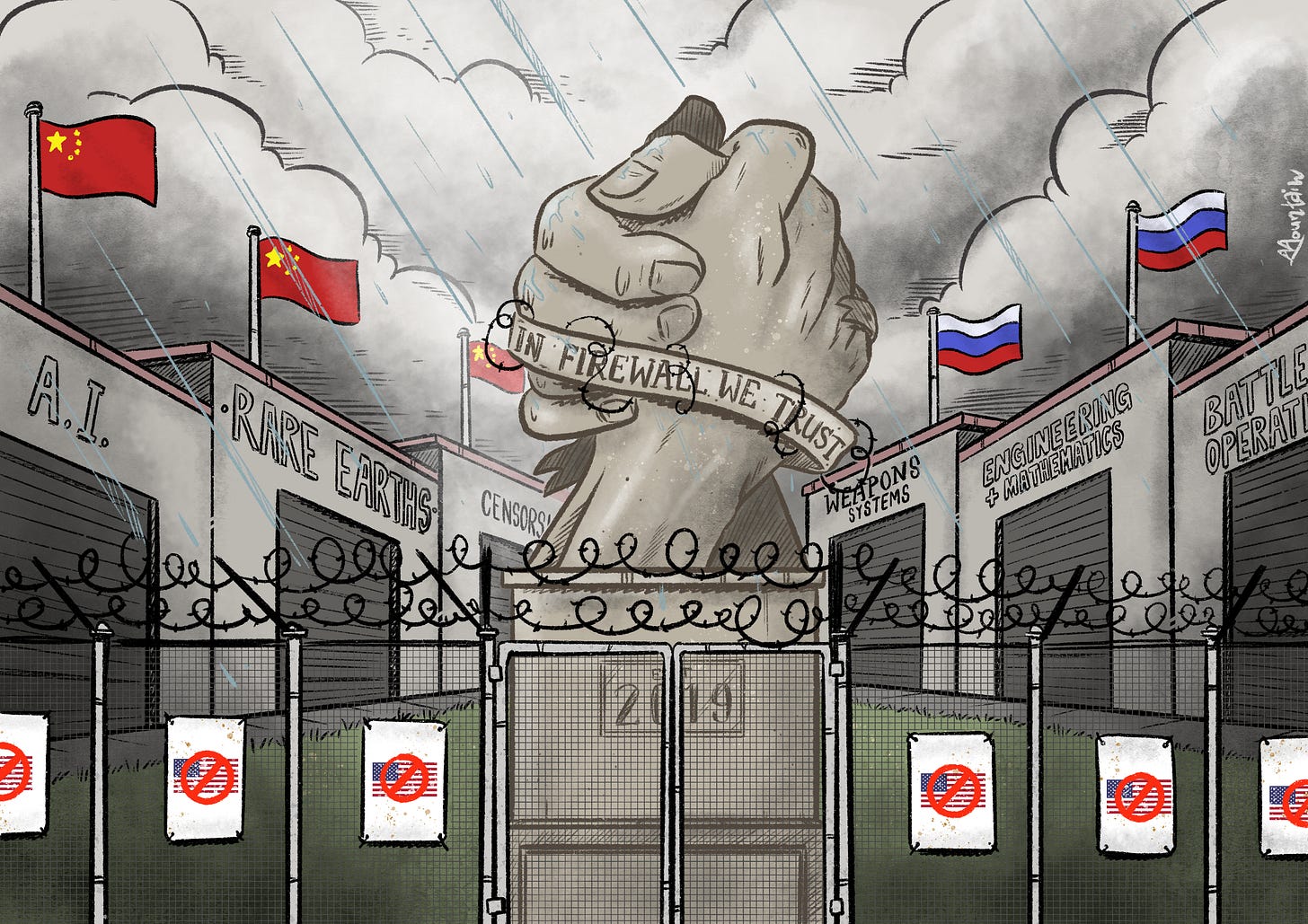 ASPI ICPC report examines deepening Sino-Russian technology ties as US tensions mount
China and Russia have not only expanded military cooperation but are also undertaking more extensive technological cooperation, including in 5G, new media, artificial intelligence (AI), robotics, biotechnology & the digital economy.
The latest policy report by ASPI's International Cyber Policy Centre - A new Sino-Russian high-tech partnership: Authoritarian innovation in an era of great-power rivalry authored by Russian specialist Samuel Bendett and China specialist Elsa Kania - maps out the unique ecosystem underpinning expanding technology cooperation between Moscow and Beijing.
Events
ASPI at the ASEAN Cyber Norms event in Jakarta, 6 Nov 2019.
The World
Former Twitter employees charged with spying for Saudi Arabia by digging into the accounts of kingdom critics
Washington Post
@nakashimae@GregBensinger
The Justice Department has charged two former Twitter employees with spying for Saudi Arabia in a case that raises concerns about the ability of Silicon Valley to protect the private information of dissidents and other users from repressive governments.
Inside the Microsoft team tracking the world's most dangerous hackers
MIT Technology Review
@HowellONeill
From Russian Olympic cyberattacks to billion-dollar North Korean malware, how one tech giant monitors nation-sponsored hackers everywhere on earth.
China
People can pledge loyalty to the Communist Party of China on blockchain
South China Morning Post
A new app allows members of the Communist Party to pledge their loyalty to the Party by writing down the reasons they joined, and answers will be stored on a permanent distributed ledger using blockchain technology. This way a person's party loyalty will stay recorded in cyberspace forever.
United States
Your DNA Profile is Private? A Florida Judge Just Said Otherwise
The New York Times
@heathertal @kashhill
Last week, a Florida detective announced at a police convention that he had obtained a warrant to penetrate GEDmatch and search its full database of nearly one million users. Legal experts said that this appeared to be the first time a judge had approved such a warrant, and that the development could have profound implications for genetic privacy.
For Sale: SAT-Takers' Names. Colleges Buy Student Data and Boost Exclusivity
Wall Street Journal
@dougbelkin
Colleges rise in national rankings and reputation when they show data suggesting they are more selective. They can do that by rejecting more applicants, whether or not those candidates ever stood a chance. Some applicants, in effect, become unknowing pawns. Feeding this dynamic is the College Board, the New York nonprofit that owns the SAT, a test designed to level the college-admissions playing field. The board is using the SAT as the foundation for another business: selling test-takers' names and personal information to universities.
California Sues Facebook for Documents in Privacy Investigation
The New York Times
@ceciliakang @dmccabe
California's attorney general on Wednesday said he was investigating Facebook's privacy practices and accused the company of failing to cooperate with his inquiry, in the social network's latest fight over how it treats user information.
Canada
UBC shows Canada's 5G future awaits — if it can navigate the politics of Huawei, China and Donald Trump's America
Star Vancouver
@mdgmedia
If this country wants to be on the forefront of deploying the next generation of the internet, the government must decide whether it will ban Chinese telecom giant Huawei from building it in Canada, one researcher says.
United Kingdom
Huawei threat uncovers enemy within UK spy agencies
Freedom House
Financial Times
In the past few weeks the UK's intelligence chiefs have been uncharacteristically outspoken on the threat posed to national security by Huawei, the Chinese telecoms equipment maker. However, while their carefully crafted remarks suggest the UK's intelligence agencies are slowly forming a settled view on how to deal with Huawei, behind the scenes the spying organisations' views diverge.
Europe
Estonia: The Inside Story of Building a Digital Nation
Charted Management Institution
Some facts about Estonia. At the last election, 44 per cent of ballots were cast online. Voters are able to vote on their PC or mobile before polling date, and change their choice as many times as they like. One woman changed her vote 648 times. The police arrived to ask why. She asked whether they had a problem with it; they said no and left her in peace. All government services are online. And completely connected. Go to a doctor and they can pull up your digital records immediately. No farcical paper Lloyd George envelopes, as with the NHS. Your prescription is entered into an online e-prescription system, accessible to all pharmacies. Just go to the nearest one, present an ID card and collect.
Russia
Behold Russia's new 'sovereign internet
Advox
On November 1, Russia's controversial "Sovereign Internet" bill entered into force. Supporters argue that the move is necessary to shield Russia against cyberattacks from abroad, while human rights and free speech defenders argue that the bill poses a dangerous new threat to freedom of expression online.
Misc
Depoliticizing Foreign Interference
Lawfare
Russian interference in the 2016 election was one of the most effective and dangerous foreign operations ever conducted against the United States. Even worse, the risk of foreign meddling is likely to grow in the coming years. Jessica Brandt of the Alliance for Securing Democracy argues that while a complete solution is unlikely, there is enough bipartisan support to make progress on a range of key areas that, taken together, will make the 2020 elections far more secure.
Massive White Supremacist Message Board Leak: How to Access and Interpret the Data
Bellingcat
6 Nov, the entire SQL database from Iron March, a now-defunct neo-Nazi / white supremacist message board, was posted onto the Internet Archive by the user "antifa-data".
An Infamous Neo-Nazi Forum Just Got Doxxed
Vice
@BMakuch @Mack Lamoureux
It's no secret that neo-Nazis freely post anonymously all over the internet, every single day. But a recent leak shows that white nationalists online can't always protect their identities.
Thousands of College Kids Paid to Work for a Viral Party Kingpin. What Could Go Wrong?
The New York Times
@TaylorLorenz
The business model of I'm Shmacked is to recruit undergraduates as content creators, often with promises of thousands of dollars a month in compensation and online fame. In interviews with The New York Times, students said that after they confronted the company over false promises, they were threatened with lawsuits and intimidated into silence. Many who interned for the company fared no better.
Thank you for reading the Daily Cyber Digest. If you have any feedback, please let us know via email at icpc@aspi.org.au Know someone who may enjoy getting this? They can sign up here.