How Tweets Were Used by Police to Spy on BLM Protests / Why Repair Techs Are Hacking Ventilators With DIY Dongles From Poland / TikTok Considers Changes to Distance App From Chinese Roots


Follow us on Twitter. The Daily Cyber Digest focuses on the topics we work on, including cyber, critical technologies & strategic issues like foreign interference.
ASPI ICPC
Australian experts raise security concerns about Chinese maker of Andrew Forrest Covid-19 tests
The Guardian
It followed a report last month by the Australian Strategic Policy Institute (ASPI) that found a BGI subsidiary, Forensic Genomics International, was linked to what it described as a "DNA dragnet" involving multiple companies, which collected DNA data from millions of men and boys with no serious criminal history.
Tech companies fall back as the Great Firewall advances on Hong Kong
The Strategist
@elisethoma5
US tech giants drew a line in the sand earlier this week when they announced that they would suspend cooperation with requests from Hong Kong law enforcement for access to user data. In so doing, however, they may have also effectively drawn a line under the period of relatively free and open internet in Hong Kong.
TikTok's Hong Kong exit isn't a stand against Beijing's internet censorship
Quartz
@Jane_Li911
"TikTok's decision is a public relations exercise, not a decision based in principle. Notably, TikTok didn't refer to any principle as being the basis for its decision to move out of Hong Kong, unlike Facebook…," said Fergus Ryan, an analyst who studies Chinese internet at the Australian Strategic Policy Institute (ASPI). Ryan argues that the exit is also an "easy decision" for TikTok, as most Hong Kongers are already wary of apps that could potentially send data back to Beijing, so there was never much of a likelihood that the app would become popular in Hong Kong, where it had only about 150,000 users as of last August.
TikTok Considers Changes to Distance App From Chinese Roots
The Wall Street Journal
ByteDance nevertheless has a long way to go to convince its critics. Any change to the corporate structure has to be significant enough to separate TikTok from any entanglements with mainland China, and has to cut off mainland Chinese staff from accessing user data, said Fergus Ryan, an analyst at the Australian Strategic Policy Institute. TikTok's privacy policy says that user data can be accessed by ByteDance and other affiliate companies. "Will the new structure be designed so as to remove any leverage Beijing can have over it? I find that hard to imagine," Mr. Ryan said.
Should you delete TikTok? 3 cyber security experts answer
Yahoo Finance
According to the Australian Strategic Policy Institute analyst Fergus Ryan, the chief thing that sets TikTok apart is the fact that it is owned by a Chinese company. "A lot of these apps that people use including social media apps, suck up a huge amount of data on their users. And often the permissions these apps require of their users are excessive and invasive," he told Yahoo Finance. "But the thing that makes apps like TikTok, [and] also WeChat, different is that they are from China. And that puts them in a particular legal jurisdiction, which means that due to a bunch of different national security laws in China, that there's effectively no firewall separating Chinese authorities from that user data that these companies hold.
The World
Deepfakes and Synthetic Media in the Financial System: Assessing Threat Scenarios
Carnegie Endowment for International Peace
Bad actors could use deepfakes—synthetic video or audio—to commit a range of financial crimes. Here are ten feasible scenarios and what the financial sector should do to protect itself.
Australia
Alarm bells sound as China strengthens its chokehold on Australia's high-tech metals
The Sydney Morning Herald
The risk is not just that Australia will miss out on resources jobs, but that China will be the only nation with a solid supply of the essential materials needed for high-tech defence equipment and renewables technology.
Australia's world-first anti-encryption law should be overhauled, independent monitor says
The Guardian
Attorney general should be stripped of the power to force tech companies to help security agencies potentially spy on the public.
TikTok: New laws needed to protect Australian data on social media app
Daily Telegraph
@jendudley
Everything from our location to our private messages could be at risk from leaky, foreign apps, amid calls for bans and new laws to protect Australian data.
China
Opinion | What Beijing Lost With Its Border Clash Blunder
The Wall Street Journal
@dhume
Fighting with India in the Himalayas may cost China its shot at becoming the dominant tech power.
Chinese biotech giant BGI's U.S. subsidiary received PPP loan
Axios
A U.S. subsidiary of Chinese genomics company BGI Group received a loan through the Paycheck Protection Program (PPP), according to data on the program released by the U.S. Treasury Department this week.
China Issued the Draft Data Security Law
Inside Privacy
On July 2, 2020, the Standing Committee of the National People's Congress of China ("NPC") released the draft Data Security Law ("Draft Law") for public comment.
USA
How Tweets Were Used by Police to Spy on BLM Protests
The Intercept
@samfbiddle
Leveraging close ties to Twitter, Dataminr helped law enforcement agencies digitally monitor the protests following the killing of George Floyd, tipping off police departments to social media posts with the latest whereabouts and actions of demonstrators.
The U.S. Army Twitch Channel Is Banning People for Asking About War Crimes
VICE
@mjgault
During the stream, the Green Beret on camera characterized viewers asking about U.S. atrocities as "internet keyboard monsters" and said, "I'm bigger than you."
Secret Service merging electronic and financial crime task forces to combat cybercrime
CyberScoop
The Secret Service is combining its Electronic Crimes Task Forces (ECTFs) and Financial Crimes Task Forces (FCTFs) into one unified network, the agency announced Thursday.
Researcher Charged with Illegally Using U.S. Grant Funds to Develop Scientific Expertise for China
U.S. Department of Justice
"Yet again, we are faced with a professor at a U.S. University, who is a member of a Chinese Talent Plan, allegedly and deliberately failing to disclose his relationship with a Chinese university and receipt of funds from the Chinese Government in order to obtain millions of dollars in U.S. grant money designed to benefit the health and well-being of the people of the United States — not to be hijacked to supplement the research goals of the Chinese Communist Party," said Assistant Attorney General for National Security John C. Demers.
Slate Star Codex and Silicon Valley's War Against the Media
The New Yorker
Gideon Lewis-Kraus
How a controversial rationalist blogger became a mascot and martyr in a struggle against the New York Times.
TikTok Teens Try To Trick Trump Campaign, Again
Bloomberg
@sbanjo
The TikTok-tivists are at it again. Thousands of users of the popular video app flocked to the Apple App Store in the last few days to flood U.S. President Donald Trump's 2020 campaign app with negative reviews.
North Asia
The semiconductor industry is where politics gets real for Taiwan
The Interpreter
Taiwan has a dominant role in the international supply chain for these tiny but strategically vital products. Together with South Korea's Samsung and Intel from the US, Taiwan is at the cutting edge of semiconductor technology. It is also a major presence in their manufacturing: one Taiwanese company, TSMC, produces about half the world's annual supply of chips. The industry has been a diplomatic asset for Taiwan, entrenching US and Chinese interests in Taiwan's stability and autonomy.
U.K.
Huawei could feel chill wind in Europe if UK shuts them out of 5G networks
South China Morning Post
Report is expected to be submitted to UK prime minster this week, which could pave way for a policy shift that bans purchase of any new Huawei equipment.
UK universities comply with China's internet bans
BBC News
UK universities are testing a new online teaching link for students in China - which will require course materials to comply with Chinese restrictions on the internet. It enables students in China to keep studying UK degrees online, despite China's limits on internet access. But it means students can only reach material on an "allowed" list.
Europe
Germany seizes server hosting leaked US police files
The Hill
At the request of the U.S. government, German officials last week seized a computer server that hosted leaked files from scores of police agencies taken in a Houston data breach last month.
TIM excludes Huawei from 5G core equipment tender in Italy, Brazil
Reuters
Telecom Italia (TIM) has excluded China's Huawei Technologies from a tender for 5G equipment for the core network it is preparing to build in Italy and Brasil, two sources familiar with the matter said on Thursday.
Why Repair Techs Are Hacking Ventilators With DIY Dongles From Poland
VICE
As COVID-19 surges, hospitals and independent biomedical technicians have turned to a global grey-market for hardware and software to circumvent manufacturer repair locks and keep life-saving ventilators running.
Canada
'Anything TikTok knows, assume China knows': Experts urge Canadians to be wary of app
Global News
@kdangerfield
India has already banned TikTok and the U.S. is considering a ban on the app, but will Canada follow suit?
Africa
"I'm Disturbed." African Tech Workers Push Back On US Startup Built To Help Them
Big Technology
@Kantrowitz
Serena Williams, Al Gore, Mark Zuckerberg and Priscilla Chan invested millions, but life inside the company can be less than ideal.
Misc
Twitter is working on a subscription platform codenamed Gryphon
VentureBeat
Twitter is working on a new subscription platform under the codename Gryphon, according to two online job openings posted by the social network.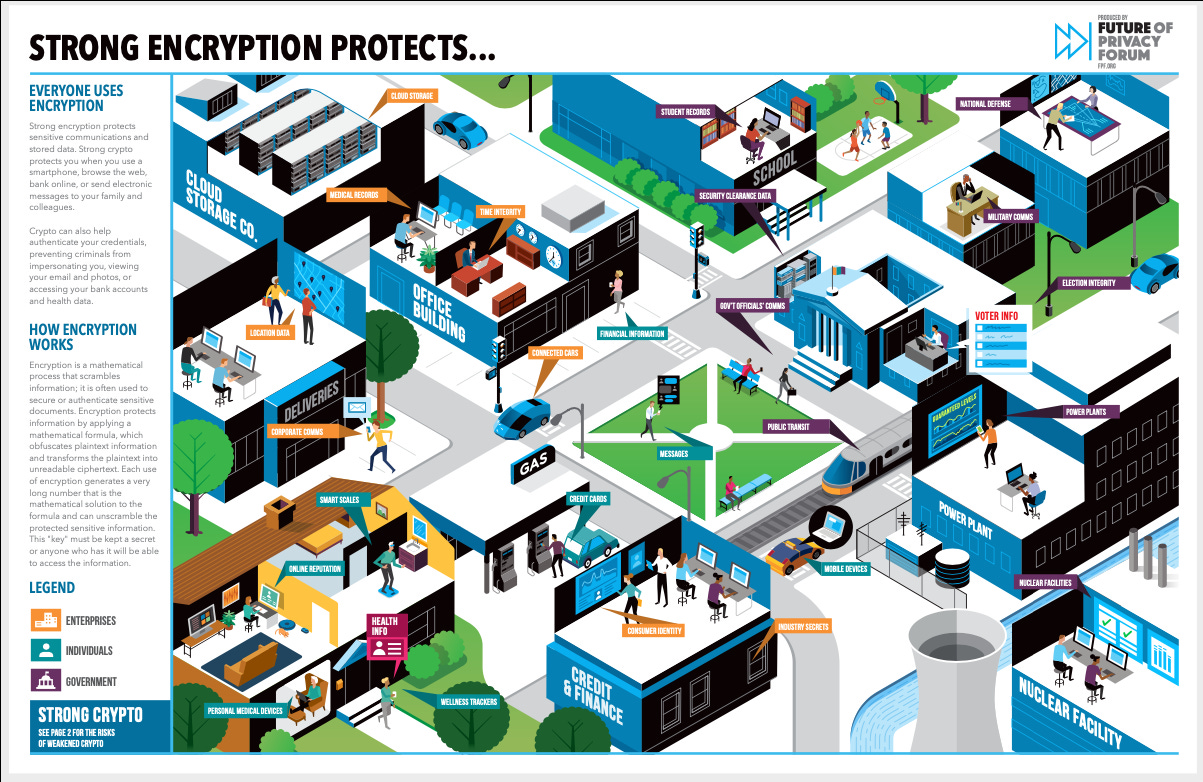 Today, the Future of Privacy Forum released an infographic detailing the benefits of strong encryption. Click here to see the Interactive version.
Opinion | I've Seen a Future Without Cars, and It's Amazing
The New York Times
@fmanjoo
The island of Manhattan is about 23 square miles. Much of it is covered in roadway, street parking and parking garages. If you added up all the space Manhattan devotes to cars, you'd have an area nearly four times as large as Central Park.
Large-scale facial recognition is incompatible with a free society
The Conversation
In the US, tireless opposition to state use of facial recognition algorithms has recently won some victories. Some progressive cities have banned some uses of the technology.
Events
Jobs
Program Manager/Senior Analyst
ASPI's International Cyber Policy Centre (ICPC) has an outstanding opportunity for a talented, proactive and super efficient program manager/senior analyst to join its growing centre. The successful candidate will need to have a proven track record of leading teams and experience in project management including financial and stakeholder management (which will include industry, the Australian Government, Parliament and foreign governments). To succeed in this position candidates should have exceptional communication and problem-solving skills and experience in research, policy analysis or policy development.
Analyst
ASPI's International Cyber Policy Centre has an outstanding opportunity for a talented and proactive allrounder to join its growing centre. The ICPC is looking for someone who is an excellent writer and researcher and who is a team player - you will need to juggle multiple research projects that could span the range of topics listed above. This is not an entry level position. Analysts in ICPC have between 5-15 years' relevant work experience and, depending on experience, are involved in stakeholder and project management, fundraising and the management of small teams.