Johnson Huawei Plans at Risk | Google blocking 18m covid-19 scam emails every day | China-linked 'Electric Panda' hackers seek U.S. targets, intel agency warns


Follow us on Twitter. The Daily Cyber Digest focuses on the topics we work on, including cyber, critical technologies & strategic issues like foreign interference.
ASPI ICPC
Propaganda and patriotic trolls: Coronavirus disinformation on social media
The New Daily
Shadowy online players linked to China and Russia are using social media platforms, including Facebook and Twitter, to spread coronavirus conspiracy theories, propaganda and disinformation, a new report has warned. Both state and non-state online actors are exploiting the COVID-19 crisis for strategic gain, research by the Australian Strategic Policy Institute has found.
Thailand's hashtag activism targets political change
ASPI Strategist
@tracingtheworld
Twitter hashtag activism is slowly reversing the public's reluctance to disrupt the false sense of stability that has flowed from Thailand's turbulent history of political crackdowns and street protests ending with gunfire.
AFP charge 16 people over alleged child-abuse ring that spanned five states
ABC
@Selby_Cameron
Former AFP officer and head of strategic policing at the Australian Strategic Policy Institute (ASPI), Dr John Coyne, said technology had "altered the way people access child exploitation material. "Former AFP officer and head of strategic policing at the Australian Strategic Policy Institute (ASPI), Dr John Coyne, said technology had "altered the way people access child exploitation material". "Unfortunately, people are able to create global networks using off-the-shelf encryption and they can interact from their living rooms," he said.
Australia
Making Facebook and Google pay for Australian news is a wake-up call
The Age
@JennieDuke
Forcing Facebook and Google to pay Australian publishers for news content will spark a series of crisis meetings at their headquarters in the United States.
Nothing particularly disturbing': Coronavirus app safe, review finds
The Sydney Morning Herald
@MaxKoslowski
The independent cyber security body tasked with reviewing the government's coronavirus tracing application has said it is has no major concerns about the app. The Cyber Security Cooperative Research Centre, which was allowed to review the app after several MPs raised concerns the data collected could be pervasive or mishandled, said it found "nothing particular disturbing" in the app's architecture. "I'm pleased with what I've seen to date," the centre's chief executive officer, Rachael Falk, said. "There's very little private data obtained."
China
Alibaba Cloud announces mammoth infrastructure investment
buff.ly/2RMCl83
28 billion U.S. dollars in the research and development of core technologies such as cloud operating system, servers, chips and networks within three years.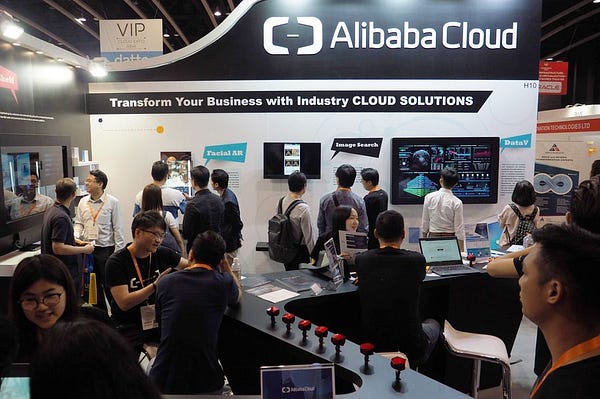 Alibaba Cloud announces mammoth infrastructure investment
Xinhua
Alibaba's cloud computing branch announced on Monday it would invest 200 billion yuan (about 28 billion U.S. dollars) in the research and development of core technologies such as cloud operating system, servers, chips and networks within three years.
China Rolls Out Pilot Test of Digital Currency
Wall Street Journal
@JChengWSJ
China's central bank has introduced a homegrown digital currency across four cities as part of a pilot program, marking a milestone on the path toward the first electronic payment system by a major central bank.
Why China is losing the coronavirus narrative
Financial Times
Wang Jisi, a legendary scholar at Peking University, says the virus fallout has pushed Sino-US relations to their worst level since formal ties were established in the 1970s. He describes bilateral economic and technological decoupling as "already irreversible".
China to hold summit on big data application in military equipment
China Military
It is learnt from the Equipment Development Department (EDD) of China's Central Military Commission (CMC) that the Chinese military is to hold the Equipment Big Data Summit 2020 in the coming September.
USA
Pro-gun activists using Facebook groups to push anti-quarantine protests
Washington Post
@isaacstanbecker @tonyromm
A trio of far-right, pro-gun provocateurs is behind some of the largest Facebook groups calling for anti-quarantine protests around the country, offering the latest illustration that some seemingly organic demonstrations are being engineered by a network of conservative activists.
Huawei phones blocked from Google's contact tracing system
The Telegraph
@MargiMurphy
Huawei phone owners will be left out of a global Covid-19 contact tracing initiative because of a bitter feud between the US and China.
Podcast: Why Online Voting Won't Work, Even in a Pandemic
Vice
On this week's CYBER we have Motherboard reporter Lorenzo Franceschi-Bicchierai on to discuss why online voting isn't ready for prime time.
Mark Zuckerberg: How data can aid the fight against covid-19
Washington Post
Mark Zuckerberg
As the world fights covid-19 and countries develop plans to reopen their societies, it's critical to have a clear understanding of how the disease is spreading. Better data can help governments determine where to send resources such as ventilators and personal protective equipment — and eventually which areas are safe to start opening up again.
China-linked 'Electric Panda' hackers seek U.S. targets, intel agency warns
Politico
@NatashaBertrand
Nearly 40 U.S. contracting facilities with access to classified information have been targeted by a hacking group with suspected ties to the Chinese government since Feb. 1, according to a bulletin disseminated to contractors by the Defense Counterintelligence and Security Agency on Wednesday.
Amazon challenge to JEDI contract officially on hold
Tech Radar
Amazon's challenge to the Pentagon's decision to award its lucrative cloud computing contract to Microsoft has been further delayed. Federal Judge Patricia E.Campbell-Smith granted the Pentagon until August 17 to review the parts for the bids for the $10 billion Joint Enterprise Defense Infrastructure (JEDI) cloud computing project.
Senate Panel Seeks Scrutiny of China Telecom Companies After It Sees Lax U.S. Oversight
Wall Street Journal
@Kate_OKeeffe @drewfitzgerald
In a forthcoming report, the Senate Permanent Subcommittee on Investigations will level sharp criticism at a group of telecom regulators for failing to scrutinize the Chinese companies and the way they handle data going back nearly two decades. Senate investigators who briefed The Wall Street Journal on their findings said that without proper oversight the Chinese companies "present an unacceptable amount of risk."
India
Facebook launches Fundraisers in India, expands partnerships with state governments for WhatsApp and Messenger helplines
Tech Crunch
@refsrc
Facebook has expanded Fundraisers to India and is working with several additional state governments to provide authoritative information about the coronavirus to more people in the country.
Pacific Islands
UK
Johnson Huawei Plan at Risk; U.K. Set to Rethink China Ties
Bloomberg
@kitty_donaldson
Boris Johnson's plan to let Huawei Technologies Co. help build the U.K.'s fifth-generation mobile networks is under threat from mounting opposition to the Chinese company in his ruling Conservative Party, government officials say.
Europe
Cyber conflict uncoded | European Union Institute for Security Studies
European Union Institute for Security Studies
The proliferation of Information and Communication Technologies (ICTs), both the expansion of usage and the increased availability of harmful means, has brought about new ways of power projection. Political and economic contestation between states now involves targeted cyber-attacks against other countries' utilities, financial networks, election infrastructure and governance systems.
Misc
Google blocking 18m coronavirus scam emails every day
BBC
@joetidy
Scammers are sending 18 million hoax emails about Covid-19 to Gmail users every day, according to Google. The tech giant says the pandemic has led to an explosion of phishing attacks in which criminals try to trick users into revealing personal data.
Zoom's Security Woes Were No Secret to Business Partners Like Dropbox
New York Times
@natashanyt @nicoleperlroth
One year ago, two Australian hackers found themselves on an eight-hour flight to Singapore to attend a live hacking competition sponsored by Dropbox. At 30,000 feet, with nothing but a slow internet connection, they decided to get a head start by hacking Zoom, a videoconferencing service that they knew was used by many Dropbox employees.
Research
E-Commerce Connectivity in ASEAN
Economic Research Institute for ASEAN and East Asia
The next Asian miracle of growth could be born with the region's digital transformation. Digital connectivity is the cornerstone that will make the changes feasible and smoothen the transformation. It consists of not only physical connectivity that facilitates the movement of raw materials, intermediate goods, and goods, but also cyber connectivity to support free flows of data, information, and services.