Microsoft & ByteDance's talks to buy TikTok on hold | Draft code forces Google & Facebook share revenue with media in Australia | Australian intelligence agencies investigate TikTok


Follow us on Twitter. The Daily Cyber Digest focuses on the topics we work on, including cyber, critical technologies & strategic issues like foreign interference.
ASPI ICPC
Australian intelligence agencies investigate Chinese-owned TikTok over security concerns
ABC
The ABC has been told that the Federal Government is conducting two complementary investigations into the app. The Prime Minister has directed intelligence agencies to investigate whether TikTok poses a security threat. Simultaneously, the Department of Home Affairs is investigating what steps the Government can take to manage any privacy or data security risks it poses. Home Affairs is also scrutinising the hugely popular Chinese social media app WeChat, which is used by more than 2 million Australians.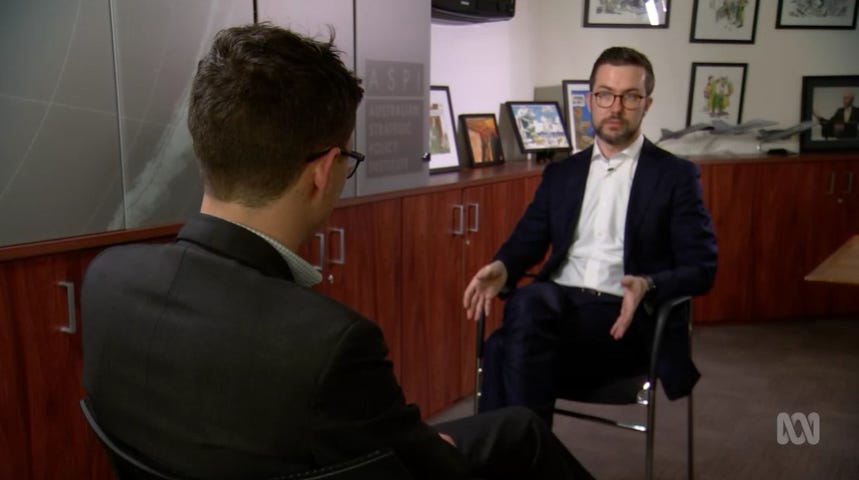 Watch ASPI ICPC Analyst Fergus Ryan on ABC here.
The story of hydroxychloroquine tells us everything that's wrong with 2020
Ms Elise Thomas described what she calls "conspiracy collapse", where social media platforms bring together many different kinds of sometimes contradictory conspiracies. "You look at it at the end, and you can't figure out what started where."
China diaspora: WeChat, and the Communist Party watches what you do
The Australian
Australian Strategic Policy Institute analyst Fergus Ryan said the government should do more to protect the privacy of WeChat users in Australia. "Australian WeChat users, like all WeChat users, are constantly monitored," he said. "This data is then used by WeChat to train its political censorship system." Mr Ryan said the Australian government should push WeChat owner Tencent to service Australian users without exposing them to unreasonable levels of surveillance and censorship. " Failing that, the Australian government should be prepared to ban it," he says.
China pursues 'all-around influence' in Australia
The Australian
ASPI analyst Alex Joske says the CCP's ultimate aim is to collapse the "diverse" diaspora into a single "homogeneous and patriotic" group, united under the party leadership.. "The fact that United Front is a political model means that its overseas expansion is an exportation of the CCP's political system," he says. "As governments begin to confront the CCP's overseas interference and espionage, understanding the United Front system will be crucially important." According to Joske, in countries like Australia where United Front work has been long established, it has proven difficult for politicians to avoid associating with affiliated groups and implicitly legitimising them as representatives of the broader Chinese community.
Australia
Google and Facebook to be forced to share revenue with media in Australia under draft code
The Guardian
Google, Facebook and other digital platforms could be forced to pay hundreds of millions of dollars in fines if they fail to comply with a news media bargaining code released by Australia's competition regulator on Friday.
Telstra backtracks on claim network was hit by cyber attack
The Sydney Morning Herald
Telstra has backtracked from claims it was the victim of a cyber attack after thousands of people across Australia reported outages on Sunday. The telecommunications provider tweeted that it was looking into an issue impacting home internet connections, including those on the national broadband network (NBN). There were also reports from Telstra users that the internet connectivity of phones was also affected.
Government warned on Chinese state involvement in Australian power grid
The Sydney Morning Herald
The federal government is being urged to conduct a review of Chinese state involvement in Australia's electricity grid and consider the removal of some equipment amid fears of remote sabotage.
Australia urged to invest in quantum computing ahead of future pandemics
The Sydney Morning Herald
The founder of Sydney startup Q-CTRL says quantum computing could deliver new tools for drug development during future pandemic scenarios and Australia should invest now to reap the benefits.
Sustaining sovereign innovation for Australia's cyber-physical interests
Defence Connect
The last month or so has seen unprecedented levels of focus and interest in Australia's approach to cyber security and the trust we place in data, digital infrastructures and interconnected value and supply chains. Sustaining that is critical to national security, explain Michelle Price, CEO of AustCyber, and Alex Scandurra, CEO of Stone & Chalk.
We must invest in a safer internet
The Australian
What strikes me most – after three years heading eSafety, and 25 years before that in the tech industry – is how preventable many of these harms would be, if only online platforms and services were safe to use at the point of release, and did not inadvertently harm their users. This is why we have been championing "safety by design," a policy initiative that puts responsibility for user-safety back onto technology companies themselves.
China
'Huge uptick' in Chinese propaganda over Uyghur camps, report finds
International Consortium of Investigative Journalists
China launched a propaganda blitz after media reports exposed mass detention and repression of ethnic minorities in Xinjiang, according to a new report.
China Is Buying Up Chips Before Hong Kong Route Shuts
Bloomberg
Chinese importers of computing chips are ramping up their purchases of equipment through Hong Kong, in the expectation that U.S. sanctions on the territory will soon make the trade much harder.
Beijing Court Rules Against Tencent, ByteDance Apps in User Data Cases
Sixth Tone
Beijing Internet Court has ruled that two popular Chinese apps infringed users' personal information but did not violate their privacy.
USA
Microsoft Said to Be in Talks to Buy TikTok, as Trump Weighs Curtailing App
The New York Times
TikTok, the Chinese-owned video app that has been under scrutiny from the Trump administration, is in talks to sell itself to Microsoft and other companies as President Trump weighs harsh actions against the business, including forcing TikTok to divorce itself from its parent company, ByteDance, said people with knowledge of the discussions.
WeChat users look to Japan's Line for alternative as US ban looms
Nikkei Asian Review
After the Trump administration announced it would look into banning Chinese social media apps, much of the attention focused on TikTok, the wildly popular platform for sharing short videos. But it is far from alone. Chinese messaging giant WeChat, owned by Tencent Holdings, has also become a target of Washington's scrutiny, and the possibility of a U.S. ban on the app is already benefiting competitors as users search for "safe" alternatives.
'Payment sent' - travel giant CWT pays $4.5 million ransom to cyber criminals
Reuters
U.S. travel management firm CWT paid $4.5 million this week to hackers who stole reams of sensitive corporate files and said they had knocked 30,000 computers offline, according to a record of the ransom negotiations seen by Reuters.
How Chinese Officials Hijacked My Company
The Wall Street Journal
President Trump said last month that talks for a phase 2 trade agreement with China were on the back burner. If they resume, it is more important than ever that any deal protect American companies and their intellectual property from theft by China. My experience doing business in China shows the lengths to which the Chinese government will go to steal American intellectual property.
Amazon gains FCC approval for Kuiper internet satellite constellation and commits $10 billion to the project
TechCrunch
Amazon has received approval from the U.S. Federal Communications Commission (FCC) to launch and operate a planned constellation of 3,236 internet satellites. That's the backbone of Amazon's Project Kuiper, an initiative to create a satellite-based broadband internet service designed to provide high-speed, low latency connections to U.S.-based households that currently don't have great access to a high-speed connection.
Emerging AI-enabled tracking technology could soon be used on drones.
National Interest
The new system will sustain a continuous accurate track on an object or target as it comes in and out of view, massively improving command and control.
Disinformation Disruption and Distance: Public Confidence in the U.S. Military in the COVID-19 Era
The Strategy Bridge
As COVID-19 spread around the globe—effectively changing the mainstream definition of national security—misinformation spread across the Internet.. Foreign governments increasingly use the U.S. military as the object of conspiracy, and the era post COVID-19 presents prime targets. Even before the death of George Floyd, China stoked fears of martial law through a direct messaging campaign, and Russian media provocatively questioned the use of military forces on American streets.
How the Trump campaign came to court QAnon, the online conspiracy movement identified by the FBI as a violent threat
The Washington Post
McEnany, who has since become the White House press secretary, continued, asking the supporter, "If you could say one thing to the president, what would you say?" "Who is Q?" he replied, inquiring about the mysterious online figure behind the baseless theory. McEnany smiled and said, "Okay, well, I will pass all of this along."
Data isn't just being collected from your phone. It's being used to score you.
Washington Post
Operating in the shadows of the online marketplace, specialized tech companies you've likely never heard of are tapping vast troves of our personal data to generate secret "surveillance scores" — digital mug shots of millions of Americans — that supposedly predict our future behavior. The firms sell their scoring services to major businesses across the U.S. economy.
Florida Teenager Is Charged as 'Mastermind' of Twitter Hack
The New York Times
The authorities arrested a 17-year-old who they said ran a scheme that targeted the accounts of celebrities, including former President Barack Obama and Elon Musk. Two others were also charged.
What Are Stingrays and Dirtboxes?
The Intercept
@kimzetter
A guide to stingray surveillance technology, which may have been deployed at recent protests.
Dirty tricks and the 2020 election: lessons from the KGB
CNN
It's this modern-day digital disinformation playbook that US intelligence agencies will almost certainly be watching out for ahead of November's presidential election -- especially after Russia's efforts to interfere in the 2016 election caught the country off guard. But to fully understand Russia's use of tactics like false news stories and leaked materials, it's useful to examine the country's long history of painstaking influence operations dating back to an analog era.
Twitter bans ex-KKK leader David Duke
BBC
Twitter has permanently banned white nationalist David Duke for repeatedly violating its rules about "hateful conduct". The social network changed its policy in March and no longer lets people share links to articles that include "hateful content" or incite violence.
Military Comic Warns That Tinder Dates Can Compromise National Security
Vice
We've all had bad Tinder dates, but few of us have had Tinder dates that lead to the attempted assassination of a U.S. asset in a foreign theater of war. The Pentagon wants to keep it that way and it's produced a comic book all about the dangers of catching feelings on a first date with an influencer.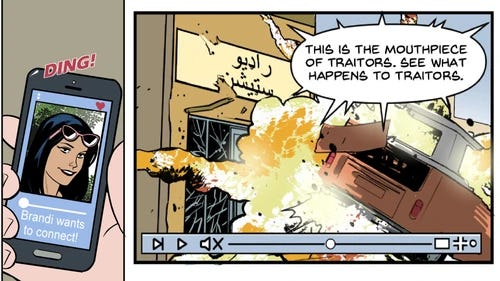 Image: U.S. Threat Lab Comic
Southeast Asia
In Indonesia, False Virus Cures Pushed by Those Who Should Know Better
The New York Times
So-called influencers and self-styled experts have also pushed their own quack cures and misinformation on Indonesian social media, including a widely spread rumor that popular infrared thermometer guns cause brain damage. As Indonesia steadily loses ground to the pandemic, the government has had difficulty delivering a consistent, science-based message about the coronavirus and the disease it causes, Covid-19.
Europe
Blok: 'EU condemns malicious behaviour in cyberspace'
Government of the Netherlands
Today, six individuals and three entities that are responsible for some of the most harmful cyberattacks in recent years will be added to a sanctions list of the European Union. The sanctioned include those responsible for the disrupted Russian cyber operation against the Organisation for the Prohibition of Chemical Weapons (OPCW). Sanctions will also be placed on individuals and entities from China and North Korea.
Misc
Google: Eleven zero-days detected in the wild in the first half of 2020
ZD Net
According to data collected by Google's Project Zero security team, there have been 11 zero-day vulnerabilities exploited in the wild in the first half of the year.
I Tried to Live Without the Tech Giants. It Was Impossible.
The New York Times
The chief executives of Amazon, Facebook, Google and Apple were called before a House antitrust committee this week, ostensibly to answer questions about whether they have too much power and whether that hurts consumers. The tech bosses, who appeared via videoconference, fended off questions about being "cyber barons," saying they have plenty of competition and that consumers have other options for the services they offer. But do they? Last year, in an effort to understand just how dependent we are on these companies, I did an experiment for the tech news site Gizmodo to see how hard it would be to remove them from my life.
Research
With Friends Like These: Assessing Russian Influence in Germany
CSIS
This report is the Germany case study of an ambitious year-long CSIS initiative to analyze Russian influence activities in the United Kingdom and Germany and Chinese influence activities in Japan and Australia.
The Genesis of a Conspiracy Theory
ISD Global
QAnon is a wide-ranging conspiracy theory that claims that an elite group of child-trafficking paedophiles have been ruling the world for a number of decades and that President Trump has a secret plan in place to bring this group to justice. This briefing paper provides an overview of the key trends in activity around the QAnon conspiracy theory from 2017 to 2020. Crucially it points to major spikes in QAnon activity in March 2020, suggesting both an increase in activity to promote the conspiracy theory and the spread of this conspiracy to new audiences.
Events
The Australian Strategic Policy Institute (ASPI) and Australian Foreign Affairs is delighted to invite you to a panel discussion on the new issue of Australian Foreign Affairs: Spy vs Spy: The New Age of Espionage. This issue of Australian Foreign Affairs explores the threat facing Australia as changes in technology enable malign actors to target individuals, officials, businesses and infrastructure – challenges that have only sharpened due to Covid-19.
Speakers: Professor Anne-Marie Brady, Danielle Cave, Andrew Davies, Kim McGrath, Jonathan Pearlman and Penny Wong.