New ASPI report on Chinese Defence Universities | 23 Australians flagged in Xinjiang crackdown | Canada's 'no timeline' over Huawei decision


Follow us on Twitter. The Daily Cyber Digest focuses on the topics we work on, including cyber, critical technologies & strategic issues like foreign interference.
'The China Defence Universities Tracker: Exploring the military and security links of China's universities' is the ASPI International Cyber Policy Centre's latest report informing decision makers and the public on the issue of research collaboration with China. ASPI

The Chinese government "red-flagged" 23 Australian citizens in its sweeping crackdown in Xinjiang that resulted in the detention of at least a million people from the nation's Muslim minorities. These Australians were caught in a dragnet, which combines data scooped up from automated online monitoring, with information collected in more old-fashioned ways, by officials who use an app (IJOP) to input it by hand. Officials were instructed to identity verification "one by one" and then to either deport or detain them. The Guardian

There's still no timetable indicating when Canada will decide whether Chinese tech giant Huawei will be allowed to join Canada's next-generation 5G wireless network, newly sworn-in Public Safety Minister Bill Blair said Thursday. CBC News
ASPI ICPC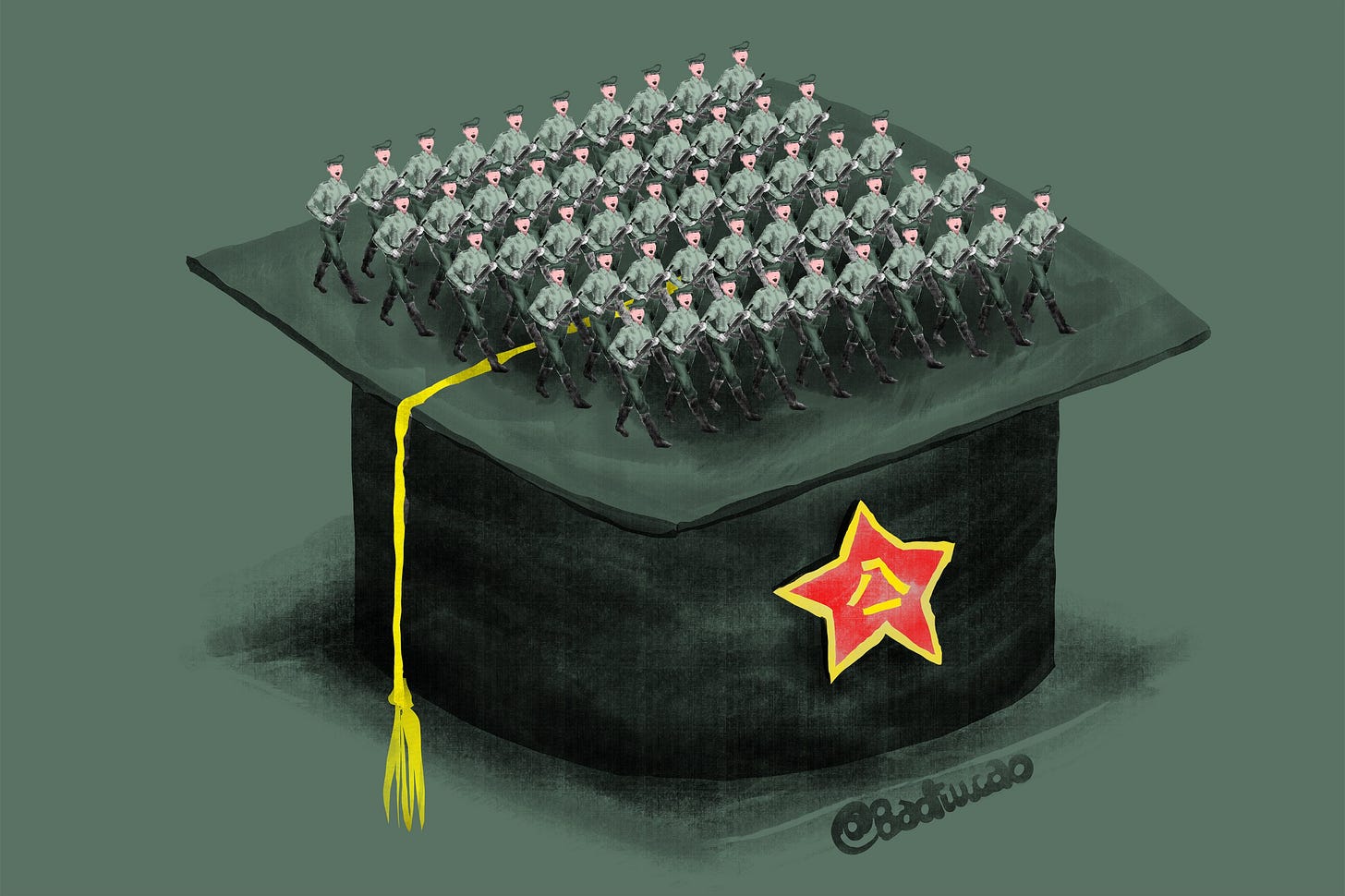 The China Defence Universities Tracker
'The China Defence Universities Tracker: Exploring the military and security links of China's universities' is the ASPI International Cyber Policy Centre's latest report informing decision makers and the public on the issue of research collaboration with China.
The report accompanies the China Defence Universities Tracker website, a public database of the defence and security links of over 160 Chinese universities, defence companies and research institutes. It provides granular detail on any defence research these institutions are engaged in and is designed as a tool to inform universities and policymakers. It is designed to raise awareness of the risk that engagement with these institutions could contribute to military technologies, the security apparatus or human rights abuses.
China's 'military-civil fusion' sparks warning for university collaborations
The Sydney Morning Herald
@fergushunter
China's top universities are playing an increasingly important role in the country's military advancement, according to a new report which recommends Australia boosts research funding as part of a strategy to curb collaborations with overseas entities that could undermine national security. The report from the Australian Strategic Policy Institute's cyber policy centre – which comes soon after the release of foreign interference guidelines for universities – found Australian institutions are not adequately prepared to prevent research partnerships from endangering security or enabling human rights abuses.

UK academia's links to Chinese defence firms 'harmful for national security'
The Guardian
@hannahdev @iansample
Sixteen university labs around the world are identified as being run jointly by Chinese defence companies, or have major investments from them. Ten are based in the UK, with the University of Manchester and Imperial College London hosting six between them. The others are in Australia, Germany, Switzerland and Austria. "[Something] that really alarmed me was the level of collaboration with Chinese missile scientists," said Alex Joske, the report's author and an analyst at ASPI, referring to the UK collaborations. "I haven't seen anything like Chinese missile manufacturers setting up these joint labs in other countries," he added.. The UK labs mentioned in the report include the Sino-British Joint Advanced Laboratory on Control System Technology at the University of Manchester and Imperial College London's Advanced Structure Manufacturing Technology Laboratory. Both are partnerships with the China Academy of Launch Vehicle Technology, which develops space launch vehicles and intercontinental ballistic missiles.
In the battle against deepfakes, AI is being pitted against AI
Wired
@elisethoma5
Lying has never looked so good, literally. Concern over increasingly sophisticated technology able to create convincingly faked videos and audio, so-called 'deepfakes', is rising around the world. But at the same time they're being developed, technologists are also fighting back against the falsehoods.
Australia
Renewed calls for dedicated Australian cyber minister and cyber leadership
Z-Net
@stilgherrian
Australia's cybersecurity is too important to struggle along with part-time attention, say submitters to the Cyber Security Strategy 2020. The public no longer trusts the government's computer skills.
Industry Panel meets to drive 2020 Cyber Security Strategy forward
Office of the Minister for Home Affairs
An Industry Advisory Panel that will help guide the development of Australia's 2020 Cyber Security Strategy has been established and held its first meeting today. The panel is chaired by Andrew Penn, CEO of Telstra; with Robert Mansfield, Chair of Vocus Group; Robyn Denholm, Chair of Tesla; Chris Deeble, Chief Executive of Northrop Grumman Australia and Darren Kane, Chief Security Officer NBN Co as members.
China
China cables reveal 23 Australian citizens 'red-flagged' in Uighur crackdown
The Guardian
@MsKateLyons
Officials instructed to subject Australians to identity verification and either deport or detain them in Xinjiang internment camps, leaked documents reveal.
How China Targets Uighurs 'One By One' For Using A Mobile App
ICIJ
@shirafu
Muslims worldwide have been flocking to a mobile file-sharing application called Zapya, developed by a Beijing-based startup that encourages users to download the Quran and share religious teachings with loved ones. The app, developed by DewMobile Inc., allows smartphone users to send videos, photos and other files directly from one smartphone to another without being connected to the web, making it popular in areas where internet service is poor or nonexistent. A leak of highly classified Chinese government documents, the China Cables, now reveal that since at least July 2016, Chinese authorities have been targeting users of the Zapya app, known in Chinese as Kuai Ya (fast tooth), as part of their crackdown against the Muslim Uighur population.
"If anyone had downloaded some kind of religious content and religious words from the Quran or any word like 'Allah'… they would be detained". Source.
---
United States
US launches new Mandarin network as Washington and Beijing battle for global influence
South China Morning Post
@markmagnier
Voice of America and Radio Free Asia join forces on a new service called 'Global Mandarin', which will focus on softer content to reach younger Chinese.
Trump's national security adviser warns Canadians against Huawei 5G tech
Cyberscoop
@shanvav
A top White House official warned Canadians this weekend against allowing China-based Huawei to help in building out Canada's next generation 5G telecommunications networks.
Utilities Targeted in Cyberattacks Identified
Wall Street Journal
@rob_barry
More than a dozen U.S. utilities that were targets in a recent wave of cyberattacks have been identified by The Wall Street Journal. Some of the utilities, most of which are relatively small, are located near dams, locks and other critical infrastructure.
The California DMV Is Making $50M a Year Selling Drivers' Personal Information
Motherboard
@josephfcox
A document obtained by Motherboard shows how DMVs sell people's names, addresses, and other personal information to generate revenue.
South East Asia
Singapore invokes 'fake news' law for first time over Facebook post
The Guardian
A politician in Singapore has corrected a Facebook post that questioned the independence of state investment firms after a government request, in the first use of the country's "fake news" law.
United Kingdom
Web inventor attacks Tories over misinformation
BBC News
@ruskin147
The inventor of the World Wide Web has accused the Conservatives of spreading misinformation during the general election campaign.
Russia
Russia's AI Quest is State-Driven — Even More than China's. Can It Work?
Defense One
@SamBendett
More than Western governments and even more than China's, the Russian government is trying to position itself as a facilitator of innovation in artificial intelligence, the technology that Vladimir Putin said will lead whoever masters it to global advantage.
The Americas
New public safety minister says Huawei 5G review 'a priority' but offers no timeline
CBC News
@cattunneycbc
Canada's relationship with Huawei is further complicated by the broader political dispute with China
Misc.
Oil is the New Data
Logic Magazine
Big Tech is forging a lucrative partnership with Big Oil, building a new carbon cloud that just might kill us all.
The 'Silicon Six' spread propaganda. It's time to regulate social media sites.
The Washington Post
@SachaBaronCohen
All this hate and violence actually has something in common: It's being facilitated by a handful of Internet companies that amount to the greatest propaganda machine in history. Facebook, YouTube, Twitter and other social media platforms reach billions of people. The algorithms these platforms depend on deliberately amplify content that keeps users engaged — stories that appeal to our baser instincts and trigger outrage and fear. That's why fake news outperforms real news on social media; studies show lies spread faster than truth.
Watch Sacha Baron Cohen's speech to the Anti-Defamation League's Never is Now Conference.
---
Rev transcribers hate the low pay, but the disturbing recordings are even worse.
The Verge
@danideahl
Rev transcribers also encounter upsetting content, and having to deal with it unexpectedly and for lower wages makes the work that much harder.
White nationalists are openly operating on Facebook. The company won't act
The Guardian
@juliacarriew
Facebook banned white nationalists months ago. But prominent groups are still on the platform.
On TikTok, Teens Meme the Safety App Ruining Their Social Lives
Wired
@lmatsakis
Spend enough time on the social media app TikTok, and you're bound to see a Life360 meme. The service allows parents to track their kids' whereabouts in real time, among other features. For many adolescents, adult supervision has turned into adult surveillance. Schools are adopting facial recognition technology to monitor campuses. Parents can now remotely check their child's browsing histories and social media accounts, watch their movements via motion-sensing cameras, and track everywhere they go with location-sharing apps.