New ASPI Report: Uyghurs for sale | Automated surveilance in China's coronavirus fight | Hungarian news to ask permission before reporing on Greta & other issues.


Follow us on Twitter. The Daily Cyber Digest focuses on the topics we work on, including cyber, critical technologies & strategic issues like foreign interference.
ASPI ICPC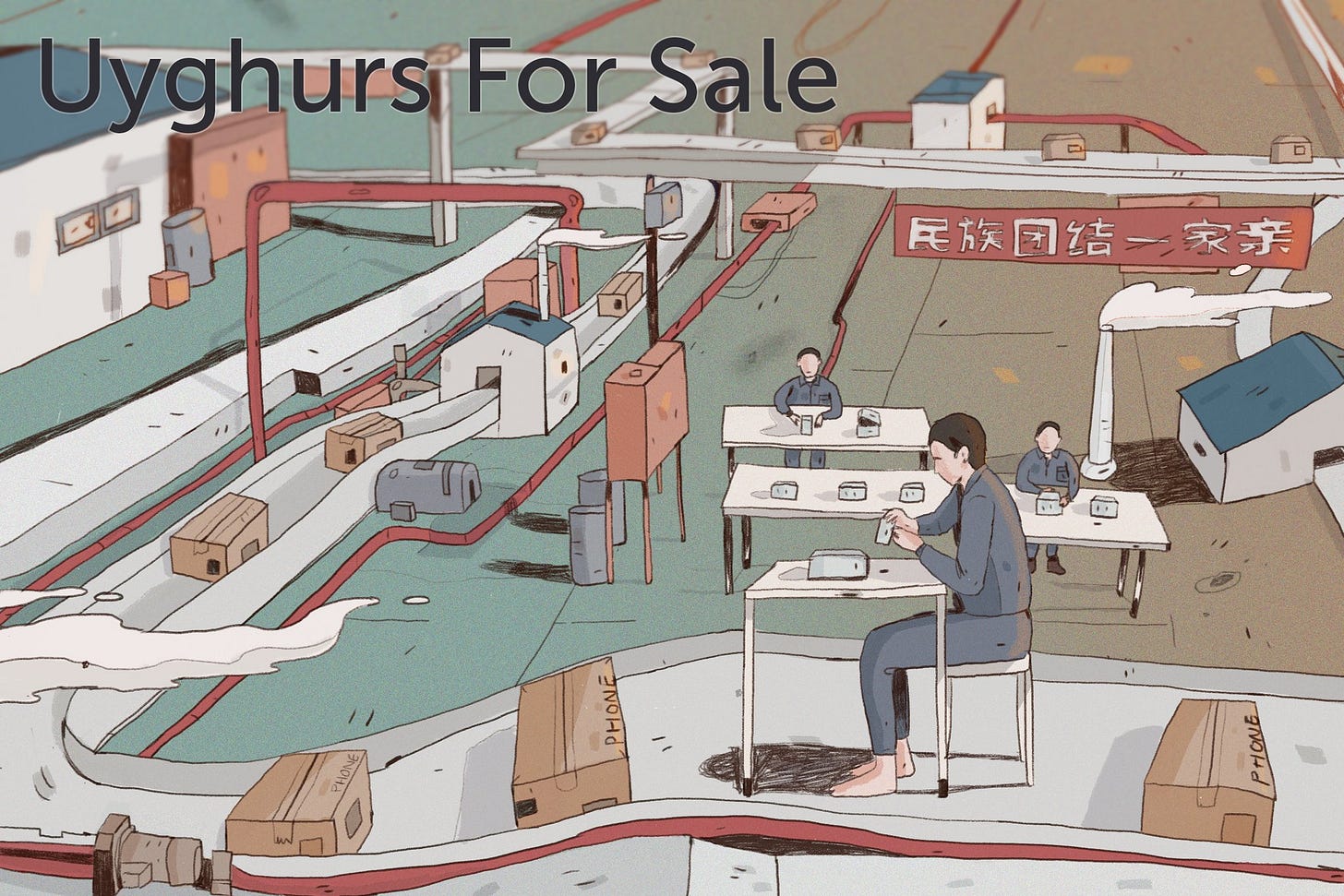 Uyghurs for sale
ASPI ICPC
New report - The Chinese government has facilitated the mass transfer of Uyghur and other ethnic minority citizens from the far west region of Xinjiang to factories across the country. Under conditions that strongly suggest forced labour, Uyghurs are working in factories that are in the supply chains of at least 83 well-known global brands in the technology, clothing and automotive sectors, including Apple, BMW, Gap, Huawei, Nike, Samsung, Sony and Volkswagen. Local Chinese governments and private brokers are paid a price per head for workers on the labour assignments. Some factories appear to be using Uyghur workers sent directly from 're-education' camps. Chinese authorities and factory bosses manage these Uyghur workers by 'tracking' them both physically and electronically. One provincial government document describes a central database that extracts information from a WeChat group and an unnamed smartphone app that tracks the movements and activities of each worker. Between 2017 and 2019, ASPI estimates that at least 80,000 Uyghurs were transferred out of Xinjiang and assigned to factories through labour transfer programs under a central government policy known as 'Xinjiang Aid'. The transfer of Uyghur workers to factories in eastern and central China in 2020 has continued during the COVID-19 outbreak.
Uyghurs for sale: 're-education', forced labour and surveillance beyond Xinjiang
The Strategist
The surveillance component of this state-sponsored labour transfer scheme is extensive, and constitutes, we think, an underestimated but significant indicator of forced labour. Chinese authorities and factory bosses manage these Uyghur workers by tracking them both physically and electronically.
Aussie Parliament's sad cyber espionage saga is a salient lesson for others
ZDNet
@stilgherrian
Parliaments of all descriptions are of interest to intelligence services," says Tom Uren, senior analyst with the International Cyber Policy Centre (ICPC) at the Australian Strategic Policy Institute (ASPI) in Canberra.. Human intelligence has always worked like that. Understanding people to understand their motivations and how you can influence, or even manipulate, or even coerce them," Uren said. "The cyber aspect is just a different avenue that allows remote access, it's deniable, and sometimes access is a lot easier than engaging with people."
Australia
Spy boss tells business to improve defences as cyber attacks mount
The Australian Financial Review
@Johnkehoe23 @SaysSmithy
The new boss of Australia's digital spy agency, Rachel Noble, has warned business to bolster its cyber defence capabilities in the wake of the crippling attack on Toll Group, as Australia's wool industry became the latest sector to fall victim to ransomware assault.
Credit cards, addresses and phone numbers vulnerable: More than one million energy customers' privacy at risk
The Sydney Morning Herald
@adele_ferguson
One of Australia's biggest energy companies has put the privacy of its 1.1 million retail gas and electricity customers at risk due to "reckless" cyber security and data protection systems.
Huawei's Nick Xenophon 'must sign up to the foreign influence register', Andrew Hastie demands
The Sydney Morning Herald
@latikambourke
Former South Australian senator Nick Xenophon must sign up to the foreign influence register because of his legal work for Chinese telecommunications company Huawei, Parliament's Intelligence and Security Committee chairman Andrew Hastie has demanded.. Mr Xenophon has vowed to go after Huawei's critics using Australian laws to contest what he says are "false and unsubstantiated" comments about the company's security credentials and claims that it has links to the Chinese state.
Department of Parliamentary Services gives itself cyber tick of approval
ZDNet
@dobes
Last month, the ABC reported that an internal audit written by KPMG had given many elements of DPS the lowest cyber maturity rating possible. At Senate Estimates on Monday morning, DPS secretary Rob Stefanik said the leaked report was a draft prepared after the advisory giant had completed its "preliminary field work".
Australia's surveillance laws are hitting the social license problem
ZDNet
@stilgherrian
Can lawmakers continue to ignore the well-founded criticisms of the ever-increasing powers given to law enforcement and intelligence agencies? Can agencies continue to be so secretive?
China
In Coronavirus Fight, China Gives Citizens a Color Code, With Red Flags
The New York Times
@paulmozur @zhonggg
A new system uses software to dictate quarantines — and appears to send personal data to police, in a troubling precedent for automated social control.
A spreadsheet of those in hell: How China corralled Uighurs into concentration camps
The Washington Post
The spreadsheet offers a study of who was incarcerated and why. The authorities checked three generations of each detainee's family and monitored people as young as 16 years old for behavior that would indicate adherence to ethnic Uighur culture and traditions.
USA
Apple agrees to settlement of up to $500 million from lawsuit alleging it throttled older phones
TechCruch
@jshieber
Apple has agreed to pay a settlement of up to $500 million, following a lawsuit accusing the company of intentionally slowing down the performance of older phones to encourage customers to buy newer models or fresh batteries.
North Asia
Treasury Sanctions Individuals Laundering Cryptocurrency for Lazarus Group
The U.S. Department of the Treasury
The U.S. Department of the Treasury's Office of Foreign Assets Control (OFAC) today sanctioned two Chinese nationals involved in laundering stolen cryptocurrency from a 2018 cyber intrusion against a cryptocurrency exchange. This cyber intrusion is linked to Lazarus Group, a U.S.-designated North Korean state-sponsored malicious cyber group.
South Asia
Desperate to go online again, Kashmiris are falling prey to VPN technology
Quartz India
"It is clear that free VPN services are the biggest culprits of data abuse, as they have built a profitable business model by selling user information to the highest bidders. It means anyone can purchase users' data, including government authorities or agencies,".
UK
10,000 UK railway users had details leaked by free Wi-Fi provider
The Verge
A free Wi-Fi service at rail stations in the UK exposed the personal information of about 10,000 people, and the provider did not notify authorities because it considered the situation "low-risk,".
Europe
Human rights and Greta on Hungarian state media watch list
Politico
Hungarian state media bosses told staff they need permission to report on Greta Thunberg and EU politics, and banned coverage of reports from leading human rights organizations, according to internal emails obtained by POLITICO.
Swiss Government Files Criminal Complaint Over CIA's Decades-Long Global Encryption Racket
Gizmodo
@whitneykimball
As U.S. senators and tech companies scream their fears of Chinese spyware (TikTok) and state-funded telecoms (Huawei) from the rooftops, the U.S. is being called to face up to its own penchant for planetary surveillance.
Middle East
Newly obtained documents show Huawei role in shipping prohibited U.S. gear to Iran
Reuters
@stecklow
China's Huawei Technologies, which for years has denied violating American trade sanctions on Iran, produced internal company records in 2010 that show it was directly involved in sending prohibited U.S. computer equipment to Iran's largest mobile-phone operator.
Facebook shuts down Egyptian disinformation network, bans two marketing companies
DFRLab
The assets bear familiar hallmarks reminiscent of previous campaigns orchestrated by marketing companies NewWaves and the similarly named Newave, registered in Egypt and the United Arab Emirates, respectively. In August 2019, the DFRLab published an investigation into the network shortly after Facebook removed those assets.
Misc.
Coronavirus Will Test Our Connected Way of Life
The New York Times
@cwarzel
Constant connectivity defines 21st-century life. Despite a tumultuous first two decades of the century, much of our connected way of life has evaded the stress of a singular global event. The possibility of a global pandemic currently posed by the new coronavirus threatens to change that altogether. Should the virus reach extreme levels of infection globally, it would very likely be the first true test of the 21st-century way of life, laying bare the hidden fragility of a system that has long felt seamless.
Facebook would have to pay $3.50 per month to U.S. users for sharing contact info: study
Reuters
@nanditab1
German Facebook users would want the social media platform to pay them about $8 per month for sharing their contact information, while U.S. users would only seek $3.50, according to a study of how people in various countries value their private information.
Airlines take no chances with our safety. And neither should artificial intelligence
The Conversation
@DrMoniqueMann
Before AI is adopted even more widely, we need to understand its impacts and put protections in place. To realise the potential benefits of AI, we must ensure that it is governed appropriately.
Can We Get a Vaccine Early? How the Rich Are Preparing for Coronavirus
Bloomberg
@maxabelson
Some billionaires, bankers and other members of the U.S. elite are calm, others are getting anxious and everyone is washing their hands. But the rich can afford to prepare for a pandemic with perquisites, like private plane rides out of town, calls with world-leading experts and access to luxurious medical care.
Uber and Lyft give drivers guidelines to help prevent coronavirus spread
The Verge
@sokane1
On Friday, Uber sent drivers around the world a link to a short set of guidelines via push notification in the Uber driver app. The guidelines mostly stick to the basics outlined by the World Health Organization.
Events
The Bushfire Crisis and Indigenous Land Management
ASPI
ASPI warmly invites you to attend a panel discussion to consider the practice of Indigenous Land Management techniques.
TIME: 5:30 pm - 7:30 pm
VENUE: ASPI Auditorium, Ground Level, 40 Macquarie St, Barton, Canberra 2600