New Australian cybersecurity strategy will see Canberra get offensive / US "clean network" campaign shuts out Chinese apps / Twitter, FB to label state-affiliated media


Follow us on Twitter. The Daily Cyber Digest focuses on the topics we work on, including cyber, critical technologies & strategic issues like foreign interference.
ASPI ICPC
Government unveils 2020 Cyber Security Strategy
@PatsKarvelas
On Thursday, the Federal Government unveiled its highly anticipated new cyber security strategy.. More controversially, it will include capability for the Australian Signals Directorate to help law enforcement agencies identify and disrupt serious criminal activity – including in Australia. Guest: Fergus Hanson, Director of the International Cyber Policy Centre at the Australian Strategic Policy Institute.
New laws in the pipeline to help ISPs block cyber threats
The Australian Financial Review
@andrewtillett
Internet service providers could be forced to provide so-called "cleaner pipes" and block threats such as malware and trojans that hijack computer systems, exposing the Morrison government to claims of attempted internet censorship..Fergus Hanson, head of the Australian Strategic Policy Institute's International Cyber Policy Centre, said cleaner pipes was a bit of grey zone because some would argue it was tantamount to censoring parts of the internet. "If you're a free speech person you might say it's a slippery slope but given the amount of money being lost [to scams and identity theft], the minor curtailment of access is worth the trade-off," he said.
Bots foment political polarisation through social media
The Strategist
@elisethoma5
In a report released earlier this week, I and my ASPI colleagues Albert Zhang and Jake Wallis investigated a small-scale digital influence operation linked to Chinese-speaking actors. This activity targeted social media users in the United States and involved the use of heavily automated bot accounts on Facebook and Twitter to boost legitimate media coverage and social media content that presented negative or divisive views of the US. There was a particular focus on racial inequality, the Covid-19 response, the failings of the Trump administration and scandals linked to President Donald Trump himself.
Small businesses on the front line as Australia's cybersecurity strategy released
The Strategist
Ian Bloomfield, Alison Howe and Max Heinrich
Does Australia's cyber security strategy 2020, released by the Home Affairs Department today, go far enough to address the cyber resilience of the nation's small and medium enterprises? The Australian SME sector comprised more than 2.3 million businesses as at June 2018, representing 9.8 million jobs, and in 2017–18 accounted for around a third of gross domestic profit.
Tighter rules for sensitive exports within weeks
Newsroom
Sam Sachdeva
Tools like the Australian Strategic Policy Institute's (ASPI) China Defence Universities Tracker would help universities to better understand any military ties of their Chinese counterparts. However, Brady said the Government would also have to consider how to address the funding shortfalls in tertiary education that had led to universities pursuing research grants and financially valuable partnerships with China.
World
INTERPOL report shows alarming rate of cyberattacks during COVID-19
INTERPOL
An INTERPOL assessment of the impact of COVID-19 on cybercrime has shown a significant target shift from individuals and small businesses to major corporations, governments and critical infrastructure. In one four-month period (January to April) some 907,000 spam messages, 737 incidents related to malware and 48,000 malicious URLs – all related to COVID-19 – were detected. "Cybercriminals are developing and boosting their attacks at an alarming pace, exploiting the fear and uncertainty caused by the unstable social and economic situation created by COVID-19" says INTERPOL Secretary General Jürgen Stock.
Microsoft expands TikTok takeover ambitions to entire global business
The Financial Times
Miles Kruppa, Arash Massoudi, Stephanie Findlay & Primrose Riordan
Microsoft is chasing a deal to buy all of TikTok's global business, including the viral video app's operations in India and Europe, according to five people with knowledge of the talks. The US software company said on Sunday it was in negotiations with ByteDance, the Chinese owner of TikTok, to explore "a purchase of the TikTok service in the United States, Canada, Australia, and New Zealand". But Microsoft has since also pursued a plan that would include all countries where TikTok operates. TikTok does not operate in China, and such a deal would not extend to its China-facing sister app Douyin.
Australia



Experts bemoan lack of detail in cyber strategy
The Australian Financial Review
@SaysSmithy
New rules to make company boards responsible for their organisations' cyber defence prowess have been welcomed by industry experts as the bright spot in an underwhelming national cyber security strategy.
Human Rights Commission urges 'rigorous' defence of free speech at unis
The Sydney Morning Herald
@fergushunter @erykbagshaw
Two Australian universities have been embroiled in renewed debate about academic freedom this week over their handling of Chinese student criticism, while the emergence of a CCP-run online reporting tool has raised fears about Beijing's escalating efforts to expand its influence overseas.
Australian universities investigate online exam tool data breach
ITNews
Matt Johnston
Australian universities using the ProctorU online exam monitoring tool are included in a data breach affecting 444,000 users of the platform. The breach, first reported by Bleeping Computer, is among a number of databases being published to a hacker forum, exposing over 385 million user records since July 21st.
China
COVID opens new doors for China's gene giant
Reuters
As countries scramble to test for the novel coronavirus, a Chinese company has become a go-to name around the world.. But as well as test kits, the company is distributing gene-sequencing technology that U.S. security officials say could threaten national security. This is a sensitive area globally. Sequencers are used to analyse genetic material, and can unlock powerful personal information.
USA
US "clean network" campaign shuts out Chinese apps from network
Quartz
A "digital Berlin Wall" between the US and China now looks more real than ever. The US state department announced today that it will expand its "Clean Network" initiative, first rolled out in April, to root out major Chinese tech products from the US system. The department said the move is aimed at guarding US citizens' privacy and US companies' sensitive information from "aggressive intrusions by malign actors."
Twitter to label state-controlled news accounts
BBC News
Twitter says it will no longer "amplify" tweets by state-controlled media organisations, by excluding them from its recommendation systems. The move makes affected accounts less likely to appear in search results, notifications and on a user's timeline. The company will also label the accounts of government-linked media, as well as "key government officials" from China, France, Russia, the UK and US. Russia's RT and China's Xinhua News will both be affected by the change.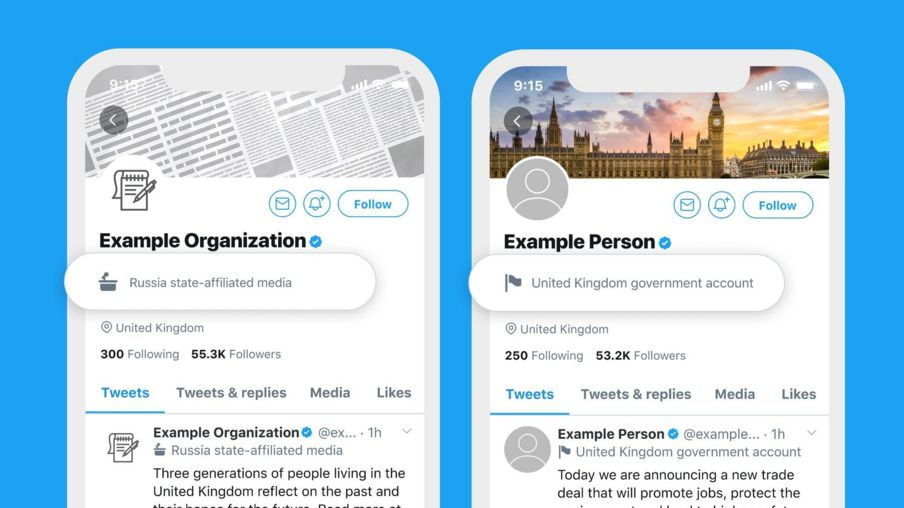 Twitter will label state-controlled media and official government accounts.
Facebook disables Romanian network masquerading as pro-Trump Americans
The Washington Post
Facebook on Thursday said Adrian's accounts were part of a coordinated network of accounts and pages originating in Romania and posing as conservative Americans supportive of the president's reelection.
YouTube bans almost 2,600 Chinese channels for influence operations
CNET
@richardjnieva
Google on Wednesday said it banned almost 2,600 Chinese channels from YouTube during the second quarter as part of investigations into "coordinated influence operations" on the platform. Roughly half of the channels were taken down in June, according to a report by Google's Threat Analysis Group, which combats government-backed hacking and attacks. Most of the channels posted only spam and nonpolitical content, Google said, but some of them posted about the racial justice protests in the US spurred by the police killing of George Floyd in Minneapolis. The content was primarily posted in Chinese.
Iranians, Russians texted reward offer for US election hacking info
The Sydney Morning Herald
Raphael Satter
When Mohamad first got the text message offering him up to $US10 million ($13.8 million) for information about attempts to interfere with the US election, he thought it was "some kind of cyber attack." But when the Tehran-based software developer logged on to Twitter he realised he was one of an unknown number of Iranian citizens who have received out-of-the-blue messages promoting the US State Department's recently announced effort to defend the American presidential election.
There Is No Russian Plot Against America
Foreign Affairs
@scrawnya
As the U.S. presidential election on November 4 approaches, many Americans have braced for interference from Moscow. The only question, seemingly, is what form the meddling will take: Should Americans expect cyberattacks and leaks by sinister groups with ties to Russian intelligence? Divisive social media campaigns by trolls funded by associates of Russian President Vladimir Putin? Russian activists attempting to infiltrate U.S. lobbying groups?
How the US Can Prevent the Next 'Cyber 9/11'
WIRED
@jshermcyber
In an interview with WIRED, former national intelligence official Sue Gordon discusses Russian election interference and other digital threats to democracy.
Europe
Romanian Conditions for 5G Race Would Rule out Huawei
Balkan Insight
Marcel Gascón Barberá
Without explicitly mentioning the Chinese giant, Romania has set out the terms it will apply to choose a partner to implement 5G technology – which clearly exclude China's Huawei from the competition.
Middle East
Israeli Hackers Develop Tech to Combat Domestic Violence
WIRED
@flora_tsapovsky
Backed by Facebook, Microsoft, Salesforce and other tech giants, 1,800 Israeli tech workers were split up into 54 groups and spent three days brainstorming apps, platforms, and services designed to counter domestic violence. This is the first time the issues of domestic violence and the murder of women in Israel have been given a technological focus.
The Ministry of Made-Up Pages: Yemen-Based Actors Impersonate Government Agencies to Spread Anti-Houthi Content
Stanford Internet Observatory
We analyzed a now-suspended network of Facebook Pages, Groups, and profiles linked to individuals in Yemen. We found accounts that impersonated government ministries in Saudi Arabia, posts that linked to anti-Houthi websites, and pro-Turkish Pages and Groups.
Gender & Women in Cyber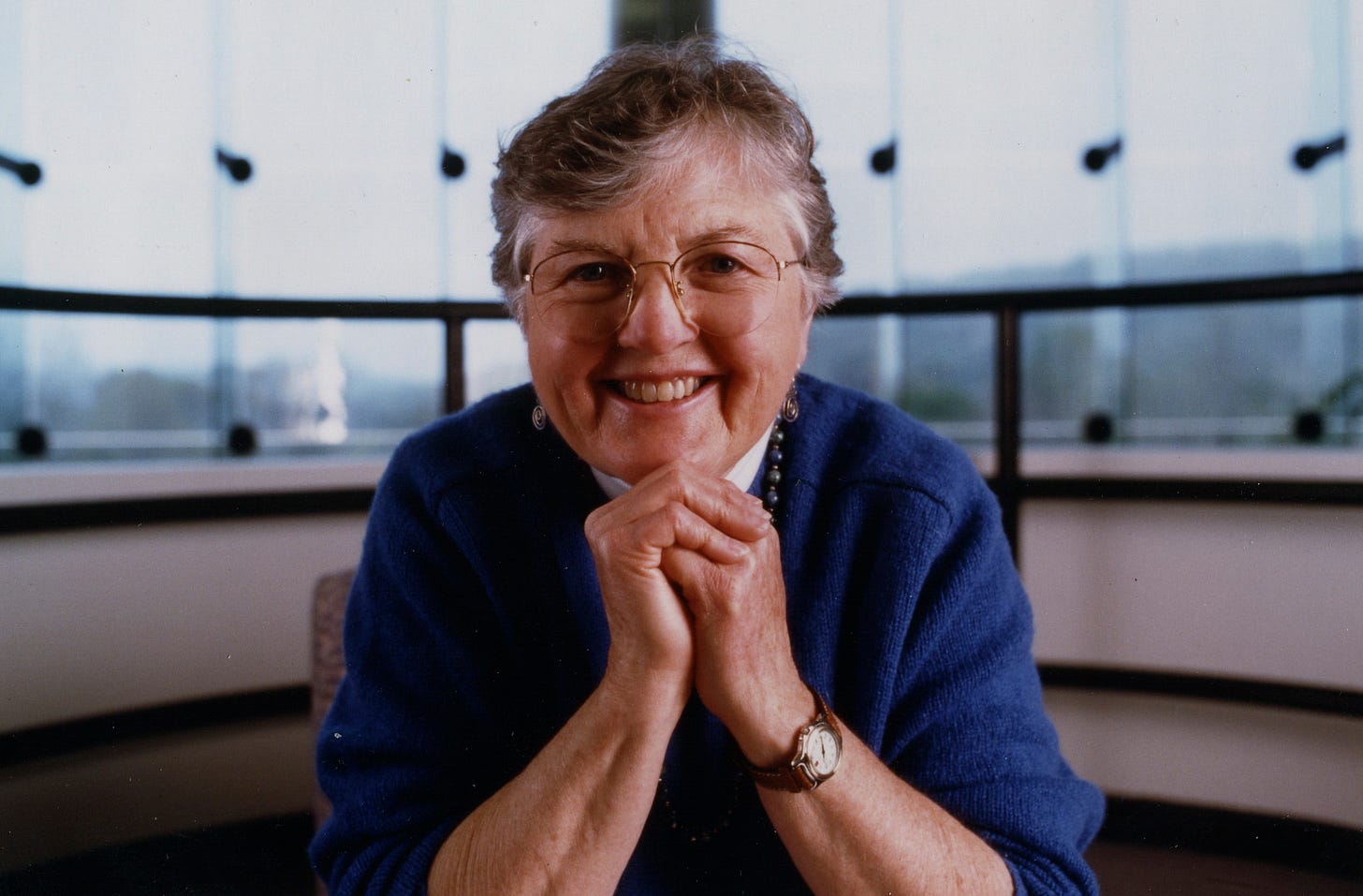 Frances "Fran" Allen, a pioneer in the world of computing, the first female IBM Fellow and the first woman to win the Turing Award, died on August 4, 2020, the day of her 88th birthday.—IBM Research Blog
Misc
Consumers ditching conventional cash for digital wallets
TechRadar
The use of digital wallets has grown considerably during the coronavirus outbreak, with many consumers now preferring contactless payments and 'hands-free' transactions over conventional cash. New research by payments platform Paysafe, operator of digital wallet service Skrill, has revealed that 43% of those questioned had reduced traditional cash transactions. Some 32% stated that they're increasingly using digital wallets to cover bills, pay for goods and services and transfer money overseas.
Research
COVID-19 a perfect storm for conspiracy theories
QUT
Researchers from QUT's Digital Media Research Centre have taken a deep dive into their world to trace wild rumours on Facebook claiming the coronavirus was caused by 5G technology. They found what was once being preached to the already converted was quickly fanned further afield by social media and celebrities spreading the message.