NEW REPORT: Mapping more of China's tech giants: AI and surveillance / FB's only Dutch factchecker quits over political ad exemption / France not ruling out response to cyber attack on hospital


Follow us on Twitter. The Daily Cyber Digest focuses on the topics we work on, including cyber, critical technologies & strategic issues like foreign interference.
ASPI ICPC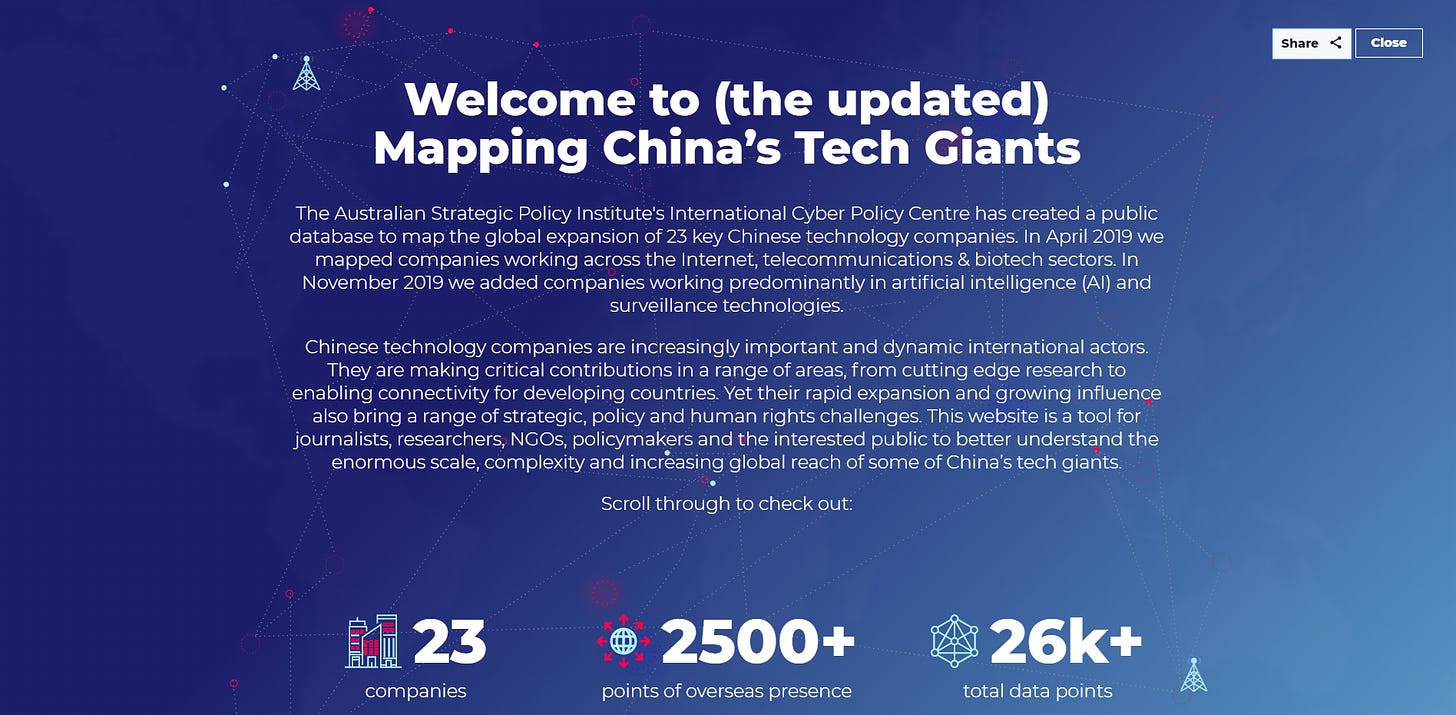 NEW REPORT: Mapping more of China's tech giants: AI and surveillance
ASPI ICPC
@DaniellesCave @fryan @xu_xiuzhong
ASPI's International Cyber Policy Centre has updated the public database that maps the global expansion of key Chinese technology companies. This update adds a further 11 companies and organisations: iFlytek, Megvii, ByteDance (which owns TikTok), SenseTime, YITU, CloudWalk, DJI, Meiya Pico, Dahua, Uniview and BeiDou.
TikTok Responds To Censorship Claims After Viral Beauty Tutorial
10 Daily
@edengillespie
Fergus Ryan, an analyst at the International Cyber Policy Centre told 10 daily that apps like TikTok don't have to delete videos to hide them from users. "One of the problems with trying to figure out if there is censorship on TikTok is that there's a powerful algorithm undergirding it," Ryan said. "They can always say videos haven't been deleted but it doesn't mean the algorithm hasn't decided they're not going to be shown to anyone at all," Ryan said.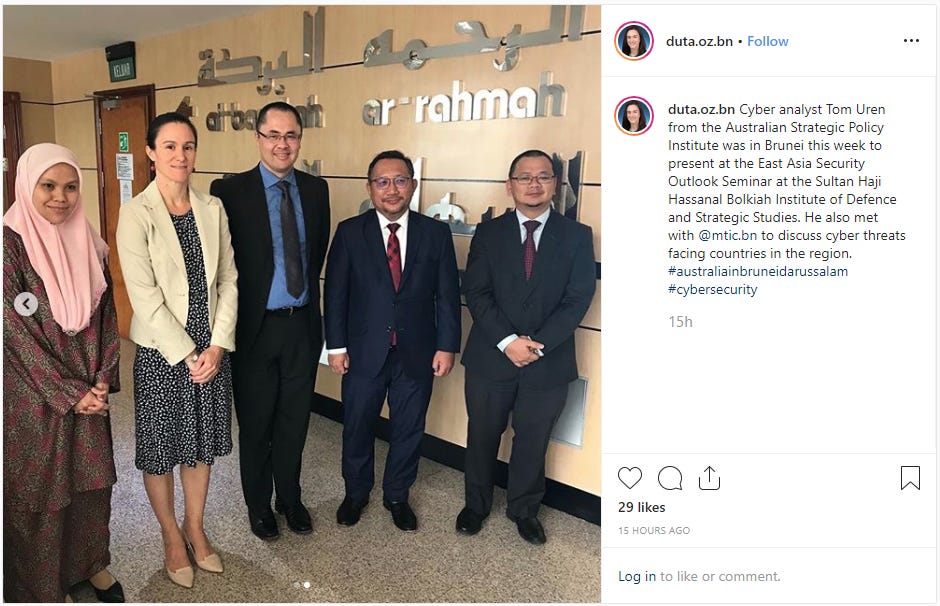 Indigi-Cyber Camp for Kids
ASPI ICPC
ASPI's International Cyber Policy Centre warmly invites you to attend our inaugural Indigi-Cyber Camp for Aboriginal and Torres Strait Islander kids. Indigi-Cyber Camp is an initiative that is being led by ASPI and local Indigenous business Yerra, in partnership with SecuriDay, to give opportunity for Indigenous youths to engage with I.T and Cyber in a fun and interesting way that will encourage future participation in I.T. Indigi-Cyber Camp will incorporate games and lessons that will stimulate creativity and innovation in the participants and we hope that this will develop in such a way that Indigenous Australian culture will be underpinned throughout the program to make it educational and culturally appropriate. Children from the ages of 9-13 years are encouraged to register.
Tech Scroll Asia, your guide to the billions made and lost in Asia tech
FT
Alex Joske at the Australian Strategic Policy Institute has delivered a tour de force on Chinese defence universities, many of which are involved in tech research. The aim is to help universities and governments from around the world avoid harmful collaborations.
What to Consider Before Trading Your Health Data for Cash
The New York Times
@kingthor
We've already seen some surprising ways that fitness data can be repurposed, like when Nathan Ruser, a student at Australian National University [and now a reearcher at ASPI ICPC], used data from the fitness app Strava to reveal the locations of military bases.
Australia
Home Affairs purges public details of Australia's airport smartgate upgrade
iTnews
@justinrhendry
The Department of Home Affairs has removed all mention of its multi-million dollar upgrade of airport arrivals smartgates from its website, raising further questions about the future of the troubled border IT project.
MPs tested on 'phishing' to protect Parliament's computer network
The Sydney Morning Herald
@Gallo_Ways
Federal MPs and political staffers will be sent suspicious-looking emails to see whether they click on the links in a test designed to help protect Parliament House's computer network.
NATO and Australia discuss cyber defence cooperation
NATO
Allies and Australia's Cyber Ambassador, Dr. Tobias Feakin, exchanged views on the evolving cyber threat landscape and ways of responding to it during a Cyber Defence Committee meeting taking place at NATO Headquarters on 29 November.
Have something to tell the ABC? We've got a better way for you to do it
ABC News
@craigmcmurtrie
Today, the ABC is joining a group of global media leaders who have signed up to SecureDrop — a platform for whistleblowers to anonymously and securely send sensitive documents and messages to our journalists.
North Asia
Taiwan is making democracy work again. It's time we paid attention
WIRED
@carljackmiller
Social media has opened up vast social divisions and brought democracy to its knees. In Taiwan, the people are fighting back.
Europe
Facebook's only Dutch factchecker quits over political ad exemption
The Guardian
@alexhern
According to an NPO 3 interview with Nu.nl's editor-in-chief, Gert-Jaap Hoekman, the relationship ended over Facebook's decision to ban it from checking content and adverts posted by politicians. "What is the point of fighting fake news if you are not allowed to tackle politicians?" Hoekman asked.
France Not Ruling Out Response to Cyber Attack on Hospital
Bloomberg
@HeleneFouquet
French authorities said they may hit back at cyber assailants who've struck a public hospital, forcing it to suspend all but the most vital systems.
30 AI people in Europe to follow on Twitter
Sifted
@Sam_L_Shead
Researchers from companies like Facebook, DeepMind and Amazon love to talk about their work and the latest artificial intelligence news on Twitter. Here are some of the best people to follow in Europe.
Russia
How Much Did Russian Spy Agencies Rely On Bitcoin? New Hints In Leaked Recordings
RadioFreeEurope/RadioLiberty
@Mike_Eckel
Earlier this month, new glimpses into the shadowy world of cryptocurrencies emerged in a BBC Russian Service report that provided more indications of how exactly Russian spy agencies were intertwined with bitcoin exchanges like BTC-e.
Misc
Hotel front desks are now a hotbed for hackers
ZDNet
@SecurityCharlie
Hotels, restaurant chains, and related tourism services have been subject to a range of techniques when it comes to cybercrime; the compromise of Point-of-Sale (PoS) terminals to harvest guest data, phishing emails sent to staff which are designed to give attackers access to internal systems, and Man-in-The-Middle (MiTM) attacks through hotel public W-Fi hotspots being only some of the potential attack vectors.