NSA director rebukes Beijing for 'weaponizing' disinformation in HK protests | US DHS cyber unit wants to subpoena ISPs | Melb cybercon organisers pressured speaker to edit 'biased' talk


Follow us on Twitter. The Daily Cyber Digest focuses on the topics we work on, including cyber, critical technologies & strategic issues like foreign interference
National Security Agency Director Gen. Paul Nakasone issued a rebuke Wednesday of the Chinese government's recent efforts to spread disinformation online about protests in Hong Kong focused on a controversial Chinese law. Cyber Scoop


Homeland Security's cybersecurity division is pushing to change the law that would allow it to demand information from internet providers that would identify the owners of vulnerable systems. Tech Crunch


Organisers at the Australian Cyber Conference in Melbourne asked a speaker to edit his speech on Australia's anti-encryption legislation, after they had dropped two other speakers, who were delivering talks related to whistleblowing, from the line-up at the last minute. The Guardian
ASPI ICPC

Introducting Cybil, the CCB Knowledge Portal
Global Forum on Cyber Expertise
ASPI ICPC is pleased to announce the launch of Cybil. Cybil is the new publicly-available global cyber capacity building knowledge portal. It contains information for the design and delivery of capacity building programs and projects worldwide, and should also serve as a resource for civil society and academia. Cybil was collaboratively developed by Oxford GCSCC, NUPI, FIRST, Diplo Foundation and ASPI ICPC for the Global Forum on Cyber Expertise.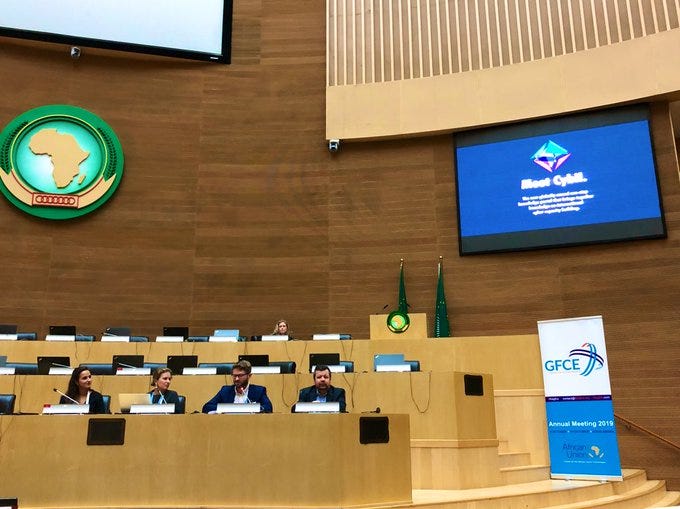 Together with The Global Cyber Security Capacity Centre, DiploFoundation, First.org, Norwegian Institute of International Affairs, and The Global Forum on Cyber Expertise, ICPC has just launched the new one-stop CCB Knowledge Portal cybilportal.org. Source
Australia's Cyber Strategy, version 2.0
ASPI ICPC
Back in 2016, Australia launched its first national cybersecurity strategy. The strategy covers a four-year period to 2020, and given the changes in the security environment, an update is now clearly warranted. To that end, the government has just launched a discussion paper to kick off the public consultation. The closing date for submissions on the discussion paper is 1 November. To complement the public submission process, ASPI's International Cyber Policy Centre is initiating a public debate on what should be included in the next cybersecurity strategy. Contributions will be compiled into a report that we will deliver to the Department of Home Affairs to inform the strategy's development. Follow the debate here.
US - China Economic and Security Review Commission
Economics and Trade Bulletin
the Chinese Civil Aviation Administration's April 2018 threat to penalize United Airlines and 35 other carriers for listing Taiwan as separate from China on their websites prompted changes in those companies' websites worldwide. As Australian Strategic Policy Institute visiting fellow Samantha Hoffman notes, this created a precedent where the Corporate Social Credit System's ability to interfere in other nations' sovereignty is taken as a routine market access requirement.
Australia

Out-of-date strategies in defence white paper
The Australian
Senator Reynolds will warn that cyber warfare, hypersonic weapons and autonomous ­vehicles must be factored into Defence thinking, while technologies such as rail guns are another ­potentially "game changing" technology. She will also emphasise the importance of network warfare, declaring that the fleet of the ­future will need to be seamlessly connected with all other ADF platforms, and able to share information with allies and partners. Defence analysts have questioned where the government will find the money to invest in new technology.
Melbourne cyber conference organisers pressured speaker to edit 'biased' talk
The Guardian
Organisers at the Australian Cyber Conference in Melbourne asked a speaker to edit his speech on Australia's anti-encryption legislation, after they had dropped two other speakers, who were delivering talks related to whistleblowing, from the line-up at the last minute.
China

NSA director rebukes Beijing for 'weaponizing' disinformation in Hong Kong protests
CyberScoop
@shanvav
National Security Agency Director Gen. Paul Nakasone issued a rebuke Wednesday of the Chinese government's recent efforts to spread disinformation online about protests in Hong Kong focused on a controversial Chinese law. "The Chinese government has subverted pro-Democratic demonstrators with fake social media posts, providing us a snapshot of how Beijing weaponizes information," Nakasone said while delivering remarks at FireEye's Cyber Defense Summit in Washington, D.C.. The NSA director pointed out that China and Russia both have been abusing social media platforms to spread information on issues related to their own policy goals.
Hong Kong protesters get pro bono cybersecurity help from Silicon Valley
Technology Review
On Wednesday, an emphatic counterpoint arrived in Hong Kong: 500 free hardware security keys from Yubico, a Silicon Valley–based company, were delivered to pro-democracy journalists and protesters, according to the pro-democracy Hong Kong site Stand News. Cybersecurity experts consider these tools to be among the most effective defenses against hackers targeting online accounts.
TikTok tests the waters for Bytedance's Indian edtech plunge
The Ken
China's Bytedance, the most-valued startup globally, is laying the groundwork for an edtech invasion of India. From hosting events to wooing edtech content creators, Bytedance's emissary TikTok is leaving no stone unturned.
China Says 'Stay Tuned' for Retaliation Over U.S. Tech Blacklist
Bloomberg
China signaled it would hit back after the Trump administration placed eight of the country's technology giants on a blacklist over alleged human rights violations against Muslim minorities.
China plans to restrict visas for U.S. visitors with 'anti-China' links
Reuters
@QiZHAI
China is planning tighter visa restrictions for U.S. nationals with ties to anti-China groups, people with knowledge of the proposed curbs said, following similar U.S. restrictions on Chinese nationals, as relations between the countries sour. China's Ministry of Public Security has for months been working on rules to limit the ability of anyone employed, or sponsored, by U.S. intelligence services and human rights groups to travel to China.
USA

DHS cyber unit wants to subpoena ISPs to identify vulnerable systems
Tech Crunch
Homeland Security's cybersecurity division is pushing to change the law that would allow it to demand information from internet providers that would identify the owners of vulnerable systems, TechCrunch has learned.
FBI's Use of Surveillance Database Violated Americans' Privacy Rights, Court Found
Wall Street Journal
@DNVOLZ @ByronTau
Some of the Federal Bureau of Investigation's electronic surveillance activities violated the constitutional privacy rights of Americans swept up in a controversial foreign intelligence program, a secretive surveillance court has ruled.
China's leading AI start-ups hit by US blacklisting
Financial Times
A US move to blacklist four of China's leading artificial intelligence start-ups has thrown a blockbuster Hong Kong listing into doubt and left billions of dollars of foreign investment caught in the cross fire.
Europe

Ericsson benefits from Telia Norway's snub of Huawei and Nokia
Telecoms
Ericsson has announced it will be the sole RAN vendor for Telia Norway, with the pair driving towards completing a nationwide rollout by 2023. While the duo already had a relationship in place, Huawei might have hoped this was a market it would benefit in.
5G and the Future of Technology and Governance with Daniel Bagge
CNAS
Daniel Bagge, Cyber Attaché of the Czech Republic to the United States and Canada, joins Dr. Andrea Kendall-Taylor and Jim Townsend for an in-depth discussion on the security of 5G networks, the implications for transatlantic security, and the future governance of emerging technologies. Bagge explains how the Czech Republic's pioneering regulatory, legal, and political moves in cyber security can be adapted to other nations' needs and could reinforce transatlantic and NATO security.
Huawei omitted from Czech Republic hardware tender over security fears
Computing
Huawei and ZTE have been barred from two public tenders for communications systems in the Czech Republic on security grounds. The tenders are worth seven million crowns.
Russia

North Korea's KCNA, Russian TASS news agency hope to fight 'fake news'
BBC Monitoring
A cooperation agreement between Russia's TASS news agency and the North Korean state news agency KCNA was signed in Pyongyang on 8 October, TASS has reported.. Speaking at the meeting, Mr Kim said that fighting disinformation was one of the key aspects of cooperation between the two government-owned agencies. "We increasingly often see misrepresentation of information in the news environment, and we must counter the dissemination of such fake news. I believe that KCNA and TASS news agencies must join efforts towards this goal," TASS reported him as saying.
Russian lawmakers look to ban e-mail users who share illegal content
Reuters
A group of pro-Kremlin lawmakers has drafted legislation that would allow authorities to block individual e-mail or online messenger users who circulate banned content. The bill is likely to alarm advocates of internet freedoms, but the lawmakers say the legislation is needed to combat a wave of hoax bomb threats that have been sporadically called in across the country in recent years.
Russian cyber criminals offer fake news campaigns to companies worldwide
Codastory
As governments across the world battle massive disinformation campaigns on social media and elsewhere, cyber criminals seem to have discovered that there's quite a lot of money to be made in the corporate world as well.
Misc

Why Silence Isn't (Always) Golden: Espionage Exceptions under Customary International Law – Part I
Leiden Security and­ Global Affairs Blog
Espionage is often considered not legal nor illegal under international law. Why do international lawyers maintain the fiction that there is no interaction between international law and espionage?
The Dangers of Distracted Fighting
Wired
@SpencerGuard
Without proper guidelines, smartphones on the battlefield may kill more soldiers than they save.
Events

Cyber Security Hypothetical – Panel
UNSW
We invite you to join us on 22 October, in challenging paradigms and provoking discussion around this important topic that impacts and targets us all. Cyber Security Hypothetical will be led and moderated by Mr Steve Wilson and panellists will include MAJGEN Marcus Thompson, Professor Michael Frater, Mr Alastair MacGibbon, Ms Kate Carruthers and Mr Justin Warren.
The rise of information warfare: in-conversation with Peter W. Singer
ASPI ICPC
This event for 29 October is SOLD OUT but you can watch a livestream on ASPI's facebook page: https://www.facebook.com/ASPI.org/ - ASPI's International Cyber Policy Centre invites you to an in-conversation with Peter W. Singer and Danielle Cave to consider the rise of information warfare. Peter Warren Singer is strategist and senior fellow at New America. He has been named by the Smithsonian as one of the nation's 100 leading innovators, by Defense News as one of the 100 most influential people in defense issues, by Foreign Policy to their Top 100 Global Thinkers List, and as an official "Mad Scientist" for the U.S. Army's Training and Doctrine Command. A drinks and canapes reception will conclude the event. This event is kindly supported by Microsoft.
.au Licensing Rules and .au Namespace Implementation Policy Consultation
auDA
auDA, the domain registrar and policy body for the .au domain, is seeking input from the Australian internet community on proposed changes to the .au licensing rules and the .au Namespace Implementation Policy. Consultations are scheduled in Canberra, Sydney, Melbourne, Brisbane and online between 15 and 17 October.
NetThing – the Aussie internet governance forum renewed
Net Thing
@NetThing_au
On 28 October, NetThing is taking place at UTS Sydney. NetThing is an annual forum to strengthen Australia's Internet community and consists of robust Australia-based Internet policy exploration and discussion. Anyone with an interest is encouraged to join and engage in the panels and workshops.