Pakistan to Install Nationwide "Web Monitoring System" | China's Information War on Taiwan | Australian Committee Rejects Facial Recognition Database


Follow us on Twitter. The Daily Cyber Digest focuses on the topics we work on, including cyber, critical technologies & strategic issues like foreign interference.
ASPI ICPC
Engineering global consent: the Chinese Communist Party's data-driven power expansion
ASPI ICPC
@He_Shumei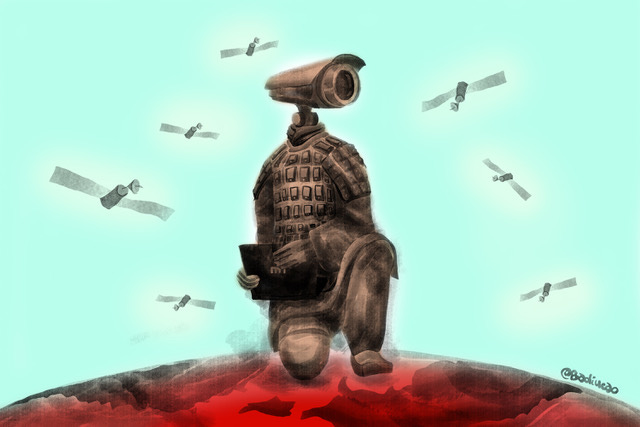 This report explains how the party-state's tech-enhanced authoritarianism is expanding globally. The effort doesn't always involve distinctly coercive and overtly invasive technology, such as surveillance cameras. In fact, it often relies on technologies that provide useful services.
(ASPI ICPC Researcher Vicky Xu joins #StratComDC to discuss the threat of Chinese disinformation )

Australia
Committee led by Coalition rejects facial recognition database in surprise move
The Guardian
Parliament's intelligence and security committee has ordered the government back to the drawing board for laws to establish a national facial recognition database, saying the legislation needs to be redrafted to ensure citizens' rights are protected. Amid fears the proposed new laws could allow the mass surveillance of citizens, the government-controlled committee has taken the unusual step of recommending the laws be completely overhauled, with the new regime built around "privacy, transparency and subject to robust safeguards."
China
RSF warns journalists about Chinese propaganda app that may spy on them
RSF
@RSF_en
Reporters Without Borders (RSF) warns journalists about Chinese President Xi Jinping's propaganda app, which could be used as a spying tool for the regime..We highly recommend journalists to avoid downloading this app that can compromise their security and that of their sources," insists Cédric Alviani, head of Reporters Without Borders (RSF) East Asia Bureau.
Tencent Says Libra Would Pose Serious Threat to Alipay, WeChat Pay
Coin Desk
@jp4874
Tencent, the Chinese internet giant and parent of messaging app WeChat, said the proposed launch of Facebook's Libra cryptocurrency would pose serious risks to existing digital payment systems.
Police detain Chinese #MeToo activist Sophia Huang Xueqin on public order charge
SCMP
@gzmimi
A leading Chinese feminist has been arrested in the southern Chinese city of Guangzhou for allegedly disturbing public order, sources familiar with the case said on Thursday. Sophia Huang Xueqin, a key figure in the #MeToo movement in China, was formally arrested a week ago on charges of "picking quarrels and provoking trouble" – an offence often used by police to detain dissidents and social activists, and that can attract a prison sentence of up to five years.
USA
Trump Officials Battle Over Plan to Keep Technology Out of Chinese Hands
NYT
The administration is split over restrictions on exporting sensitive technologies that are vital to protecting national security.
DHS warns of Russian interference plans in 2020 elections, as Washington focuses on Ukraine
Yahoo
"Russian influence actors almost certainly will continue to target U.S. audiences with influence activities that seek to advance Russian interests, and probably view the 2020 presidential election as a key opportunity to do so," says a recent intelligence assessment from the Department of Homeland Security's Cyber Mission Center.
TikTok app poses potential national security risk, says senior Democrat
The Guardian
@adamgabbatt
Chuck Schumer, the most senior Democrat in the Senate, has urged the government to investigate TikTok, describing the China-owned social media app as "a potential counter-intelligence threat we cannot ignore" and warning it could be used to interfere in US elections.
Google Accused of Creating Spy Tool to Squelch Worker Dissent
Bloomberg
@rj_gallagher
Google employees are accusing the company's leadership of developing an internal surveillance tool that they believe will be used to monitor workers' attempts to organize protests and discuss labor rights. Earlier this month, employees said they discovered that a team within the company was creating the new tool for the custom Google Chrome browser installed on all workers' computers and used to search internal systems. The concerns were outlined in a memo written by a Google employee and reviewed by Bloomberg News and by three Google employees who requested anonymity because they aren't authorized to talk to the press.
YouTube Is Erasing History
NYT
Under pressure to remove "extremist content," platforms are purging vital human rights evidence.
Trump to Tell Federal Agencies to Cut New York Times, Washington Post Subscriptions
WSJ
The White House is planning to instruct federal agencies to not renew their subscriptions to the New York Times and the Washington Post, administration officials said, escalating President Trump's attacks on the media outlets.
North Asia
China's Information War on Taiwan Ramps Up as Election Nears
Bloomberg
@SheridanAsia @samsonellis
Beijing has followed Moscow's example, developing a coordinated influence machine in time for the presidential vote.
South Asia
Pakistan moves to install nationwide "web monitoring system"
Coda Story
@IamUmer1 @ramshajahangir
Pakistan has acquired the services of a controversial Canada-based company to help build a nationwide "web monitoring system", Coda Story can reveal. Sandvine is expected to provide equipment for monitoring and analyzing all incoming and outgoing internet traffic from Pakistan. The agreement raises serious concerns about privacy and civil liberties in Pakistan, where government critics have sometimes seen digital retribution from officials and other powerful groups.
(The Indian Supreme Court may finally hear substantive challenges to telecommunications shutdown in Kashmir around November, read the full report here )
UK
The UK launched passport photo checker it knew would fail with dark skin
New Scientist
@adamvaughan_uk
The UK government went ahead with a face-detection system for its passport photo checking service, despite knowing the technology failed to work well for people in some ethnic minorities.
Misc
New iPhone Threat: These 17 'Trojan' Apps May Be On Your Device—Delete Them Now
Forbes
@ukzak
Apple iPhone users are being warned to check their devices against a list of malicious apps disclosed in a new report. The report from the research team at Wandera claims that 17 apps from one developer load a malicious clicker trojan module on an iOS device.
Facebook's new Libra cryptocurrency is set to help the 'unbanked' of the world, whether they want it or not
ABC
Helping people with no bank account may be a laudable goal for Facebook's cryptocurrency, but critics fear it could destabilise emerging economies. They wanted to "address the anomaly...that 1.7 billion people are completely unbanked, despite a billion of them having mobile phones," wrote David Marcus, the head of Facebook's Libra company, Calibra.
Are You Seeing Way More Ads on Twitter? Here's Why.
One Zero
People with lots of followers used to see very few ads. That finally changed. Twitter acknowledged that it had recently ended the two-tier system.
Events
EU Engagement Support Programme
EU Cyber Direct
When you're a non-government organisation and interested in joining discussions with members of the UN Open-ended Working Group on 'responsible state behaviour in cyberspace' from 2-4 December in New York? The EU is supporting representatives from underrepresented countries and communities with clear and concrete interests in this meeting. Apply here: https://eucyberdirect.eu/content_events/oewg2019/#1570723252773-45ed2f86-7e1a
The rise of information warfare: in-conversation with Peter W. Singer
ASPI ICPC
This event for 29 October is SOLD OUT but you can watch a livestream on the ASPI facebook page: https://www.facebook.com/ASPI.org/ - ASPI's International Cyber Policy Centre invites you to an in-conversation with Peter W. Singer and Danielle Cave to consider the rise of information warfare. Peter Warren Singer is strategist and senior fellow at New America. He has been named by the Smithsonian as one of the nation's 100 leading innovators, by Defense News as one of the 100 most influential people in defense issues, by Foreign Policy to their Top 100 Global Thinkers List, and as an official "Mad Scientist" for the U.S. Army's Training and Doctrine Command. A drinks and canapes reception will conclude the event. This event is kindly supported by Microsoft.