Plan for facial recognition database sparks concerns | Trump told Russian officials he wasn't concerned about Moscow's interference in election | Big data expert is China's new cybersecurity chief


Follow us on Twitter. The Daily Cyber Digest focuses on the topics we work on, including cyber, critical technologies & strategic issues like foreign interference.
If you've had a driver's licence photo or passport photo taken in Australia in the past few years, it's likely your face will end up in a massive new national network the federal government is trying to create. The Guardian.


President Trump told two senior Russian officials in a 2017 Oval Office meeting that he was unconcerned about Moscow's interference in the 2016 U.S. presidential election because the United States did the same in other countries. Washington Post.


China's Ministry of Public Security has appointed a big data expert to lead its cybersecurity force, and one of his priorities will be overseeing the coming roll-out of a new regulatory regime. SCMP.
---
ASPI ICPC

Australia's Cyber Strategy, version 2.0
ASPI ICPC
Back in 2016, Australia launched its first national cybersecurity strategy. The strategy covers a four-year period to 2020, and given the changes in the security environment, an update is now clearly warranted. To that end, the government has just launched a discussion paper to kick off the public consultation. The closing date for submissions on the discussion paper is 1 November.To complement the public submission process, ASPI's International Cyber Policy Centre is initiating a public debate on what should be included in the next cybersecurity strategy. Contributions will be compiled into a report that we will deliver to the Department of Home Affairs to inform the strategy's development.
---
ASPI ICPC
Hong Kong Is Winning the Global Public-Opinion War With Beijing
The Atlantic
"Efforts by the Chinese government to leverage Twitter to redirect and recast political developments in Hong Kong—both in terms of covert information operations and through its state media—highlight just how powerful Twitter is as a tool of statecraft," Danielle Cave, deputy director of the ASPI's International Cyber Policy Centre, told me. Hong Kong's protesters have also recognized the global influence of Twitter in the information domain and are themselves trying to use Twitter diplomacy to share breaking developments and to connect with journalists, Cave noted. This includes providing images and videos of events on the ground, often in real time, and generating new hashtags, including ones that highlight violent incidents and police brutality.
Opinion | China's repressive reach is growing
Washington Post
The video has been authenticated by Nathan Ruser, a satellite analyst at the Australian Strategic Policy Institute, a government-supported think tank. Mr. Ruser said it was made in mid-2018 and depicts the transfer of prisoners from one center, in Kashgar, on China's far western border, to a new facility near Korla, 600 miles deeper into the Chinese interior. Australia's foreign minister, Marise Payne, called the newly released images "deeply disturbing," and they certainly are that — as well as a powerful counter to the Beijing government's claims that it is merely offering Uighurs educational and job-training opportunities to de-radicalize a population prone to terrorism.
China accused of exploiting British universities to develop military weapons
Express
According to Alex Joske, China researcher at the Australian Strategic Policy Institute, around 500 people have been sent to Britain by China to learn about military-enhancing sciences. Xianjun was one of these students, and Mr Joske believes this revelation poses a concerning problem facing the West.
Information warfare and neuro-weaponry
The Strategist
The parameters of contemporary conflict, as ASPI's Tom Uren noted recently, are shifting. Transformations in the character of warfare have always attracted varying levels of attention and opposition, and plenty of hubris. In general, the national security, intelligence and defence community has muddled through. Some of that's been due to the best combination of analytical rigour, intuitive talent and a wisdom that only experience and time can bring. But, as Andrew Davies has pointed out, some of it's due to blind, random luck.
Australia
Cybersecurity strategy should focus on corporate Australia
The Strategist
@nphair
The Australian government is developing the next cybersecurity strategy to protect Australians from cyber threats. The current version was launched in 2016 and, while novel for its day, was largely underfunded when considering the task ahead. It's now time to learn the lessons from that experience.
Plan for massive facial recognition database sparks privacy concerns
The Guardian
@joshgnosis
Identity fraud is justification for collecting photos from drivers' licences and passports but critics say plan too invasive.
Govt begins search for future My Health Record provider
IT News
The Australian Digital Health Agency has kicked of its search for a new national infrastructure provider for the My Health Record system ahead of the 2020 expiry of its deal with Accenture.
China
Big data expert takes over as China's new cybersecurity chief
SCMP
@zhengwei75
Wang Yingwei was identified as the new director of the Cybersecurity Bureau in an interview with the ministry's official newspaper, China Police Daily, published on Sunday. He was previously the Communist Party secretary of the bureau.
USA
Trump told Russian officials in 2017 he wasn't concerned about Moscow's interference in U.S. election
Washington Post
President Trump told two senior Russian officials in a 2017 Oval Office meeting that he was unconcerned about Moscow's interference in the 2016 U.S. presidential election because the United States did the same in other countries, an assertion that prompted alarmed White House officials to limit access to the remarks to an unusually small number of people, according to three former officials with knowledge of the matter. By the time he met with Lavrov and Kislyak, Trump had been briefed by the most senior U.S. intelligence officials about the Russian operation, which was directed by Russian President Vladi­mir Putin and included the theft and publication of Democratic emails and the seeded of propaganda in social-media, according to the findings of the U.S. intelligence community.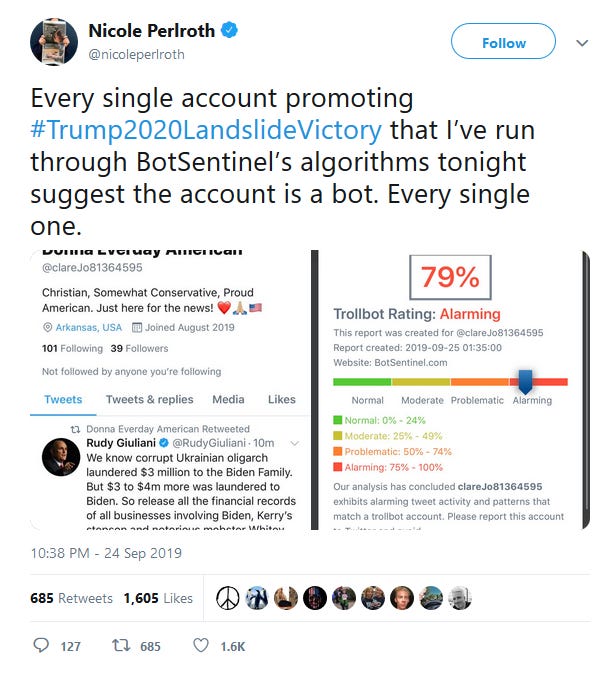 Former U.S. Army contractor sentenced to prison for destroying IT system
CyberScoop
@shanvav
A federal contractor who worked on a U.S. Army IT system was sentenced to two years in prison on Friday for illegally accessing his employer's network, stealing servers and proprietary information, and causing damage that resulted in more than $1 million in losses.
U.S. Unlikely to Renew Waiver for American Huawei Suppliers
Bloomberg
@nat_droz
The U.S. probably won't renew a temporary waiver that lets American companies do business with telecommunications giant Huawei Technologies Co. as Washington cracks down on Chinese companies.
New York sues Dunkin' Donuts over cyberattacks
Reuters
The parent of Dunkin' Donuts was sued on Thursday by New York Attorney General Letitia James, who accused the chain of failing to protect hundreds of thousands of customers whose accounts were targeted in a series of "brute force" cyberattacks.
U.S. lawmakers propose $1 billion fund to replace Huawei equipment
Reuters
@davidshepardson
A U.S. House panel unveiled bipartisan legislation this week that would authorize $1 billion for small and rural wireless providers to replace network equipment from companies including Huawei Technologies Co Ltd and ZTE Corp that lawmakers say pose a national security risk.
UK
Facebook, WhatsApp Will Have to Share Messages With U.K.
Bloomberg
@kitty_donaldson @mburtonmetals
Social media platforms based in the U.S. including Facebook and WhatsApp will be forced to share users' encrypted messages with British police under a new treaty between the two countries, according to a person familiar with the matter.
Europe
Norway will not ban Huawei from 5G mobile network: minister
Reuters
@Vklesty
Norway does not plan to block China's Huawei Technologies[HWT.UL] from building the country's 5G telecoms network, cabinet minister Nikolai Astrup told Reuters, a decision that puts it at odds with NATO ally the United States.
German Cops Raid "Cyberbunker 2.0," Arrest 7 in Child Porn, Dark Web Market Sting
Krebs on Security
German authorities said Friday they'd arrested seven people and were investigating six more in connection with the raid of a Dark Web hosting operation that allegedly supported multiple child porn, cybercrime and drug markets with hundreds of servers buried inside a heavily fortified military bunker. Incredibly, for at least two of the men accused in the scheme, this was their second bunker-based hosting business that was raided by cops and shut down for courting and supporting illegal activity online.
Russia
Russia's National AI Center Is Taking Shape
Defense One
@SamBendett
A famed Russian technical university is helping to lead the government's push for public-private efforts to develop AI technologies and applications — including a joint project with China's Huawei — and to stop top talent from flowing to the West.
Russia rolls out the red carpet for Huawei over 5G
AFP
While the US banned Huawei for alleged espionage and asked its allies to do the same, Moscow has rolled out the red carpet for the Chinese tech company, letting it develop 5G networks in Russia.
Americas
Malware infection disrupts production at defence contractor plants in three countries
ZD Net
@campuscodi
Rheinmetall plants in Brazil, Mexico, and the US disrupted by malware infection.
Middle East
Iran oil industry must be alert to physical, cyber threats: minister
Reuters
Iran's oil minister told the petroleum industry on Sunday to be on alert to physical and cyber attacks, amid heightened tensions with the United States in the Gulf region.
Misc.
Slack Is a Hell of Our Own Making
The Intelligencer
@bafeldman
Slack is a popular business tool for trash-talking competitors. What happens when two companies merge?
The Church of Techno-Optimism
NYT
@margaretomara
Neither liberal nor conservative, the true ideology of Silicon Valley is an unwavering belief in the power of technology.
Anti-rape devices may have their uses, but they don't address the ultimate problem
The Conversation
@DrBridgetHarris
Ultimately, there can be benefits to using technology to prevent sexual violence, but we must also encourage social shifts that tackle the heart of the problem.
Masad Spyware Uses Telegram Bots for Command-and-Control
Threatpost
@wirelesswench
A freshly discovered commercial spyware dubbed the "Masad Clipper and Stealer" is using Telegram bots as its command-and-control (C2) hub. Masad harvests information from Windows and Android users and also comes with a full cadre of other malicious capabilities, including the ability to steal cryptocurrency from victims' wallets.
Events
Cyber Security Hypothetical – Panel
UNSW
We invite you to join us on 22 October, in challenging paradigms and provoking discussion around this important topic that impacts and targets us all. Cyber Security Hypothetical will be led and moderated by Mr Steve Wilson and panellists will include MAJGEN Marcus Thompson, Professor Michael Frater, Mr Alastair MacGibbon, Ms Kate Carruthers and Mr Justin Warren.
The Digital Revolution in the Pacific
ASPI ICPC
ASPI's International Cyber Policy Centre warmly invites you to attend a panel discussion to consider how governments and businesses in the Pacific Islands are reaping the benefits and tackling the challenges stemming from increased internet and mobile connectivity.
The rise of information warfare: in-conversation with Peter W. Singer
ASPI ICPC
ASPI's International Cyber Policy Centre invites you to an in-conversation with Peter W. Singer and Danielle Cave to consider the rise of information warfare. Peter Warren Singer is strategist and senior fellow at New America. He has been named by the Smithsonian as one of the nation's 100 leading innovators, by Defense News as one of the 100 most influential people in defense issues, by Foreign Policy to their Top 100 Global Thinkers List, and as an official "Mad Scientist" for the U.S. Army's Training and Doctrine Command. A drinks and canapes reception will conclude the event. This event is kindly supported by Microsoft.