The White House announces quantum research initiative | Facebook to remove Holocaust denial content | Extensive threats from cyberspace confront Australia


Follow us on Twitter. The Daily Cyber Digest focuses on the topics we work on, including cyber, critical technologies & strategic issues like foreign interference.
Yesterday we accidentally linked to a 2-year old TechCrunch piece: 'Five Eyes' governments call on tech giants to build encryption backdoors — or else. We meant to link to this ZDNet piece from October 11, 2020: Five Eyes governments, India, and Japan make new call for encryption backdoors. Our apologies.
ASPI ICPC
Extensive threats from cyberspace confront the nation
The Australian Financial Review
@FergusHanson
To get a sense of how much cyber security now matters, consider this. In the midst of a global pandemic that has effectively closed Australia's international and domestic borders, driven the economy into recession and pushed millions of Australians out of work or into precarious job situations, the government has still found time for cyber security.
Australia
Cyber security rises up the totem pole
The Australian Financial Review
Richard Price, chief executive of South Australian defence agency Defence SA, says enhancing cyber security is crucial across all aspects of the defence industry and the spillover business sector as well.
Business reporting of cyber attacks will be a game changer
The Australian Financial Review
The stigma attached to being a cyber attack victim has made many corporates reluctant to come forward but Australian Cyber Security Centre head Abigail Bradshaw says there needs to be greater understanding within the business community of the wider costs of cyber incidents.
Spotless hit by ransomware attack
itnews
Spotless Group, the Downer-owned facilities services provider, is the latest high-profile Australian company to fall victim to ransomware attackers.
Law firm Seyfarth Shaw discloses 'aggressive malware' infection
itnews
Seyfarth Shaw, a global legal firm with Australian offices, said it is the victim of an "aggressive malware" attack that it believes to be ransomware.
Kevin Rudd's Petition To Investigate Murdoch Broke The Australian Government's Website
Gizmodo
The Ex-PM's petition calling for a royal commission into the influence of Rupert Murdoch's News Corp is proving rather too much for the Australian Parliamentary website. So many users have reported problems trying to sign it that even the site itself admits it's in trouble.
Report reveals relationship between boardroom and cybersecurity investments
Security Brief
Boardroom investments in cybersecurity are most commonly the result of an incident or fears of compliance audit failure. Because of this, two thirds (66%) of Australian organisations plan to add more towards security budgets in the next 12 months. This is according to new research from Thycotic, titled CISO Decisions. The independent global study examines what most influences boards to invest in cybersecurity and the impact this has on CISO decision making.
World
The Digital Divide Starts With a Laptop Shortage
The New York Times
A surge in worldwide demand by educators for low-cost laptops has created shipment delays and pitted desperate schools against one another. Districts with deep pockets often win out.
Lots of Facebook news:
USA
The White House Announces Quantum.Gov and Quantum Frontiers Report
HPCwire
The White House Office of Science and Technology Policy (OSTP) has announced the launch of Quantum.gov, the official website of the National Quantum Coordination Office, and the release of the Quantum Frontiers Report identifying key areas for continued quantum information science (QIS) research.
Microsoft Takes Down a Risk to the Election, and Finds the U.S. Doing the Same
The New York Times
Fearing Russian ransomware attacks on the election, the company and U.S. Cyber Command mounted similar pre-emptive strikes. It is not clear how long they may work.
Africa
Uganda's banks have been plunged into chaos by a mobile money fraud hack
Quartz Africa
A major hack that compromised Uganda's mobile money network has plunged the country's telecoms and banking sectors into crisis. At least $3.2 million is estimated to have been stolen in this latest incident with some reports quoting a much higher figure. The hackers used around 2,000 mobile SIM cards to gain access to the mobile money payment system, according to local papers. They then instructed the banks to transfer millions of dollars to telecommunication companies who then paid out mobile money to these different SIM cards across the country.
Misc
His Writing Radicalized Young Hackers. Now He Wants to Redeem Them
Wired
Cory Doctorow's Little Brother series has been a young-adult sci-fi bible for teen hacktivists. But with the latest and darkest book in the trilogy, it's all grown up.
Research
Events
Online safety in the Pacific: Report Launch
Eventbrite
Join Chief Executives from Plan International Australia and ChildFund Australia in discussion with expert Professor Amanda Third, Western Sydney University to launch the Online Safety in the Pacific Report. Hear more about children and young people's online experiences based on research conducted through Living Labs in Kiribati, Papua New Guinea and the Solomon Islands. Our panel will discuss emerging regional challenges, and the programmatic solutions we have developed to keep children and young people safe online.

This webinar will be on

#cybersecurity

in the

#Pacific

& potential risks faced by young people when going online for the 1st time.
eventbrite.com.au/e/online-safet…
#tech
#ICT
#digital
#PNG
#Kiribati
#SolomonIslands
#Solomons
@anudpa
@dinonaing
@BartHoogeveen
@hahhh
@rexster
@amandaj3rd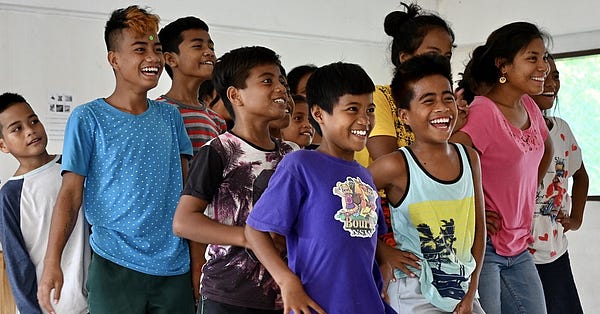 Online safety in the Pacific: Report Launch
Join us as we share our participatory research on children's and families' online safety in Kiribati, Papua New Guinea and Solomon Islands.
eventbrite.com.au
Jobs
Senior Researcher / Project Lead
ASPI ICPC
ASPI's International Cyber Policy Centre (ICPC) has an outstanding opportunity for a senior researcher to lead a one-year project looking at leadership networks across Asia. Interviews will start immediately.
Cyber Initiative and Special Projects Fellow
The William and Flora Hewlett Foundation
The William and Flora Hewlett Foundation is seeking a Cyber Initiative and Special Projects Fellow, a three-year fixed term position, to be based in Menlo Park, California.