Trump weighs retaliation against Iran | Documents reveal how Russia wiretaps phone companies | China denies it led cyber attack


Follow us on Twitter. The Daily Cyber Digest focuses on the topics we work on, including cyber, critical technologies & strategic issues like foreign interference.
ASPI ICPC

Australia's Cyber Strategy, version 2.0
ASPI ICPC
Back in 2016, Australia launched its first national cybersecurity strategy. The strategy covers a four-year period to 2020, and given the changes in the security environment, an update is now clearly warranted. To that end, the government has just launched a discussion paper to kick off the public consultation. The closing date for submissions on the discussion paper is 1 November.To complement the public submission process, ASPI's International Cyber Policy Centre is initiating a public debate on what should be included in the next cybersecurity strategy. Contributions will be compiled into a report that we will deliver to the Department of Home Affairs to inform the strategy's development.

---
How China Unleashed Twitter Trolls to Discredit Hong Kong's Protesters
The New York Times
@zhonggg @stevenleemyers @jwf825
The 3.6 million tweets that the accounts sent represented a campaign that was less sophisticated and more hastily assembled than the one Russia carried out during the 2016 United States presidential election, researchers at the Australian Strategic Policy Institute said in a report published this month. Instead of taking the time to cultivate plausible yet fake online personalities, the campaign's operators appear to have simply bought accounts in the shadowy global marketplace for social media influence, where followers and retweets can be had for cheap.. The "blunt-force" approach, the authors of the Australian report wrote, suggested that the operation was likely to have been a "rapid response to the unanticipated size and power of the Hong Kong protests rather than a campaign planned well in advance."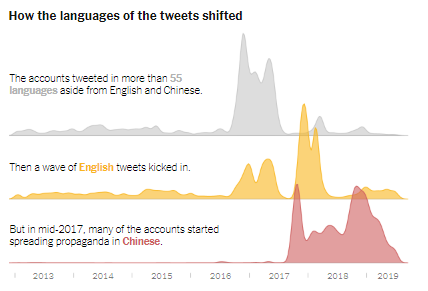 Graphic from the NYT showing the shift in language that the banned accounts tweeted in.

Sending the Rohingya home to die?
The ASEAN Post
@KhidhirSheith @Nrg8000
The United Nations (UN) recently warned that the repatriation of the Rohingya already driven from the country by the Myanmar army remains "impossible", stating that Rohingya Muslims in Myanmar are already facing a "serious risk of genocide".
Australia
Govt opens digital ID to private sector
Innovation Aus
@denhamsadler @FergusHanson
Earlier this year, Australian Strategic Policy Institute's International Cyber Policy Centre head Fergus Hanson called for a full-scale review into GovPass, criticising the government's pursuit of two separate government-funded initiatives and a lack of transparency over the project. "There's no regulation around it and no desire to put regulation around it. That is basically prioritising the interests of the government departments and niche interests above the people. We've seen that trick before and it always ends badly," Mr Hanson told InnovationAus.com in August.
China's Economic Power Mutes Response to Australia, Apple Hacks
China Digital Times
@samuel_wade @DaniellesCave
On Sunday, Reuters' Colin Packham reported on an Australian intelligence report blaming China's Ministry of State Security for cyberattacks on the country's parliament and three biggest political parties ahead of a general election in May. This conclusion was reportedly kept quiet for fear of antagonizing the country's largest trading partner.
NAB customers hit with sophisticated email banking phishing scam
9 News
@mattydunn11
NAB customers have once again been targeting in an email phishing scam capable of emptying their accounts.
Australia 'cannot afford to squander' relationship with China: Huawei chairman
The Age
@JennieDuke
Huawei Australia chairman John Lord has warned that a loss of trust between Australia and China could affect business productivity and hurt the local technology industry. Mr Lord criticised the Morrison government for "mischievously" overplaying security concerns involving Huawei.
Online financial scammers grabbed $4.4 million and targeted much more
The New Daily
Superannuation funds are boosting their online security systems as police and regulators investigate five more people following the charging of Melbourne woman Jasmine Vella-Arpaci with online fraud.
PayID data breaches show Australia's banks need to be more vigilant to hacking
ABC News
@pdowland
In June, around 98,000 PayID details were obtained after hackers used several online bank accounts to carry out more than 600,000 PayID lookups over the course of six weeks, reportedly by simply entering phone numbers in sequential order.
China denies it led cyber attack
The Australian
@GlendaKorporaal
China has rejected allegations it was behind the cyber attack on federal parliament earlier this year.
USA
Persistent Engagement with Chinese Characteristics
Lawfare
In 2018, U.S. cyber strategy shifted from a reactive, deterrence-based approach to the forward-postured, proactive policy of persistent engagement. Persistent engagement broadly entails more active defense against cyberattacks and a more constant pace of operations.
Mark Zuckerberg to meet with lawmakers in Washington
Politico
@viaCristiano
Facebook CEO Mark Zuckerberg will meet with policymakers in Washington this week to discuss "future internet regulation," according to a company spokesperson, amid rising government scrutiny of the company's business practices.
The problems ISIS creates for the US military online
Fifth Domain
@MarkAPomerleau
The details of how the military works within the cyber world is often classified, much to the chagrin of researchers and the media. And when it comes to using cyber operations to fight counterterrorism, such classification is due to the low barrier of entry to enter the battlefield. Anyone who is somewhat technically savvy, including those associated with ISIS, can jump in the battlefield.
States try to combat election interference as Washington deadlocks
LA Times
@evanhalper
With the White House and Congress paralyzed over how — or even whether — to act on intelligence agency warnings about foreign interference in U.S. elections, Maryland opted to take matters into its own hands.
The U.S. Needs a New Strategy to Keep Its Edge in Innovation
Council on Foreign Relations
James Manyika, William H. McRaven, @adschina
Addressing the challenge from China and other rising science powers requires an ambitious plan of national investment in science and technology.

Europe
Documents reveal how Russia wiretaps phone companies
TechCrunch
@zackwhittaker
Documents seen by TechCrunch offer new insight into the scope and scale of the Russian surveillance system — known as SORM (Russian: COPM) — and how Russian authorities gain access to the calls, messages and data of customers of the country's largest phone provider, Mobile TeleSystems (MTS).

Middle East

Trump admin weighing retaliatory action against Iran after Saudi oil attack
NBC News
@JoshNBCNews @ckubeNBC @carolelee
The Trump administration is weighing a range of options for a retaliatory action against Iran, including a cyberattack or physical strike on Iranian oil facilities or Revolutionary Guard assets, U.S. officials and others briefed on the deliberations told NBC News.
The Future of War Is Already Here
The New York Times
@peterwsinger
This means that national defenses have to reassess and prepare for these new threats. Future wars will be "multi-domain." In the past, if you fought a rebel group or invaded a medium power like Iraq, the fight was on the ground. Now, not just the superpowers but all sides in any conflict can reach into the air and out to sea — and also strike in new domains like cyberspace.
U.S. cyber-offensive against ISIS continues, and eyes are now on Afghanistan, general says
Cyber Scoop
@shanvav
The U.S. military may be poised to rely more heavily on offensive cyber capabilities to target one group in particular — the dispersed but still active membership of ISIS, according to one military cyber commander.
Misc

The Rise of Cyber and the Changing Nature of War
Grounded Curiosity
Christopher Wooding
Since the Industrial Revolution, societies are technologically driven and thus warfare has become more technology based. Evidence of this shift can be seen in the growing dependence on information systems, such as intranets, GPS, unmanned/robotic vehicles, and automated systems. This trend towards robotic and digitised systems has resulted in the rise of digitised conflict and the idea that disruption may be just as, if not more, effective than destruction in achieving desired outcomes. This becomes more appealing if it also entails less risk and resourcing overheads.
Facebook Contractors Have Been Listening to 'Hey Portal'
Bloomberg
@KurtWagner8 @markgurman
Facebook, which last month said it stopped using humans to review and transcribe users' voice messages, will resume that practice for some audio collected from its Portal video-calling device.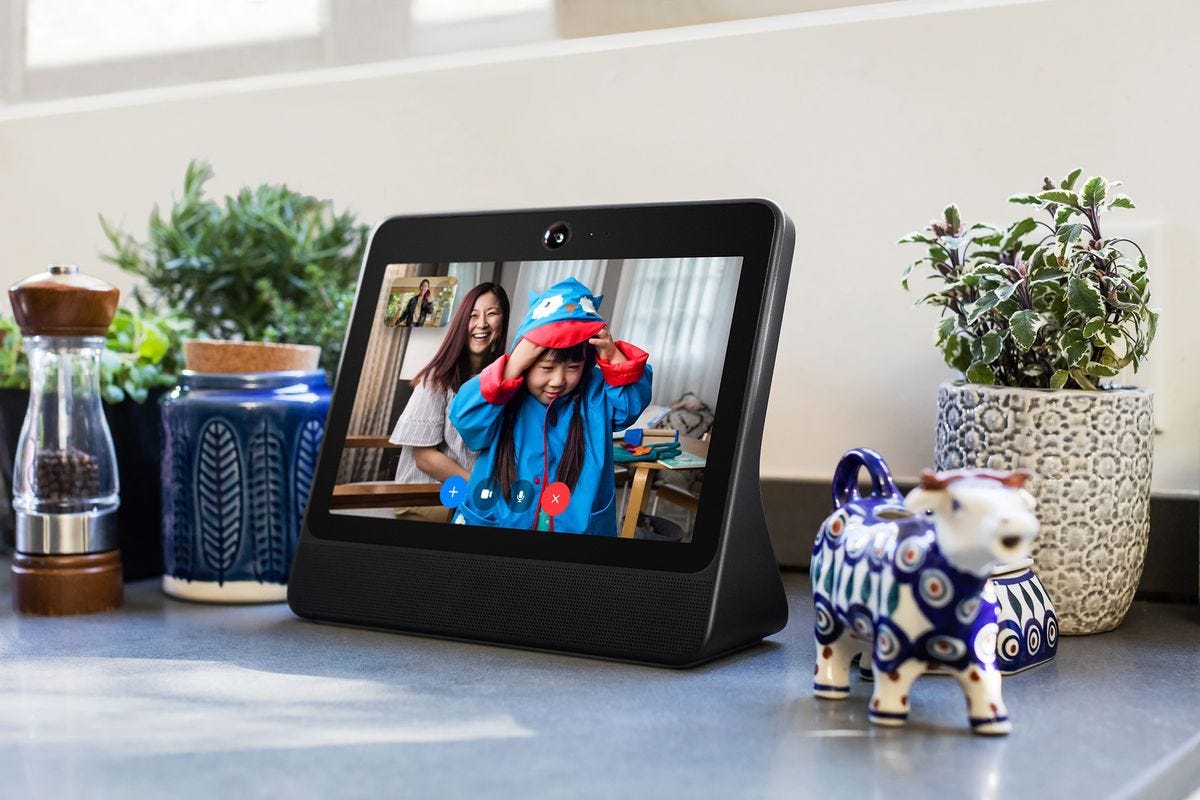 Facebook's Portal device Source: Facebook

Bloomberg reporter of challenged 'Big Hack' story gets promoted
The Washington Post
@ErikWemple
In a memo to staff on Monday, Bloomberg News Editor in Chief John Micklethwait announced that Michael Riley — the second co-byline on "The Big Hack" along with Jordan Robertson — would be taking on the expanded role of cybersecurity czar at the news outlet.
Events
The Digital Revolution in the Pacific
ASPI ICPC
ASPI's International Cyber Policy Centre warmly invites you to attend a panel discussion to consider how governments and businesses in the Pacific Islands are reaping the benefits and tackling the challenges stemming from increased internet and mobile connectivity.