US and Taiwan host security exercise to boost cyber defence | Democratic strategists set up $75 million digital campaign to counter Trump | US urges Taiwan to curb chip exports to China


Follow us on Twitter. The Daily Cyber Digest focuses on the topics we work on, including cyber, critical technologies & strategic issues like foreign interference.
ASPI ICPC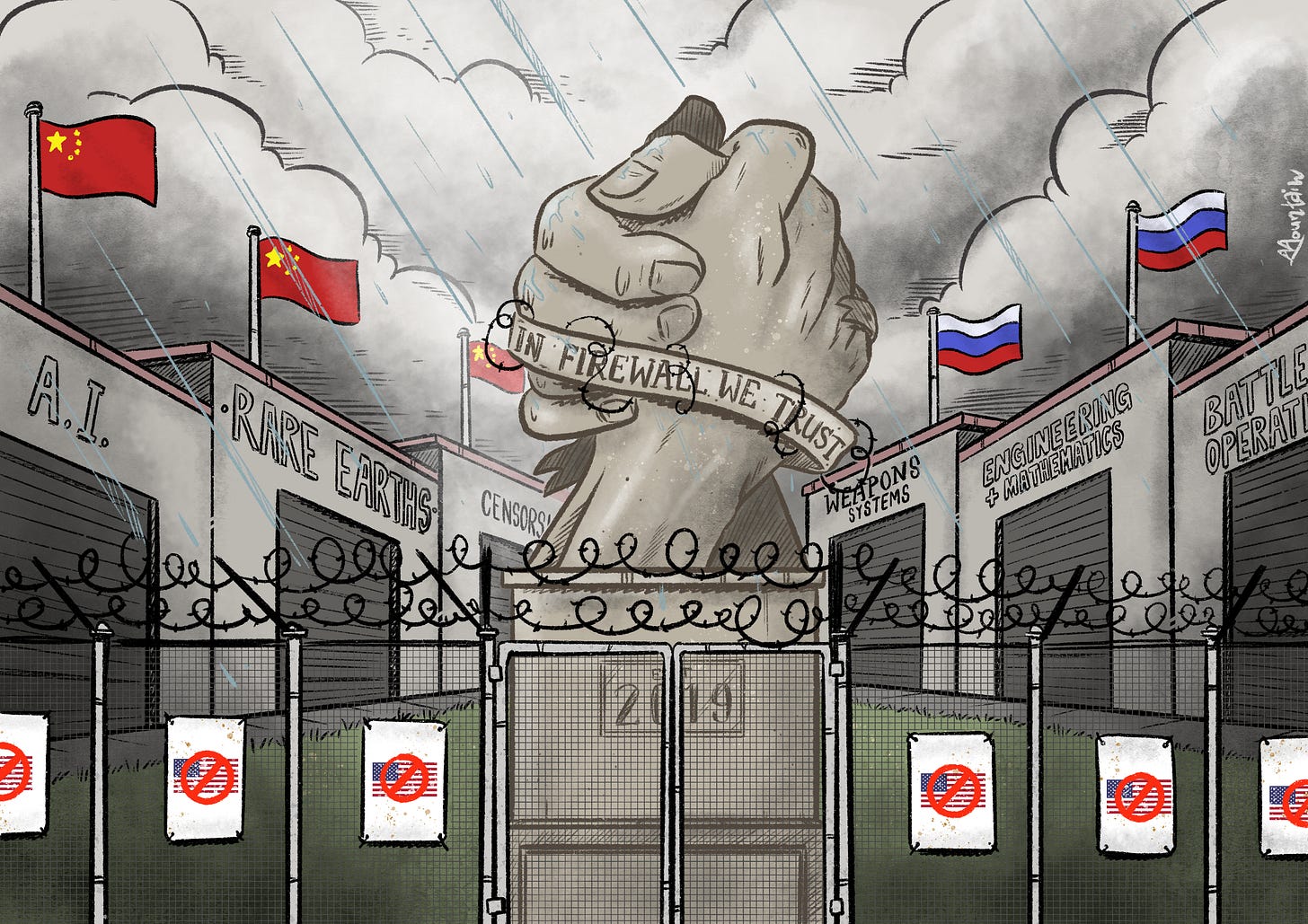 ASPI ICPC report examines deepening Sino-Russian technology ties as US tensions mount
China and Russia have not only expanded military cooperation but are also undertaking more extensive technological cooperation, including in 5G, new media, artificial intelligence (AI), robotics, biotechnology & the digital economy.
The latest policy report by ASPI's International Cyber Policy Centre - A new Sino-Russian high-tech partnership: Authoritarian innovation in an era of great-power rivalry authored by Russian specialist Samuel Bendett and China specialist Elsa Kania - maps out the unique ecosystem underpinning expanding technology cooperation between Moscow and Beijing.
---
---
Trolls Renew Social Media Attacks on Hong Kong's Protesters
Bloomberg
@sbanjo @asebenius
Researchers at Astroscreen, a startup that monitors social media manipulation, have identified suspicious accounts that suggest take downs in August didn't stop online activity targeting the protesters. Instead, some accounts with suspected links to the Chinese government that were removed have been replaced by different ones, engaging in similar types of tactics, the researchers said. The findings highlight challenges Facebook, Twitter and Alphabet Inc.'s YouTube face in trying to dismantle disinformation campaigns that operate through their platforms. They also underscore growing concerns about governments and other political actors using social media platforms to sway popular opinion or silence their critics. "This arms race between platforms and malign actors isn't going away," said Jacob Wallis, a senior analyst at the Australian Strategic Policy Institute's International Cyber Policy Centre, who authored a report on the matter in September. "Hyper-connectivity creates vulnerabilities that actors with various motivations will continue to exploit."
Hostile neighbours and a ticking bomb: the untold story behind the Kudankulam cyberattack
ET Prime
@SandhyaETprime
The recent incident of cyber intrusion through a "malware" on one of the administrative computers at KKNPP has an ominous warning: India's supervisory control systems and critical information infrastructure are on the verge of getting compromised. The government must act fast to prevent a repeat of Ukraine's Operation BlackEnergy or Iran's Stuxnet. With views from ASPI ICPC's Tom Uren.
The World
US and Taiwan host security exercise to boost cyber defence
Financial Times
Kathrin Hille
A multinational security exercise co-hosted by the US has begun in Taiwan, as the two allies seek to bolster Taipei's defences against potentially crippling cyber attacks from China. The drill marks the first time foreign teams have been invited to participate in the operation, which is held every two years. The new format and the support from the US comes as Washington steps up efforts to prevent cyber espionage against Taiwan's global technology manufacturing hub. During the Cyber Offensive and Defensive Exercise (Code), "red" teams from Japan, Malaysia, the Czech Republic and the US will play alongside Taiwanese government and military officials to simulate attacks on Taiwan's financial sector, while a "blue" team only from Taiwan will play the role of the defenders, organisers and participants said. Cyber security officials from six other countries are observing the drill.
US urges Taiwan to curb chip exports to China
Financial Times
Kathrin Hille
The US government is pushing Taiwan to restrict its biggest chipmaker from producing semiconductors for Huawei, the Chinese telecoms group, and to institute stricter controls on technology exports to China..Last month, a US official told Taiwanese diplomats in Washington that chips made by TSMC for Huawei were going straight into Chinese missiles pointing at Taiwan — a statement intended as a "metaphor" illustrating the risks of supplying China.
Australia
Cybersecurity: people are not the problem
The Strategist
@lesleyseebeck
...rather than assuming that 'fixing' cybersecurity and improving safety are matters for the central government—which has stretched resources and fewer levers than it once had to enact change—decision-makers would do well to place citizens at the centre of the challenge, and to ask themselves, 'How can we best help our people to help themselves?'
China
China wildlife park sued for forcing visitors to submit to facial recognition scan
The Guardian
Michael Standaert
A Chinese wildlife park has sparked outcry after making visitors submit to facial recognition scanning, with one law professor taking it to court. Professor Guo Bing is taking action against Hangzhou safari park, after it replaced its existing fingerprinting system with the new technolog. "I [filed this case] because I feel that not only my [privacy] rights are being infringed upon but those of many others," Guo, from Zhejiang University of Sci-Tech, said according to an audio recording of an interview posted by state-run Beijing News.
Vast Dragnet Targets Theft of Biomedical Secrets for China
The New York Times
@ginakolata
Nearly 200 investigations are underway at major academic centers. Critics fear that researchers of Chinese descent are being unfairly targeted.
United States
Democratic Strategists Set Up $75 Million Digital Campaign to Counter Trump
The New York Times
@ShaneGoldmacher
A progressive organization is plunging itself into the presidential campaign, unveiling plans to spend $75 million on digital advertising to counter President Trump's early spending advantage in key 2020 battleground states. The effort, by a nonprofit group called Acronym and an affiliated political action committee, is an outgrowth of growing concern by some Democratic officials that Mr. Trump could build an insurmountable edge in those key states through massive early advertising efforts. Mr. Trump has spent more than $26 million so far nationally just on Facebook and Google, more than the four top-polling Democrats — Joseph R. Biden Jr., Elizabeth Warren, Bernie Sanders and Pete Buttigieg — have spent in total on those platforms.
5G policy 'biggest strategic disaster in US history'
Asia Times
David P. Goldman
A prominent Republican who advises President Donald Trump called America's 5G strategy "the biggest strategic disaster in US history." US efforts to impede China's telecom giant Huawei from dominating the global market in fifth-generation mobile broadband have failed, while incompetent regulation and corporate misbehavior have held back the United States' 5G effort at home, the politician told a closed-door gathering of Republican donors and activists.
Facebook rebrands as calls for government-led breakup continue
NBC News
@JasonAbbruzzese
The company announced in a blog post that the new brand, which retains the name of the social network, would have a new logo to better indicate all the various products and services it now offers, including Instagram and WhatsApp. The timing of the move is notable because the company faces calls from politicians and consumer advocates for the government to break it up into various pieces.
TikTok declined to testify at a US congressional hearing on risks to American consumers
South China Morning Post
Tracy Qu
TikTok, the short-video app owned by China's ByteDance, declined to testify at a congressional hearing slated for Tuesday scheduled by Republican Senator Josh Hawley to discuss its business and risks to American consumers. Hawley had invited TikTok and Apple to testify at the hearing. Apple, too, declined to participate, leading Hawley to question in a tweet whether the two companies have "something to hide". Hawley didn't immediately respond to a comment inquiry sent via his website.
TikTok seeks to join tech fight against online terrorism
The Hill
@birnbaum_e
TikTok, the massively popular Chinese-owned social media app that has recently attracted national security concerns from top lawmakers, is seeking to join the consortium of U.S. tech companies tasked with countering online terrorism and extremism. A source familiar with the effort told The Hill that TikTok is working to become an official member of the Global Internet Forum to Counter Terrorism (GIFCT) alongside top tech firms including Facebook, Google and Microsoft. But TikTok's efforts have largely been rebuked so far, and the GIFCT has not granted TikTok — one of the largest and fastest-growing social media platforms in the world — a formal membership amid concerns about its data collection and censorship practices.
I Got Access to My Secret Consumer Score. Now You Can Get Yours, Too.
The New York Times
@kashhill
Little-known companies are amassing your data — like food orders and Airbnb messages — and selling the analysis to clients. Here's how to get a copy of what they have on you.
Opinion | Don't abolish political ads on social media. Stop microtargeting.
Washington Post
@EllenLWeintraub
Twitter's surprise announcement on Wednesday that it would stop selling political advertising is an inflection point in paid political ads on the Internet. Twitter has made its move; pressure will build for the other Internet giants, particularly Facebook, to respond. Here's a move that would allow political ads while deterring disinformation campaigns, restoring transparency and protecting the robust marketplace of ideas: Sell political ads, but stop the practice of microtargeting those ads.
Opinion | Americans must search their conscience and 'google Uyghurs'
Washington Post
@joshrogin
The U.S. government has imposed visa bans and blacklisted 28 Chinese entities that are complicit in the human rights violations in Xinjiang. But stronger sanctions have been sitting on the shelf for several months. The White House seems to be falling for Beijing's threat to disrupt trade talks if Washington confronts them on human rights. The truth is, Beijing's threat works only if we back off. Basketball fans in China couldn't watch the Rockets game because Beijing has banned broadcasting them as part of their punishment over Morey's tweet. The Uighurs are appealing to their fellow Americans because we are their only hope. Like James, many Americans will decide they don't care or don't want to pay the price for daring to speak out about Chinese government repression. But no one can say they didn't know the truth; all you have to do is "google Uyghurs."
I worked on political ads at Facebook. They profit by manipulating us.
Washington Post
@YaelEisenstat
The company can't avoid damaging democracy.
North Asia
Beijing extends sweeteners for Taiwanese weeks before Taipei election
South China Morning Post
@_szheng
Beijing announced a series of sweeteners for Taiwanese businesses and individuals on Monday – including participation in its 5G research and allowing Taiwanese to use mainland consular services – only two months before Taiwan's critical presidential election.
Microsoft Japan gave workers three day weekends. Productivity jumped 40 per cent
The Feed
Labor productivity at Microsoft Japan jumped almost 40 per cent in August this year - thanks to an initiative that saw all workers take a three day weekend... for the entire month.
South Asia
India's Congress party says Priyanka Gandhi Vadra hit by WhatsApp privacy breach
Reuters
India's main opposition Congress party said on Sunday that its general secretary Priyanka Gandhi Vadra had been informed by messaging service WhatsApp that her phone was hacked during this year's election campaign by malware from Israeli surveillance firm NSO.
Europe
Targeted Ransomware Attacks Hit Several Spanish Companies
The Hacker News
@Swati_THN
Everis, one of the largest IT consulting companies in Spain, suffered a targeted ransomware attack on Monday, forcing the company to shut down all its computer systems until the issue gets resolved completely.
Canada
Fears of election meddling on social media were overblown, say researchers
CBC
@robroc
Now that the election is over and researchers have combed through the data collected, their conclusion is clear: there was more talk about foreign trolls during the campaign than there was evidence of their activities. Although there were a few confirmed cases of attempts to deceive Canadians online, three large research teams devoted to detecting co-ordinated influence campaigns on social media report they found little to worry about.
Misc
These Machines Can Put You in Jail. Don't Trust Them.
New York Times
@StacyCowley @jbsgreenberg
Alcohol breath tests, a linchpin of the criminal justice system, are often unreliable, a Times investigation found.
Events
CyberWarCon 2
AESIR
CYBERWARCON is a one-day (Novembre 21st) conference in the Washington D.C. area focused on the specter of destruction, disruption, and malicious influence on our society through cyber capabilities.
Thank you for reading the Daily Cyber Digest. If you have any feedback, please let us know via email at icpc@aspi.org.au Know someone who may enjoy getting this? They can sign up here.