US Commerce Department announces new rule aimed at stemming sale of hacking tools | China updates official news sources list to tighten oversight | US and UK AI research labs collaborate on army tech
Follow us on Twitter. The Daily Cyber Digest focuses on the topics we work on, including cyber, critical technologies & strategic issues like foreign interference.
ASPI ICPC
The architecture of repression: Unpacking Xinjiang's governance
ASPI ICPC
For accountability, it is necessary to investigate how China's campaign against the Uyghurs has been implemented and which offices and individuals have played a leading part. The current knowledge gap has exposed international companies and organisations to inadvertent engagement with Chinese officials who have facilitated the atrocities in Xinjiang. It has also prevented foreign governments from making targeted policy responses. This project maps and analyses the governance mechanisms employed by the Chinese party-state in Xinjiang from 2014 to 2021 within the context of the region's ongoing human rights crisis. The authors have located and scrutinised thousands of Chinese-language sources including leaked police records and government budget documents never before published. This archive of sources is made publicly available for the use of others. In addition to a detailed policy report, this project includes an interactive organisational chart which profiles over 170 offices that have participated in Xinjiang governance in the last 7 years. Within the chart, guided tours can take the viewer through five key sets of Xinjiang's repressive policies: mass internment, forced labour, at-home surveillance and indoctrination, coercive birth control, and ubiquitous propaganda.
Exposing the Chinese government's oppression of Xinjiang's Uyghurs
The Strategist
@xu_xiuzhong
Since the spring of 2017, it has been widely accepted that between several hundred thousand and a million Uyghurs and other indigenous people in Xinjiang have been rounded up and interned in what Chinese authorities call 'vocational education and training centres'. Yet these re-education camps are only the most visible components of a vast architecture of repression in the region.
The Chinese Tech Industry Adjusts to Beijing's New Reality
Bloomberg
Chinese regulators aren't interested in controlling the daily operations of private corporations, according to Fergus Ryan, a senior analyst at the Australian Strategic Policy Institute's International Cyber Policy Centre, but they are looking to ensure that companies operate in line with Beijing's industrial policies. Tech companies are under new pressure to share valuable data and shift away from internet commerce in favor of core technologies that could help insulate China from being cut off from U.S. suppliers. "The direction we're moving toward is a new type of Chinese company that is neither state-owned nor private," Ryan says. "They're becoming hybrid entities that are effectively state-controlled."
Australia
Crypto experts say Australia risks brain drain if new senate report not acted on
ABC
@rhianawhitson
A senate inquiry has recommended changes to taxation laws, licensing and regulatory regimes to encourage digital and crypto-asset businesses to set up in Australia.
China
China updates official news sources list to tighten information oversight
Reuters
@horwitzjosh @brendagoh_
The Cyberspace Administration of China (CAC), the country's top internet regulator, published an updated list on Wednesday of 1,358 internet news services, stating that information service providers can only reprint news from these sources.
As Evergrande Teeters, Chinese Media Walks a Fine Line
The New York Times
@vwang3
Officials want to avert public panic about the property developer's financial woes. But they also want to send a message to spendthrift corporations.
China presses McDonald's to expand e-currency system before Olympics
The Financial Times
China has told McDonald's to expand a digital renminbi payments system at restaurants across the country before the Beijing Winter Olympics, as the country prepares to launch the world's first major e-currency. Three people familiar with the situation said China was pushing some US companies to install systems to allow consumers to pay for their products in digital renminbi by the opening of the Beijing Games in February.
At least 13 phone firms hit by suspected Chinese hackers since 2019, say experts
The Guardian
@dansabbagh
The roaming hackers – known as LightBasin – were able to "search and find" individual mobile phones and "target accordingly", according to CrowdStrike, a group regularly cited by western intelligence.
How Jack Ma treatment prompted Cathie Wood to quit China
Australian Financial Review
@mcranston1
Ms Wood, the flamboyant founder and chief executive of $US45 billion ($61 billion) asset manager Ark Invest, said she started pulling out money when the founder of e-commerce giant Alibaba and former national hero Jack Ma was chastised last year.
Jack Ma Leaves China for the First Time Since Regulatory Woes Began
The Wall Street Journal
@qizhai
Alibaba co-founder Jack Ma is traveling outside of China for the first time since his business empire came under regulatory scrutiny about a year ago, according to people familiar with the matter.
The

@YahooFinance

app is no longer in the

#China

@AppStore

.
applecensorship.com/app-store-moni…
We first detected that the app had been removed on October 14, a day after the publication of a Bloomberg story by
@vladsavov
. Coincidence? Read
@business
story:
shorturl.at/vDU79
@Apple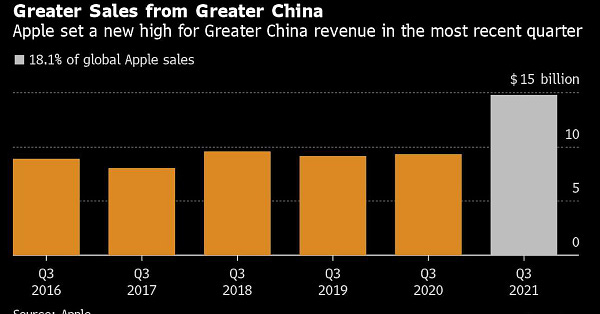 Apple's Balancing Act in China Gets Trickier During Xi's Crackdown
(Bloomberg) -- In less than a year, China has upended the world's largest internet sphere, throwing its biggest players from Alibaba to Tencent into a...
shorturl.at
China's test of hypersonic vehicle is part of a program to rapidly expand strategic and nuclear systems
The Washington Post
@nakashimae
China is in the midst of a rapid expansion of its strategic and nuclear weapons systems, and its progress has alarmed U.S. national security officials.
Alibaba: new chip could end up costing an Arm and a leg
The Financial Times
UK and US links risk exposing Chinese group's core computer systems to political disputes.
USA
Commerce Department announces new rule aimed at stemming sale of hacking tools to Russia and China
The Washington Post
@nakashimae
The Commerce Department on Wednesday announced a long-awaited rule that officials hope will help stem the export or resale of hacking tools to China and Russia while still enabling cybersecurity collaboration across borders. The rule, which will take effect in 90 days, would cover software such as Pegasus, a potent spyware product sold by the Israeli firm NSO Group to governments that have used it to spy on dissidents and journalists.
Adam Schiff asks intelligence agencies for information about CIA's targeting of WikiLeaks
Yahoo! News
@Isikoff
The House Intelligence Committee is seeking information about a report that CIA officials plotted to kidnap Julian Assange from the Ecuadorean Embassy in London in 2017 after WikiLeaks published documents describing the spy agency's hacking tools.
US and UK AI Research Labs Collaborate on Army Support Tech
Digit
@ThKnackeredChef
A new US and UK collaboration has integrated artificial intelligence and machine learning to support combat forces. For the first time, the Air Force Research Laboratory worked with the UK's Defence Science and Technology Laboratory to develop, select, train, and deploy state-of-the-art ML algorithms to support armies.
Why the United States Should Have Invited Russia to Join Counter-Ransomware Initiative
The Council on Foreign Relations
@shakirov2036
Last week, the United States hosted a virtual international meeting of the initiative that included European Union partners, members of the Quad, South Africa, Nigeria, Kenya, Republic of Korea, Singapore, United Arab Emirates, Ukraine, and others.
The tech billionaire aiding the Facebook whistleblower
POLITICO
@birnbaum_e
Support from eBay-founder-turned-tech-critic Pierre Omidyar is helping Frances Haugen take on one of the world's most powerful companies.
North-East Asia
Taiwan chip giants set terms for investment
Telegraph India
Sources said govt is in talks with Taiwan Semiconductor Manufacturing Company, which has a 50% share in the global market, and other companies to set up units.
South-East Asia
Why Indonesia's Youth Hold the Key to its Tech Sector Progress
The Council on Foreign Relations
To capitalize on the promise of its burgeoning tech industry, Indonesia needs a greater focusing on developing the human talent that powers innovation and allows pioneering companies to grow.
UK
UK competition watchdog has music streaming in its sights
Reuters
@kholtonreuters
Britain's competition regulator plans to launch an examination of the music streaming market to see whether a sector dominated by platforms such as Spotify and Apple works for consumers.
Britain fines Facebook $70 mln for breaching order in Giphy deal
Reuters
@sachinr27
Britain's competition regulator has fined Facebook 50.5 million pounds ($69.6 million) for breaching an order imposed during its investigation into the U.S. social media giant's purchase of GIF platform Giphy, the agency said on Wednesday.
Britain Outlines Energy Plans Amid Dimming Prospects for Climate Summit
The New York Times
@_StephenCastle @MarkLandler
In an effort to recapture momentum, Prime Minister Boris Johnson announced a host of measures, including plans for a big expansion of electric vehicles, more offshore wind power and greater use of hydrogen.
Russia
Russian Corruption Makes It Harder to Crack Down on Ransomware
DefenceOne
@DefTechPat
Hackers who learned skills in government service are branching out "for their own personal enrichment," Pentagon cyber leader says.
Google faces a fine of up to 20% of Russian revenue this month
Reuters
Russia said on Tuesday it would this month seek to fine U.S. tech giant Google a percentage of its annual Russian turnover for repeatedly failing to delete content deemed illegal, Moscow's strongest effort yet to rein in foreign tech firms.
Russia allows methane leaks at planet's peril
The Washington Post
@StevenMufson @ikhurshudyan
On the morning of Friday, June 4, an underground gas pipeline running through the ancient state of Tatarstan sprang a leak. And not a small one. In a different era, the massive leak might have gone unnoticed.
Misc
The Technopolar Moment
Foreign Affairs
@ianbremmer
How digital powers will reshape the global order.
Facebook Grew Marketplace to 1 Billion Users. Now Scammers Are Using It to Target People Around the World.
ProPublica
@CraigSilverman @acinvestigates @peterelkind
ProPublica identified thousands of Marketplace listings and profiles that broke the company's rules, revealing how Facebook failed to safeguard users.
Facebook is planning to rebrand the company with a new name
The Verge
@alexeheath
The coming name change, which CEO Mark Zuckerberg plans to talk about at the company's annual Connect conference on October 28th, but could unveil sooner, is meant to signal the tech giant's ambition to be known for more than social media and all the ills that entail.
Facebook to pay more than $14 million in Justice Dept. settlement over discrimination against American workers
The Washington Post
@davidnakamura @Cat_Zakrzewski
Facebook has agreed to pay penalties totaling more than $14 million under a settlement with the Justice Department over findings that the company's hiring practices intentionally discriminated against U.S. workers in favor of foreign workers, U.S. officials said Tuesday.
Senators to Zuckerberg, Facebook Cannot be Trusted to Manage Crypto-Currency
Sherrod Brown
Today, U.S. Senatos voiced their opposition to Facebook's revived effort to launch a cryptocurrency ("Diem") and digital wallet ("Novi"). In light of yet another scandal involving Facebook's failure to protect its users, the senators urged Facebook CEO Mark Zuckerberg to immediately discontinue the company's pilot of Novi, announced this morning, and to commit not to bring Diem to market.
Mark Zuckerberg will be added to a Facebook privacy lawsuit.
The New York Times
@ceciliakang
The attorney general for the District of Columbia on Wednesday added Facebook's chief executive, Mark Zuckerberg, to a consumer protection lawsuit, in one of the first efforts by a regulator to expose him personally to potential financial and other penalties.
AI can see through you: CEOs' language under machine microscope
Reuters
CEOs and other managers are increasingly under the microscope as some investors use artificial intelligence to learn and analyse their language patterns and tone, opening up a new frontier of opportunities to slip up.
ITU gives nod to non-cellular 5G standard
Mobile World Live
@Kavitm
European standards member group ETSI noted the development eliminated network infrastructure and single point failure, while enabling companies to operate without middlemen or subscription fees, as well as store and consume the data generated in the best way "they see fit for them"
Events
Bellingcat Workshops
Bellingcat
This workshop is a beginning & advanced verification course and a beginning & advanced course in social media & individual-focused research
International cyber landscape and Australia's place in it
AllEvents
The internet is critical infrastructure, relied upon by businesses, governments, individuals and civil society to conduct business and engagement activities both domestically and internationally. The use of digital communications technology has increased exponentially over the last decade in developed and developing economies. Stemming from this significant growth have been concerns about trans-border data flows and data and cyber.This session will look at Australia's cyber security approach and where we sit in the international cyber landscape.
Encryption Q&A - Global Encryption Day
Digital Rights Watch
Digital security is becoming increasingly undermined both at home in Australia and around the world. It's important to explain and celebrate the important role encryption plays in keeping us safe and secure online. Join Executive Director of Digital Rights Watch, Lucie Krahulcova, and CTO of Oxen Privacy Tech Foundation, Kee Jefferys, on Global Encryption Day for a live Q&A about encryption. Thursday, October 21, 2021 • 6:00 PM • Australian Eastern Daylight Time (GMT+11:00)
Confronting Disinformation in Asia
IREX
Disinformation and propaganda are spreading like wildfire all across the globe. Asian countries are not immune to manipulation, which can all too often lead to violence.
A Conversation with Chris Inglis and Anne Neuberger
CSIS
Please join CSIS for a virtual conversation with Chris Inglis, National Cyber Director and Anne Neuberger, Deputy Assistant to the President and Deputy National Security Advisor for Cyber and Emerging Technology. The discussion will focus on opportunities to advance U.S. cybersecurity.
Research
Operation Secondary Infektion Targets Pfizer Vaccine
Recorded Future
The following report is an update to Insikt Group's August 2021 publication "Operation Secondary Infektion Continues Targeting Democratic Institutions and Regional Geopolitics", an investigation into the likely Russian state-sponsored information operation "Secondary Infektion." This report examines a newly discovered campaign of Operation Secondary Infektion, aimed at discrediting the Pfizer-BioNTech COVID-19 vaccine.
Jobs
ICPC Senior Analyst or Analyst - China
ASPI ICPC
ASPI's International Cyber Policy Centre (ICPC) has a unique opportunity for exceptional and experienced China-focused senior analysts or analysts to join its centre. This role will focus on original research and analysis centred around the (growing) range of topics which our ICPC China team work on. Our China team produces some of the most impactful and well-read policy-relevant research in the world, with our experts often being called upon by politicians, governments, corporates and civil society actors to provide briefings and advice. Analysts usually have at least 5 years, often 7-10 years' of work experience. Senior analysts usually have a minimum of 15 years relevant work experience and, in addition to research, they take on a leadership role in the centre and tend to be involved in staff and project management, fundraising and stakeholder engagement.