Uyghurs for Sale Q&A at noon | Europe shares code for new coronavirus warning app | Tencent and United Nations announce global partnership | Palantir providing monitoring to CDC


Follow us on Twitter. The Daily Cyber Digest focuses on the topics we work on, including cyber, critical technologies & strategic issues like foreign interference
European researchers think they have found a way to use mobile phones to contain the spread of coronavirus — and help people avoid infection — without sacrificing the region's high standards on privacy. Politico


Tencent and the United Nations (UN) today announced a new and innovative global partnership for the UN's 75th anniversary, which will host thousands of online conversations. PR Newswire


In the last week, staff at the Centers for Disease Control and Prevention (CDC) started logging into a new web app. It promises to help them watch where COVID-19 is spreading and checks how well equipped hospitals are to deal with the spike in cases of the fatal virus, according to two sources familiar with the tool. According to those sources, it was built by Palantir, a $20 billion-valued big data company whose data harvesting work for the U.S. Immigration and Customs Enforcement agency has provoked criticism from human rights groups. Forbes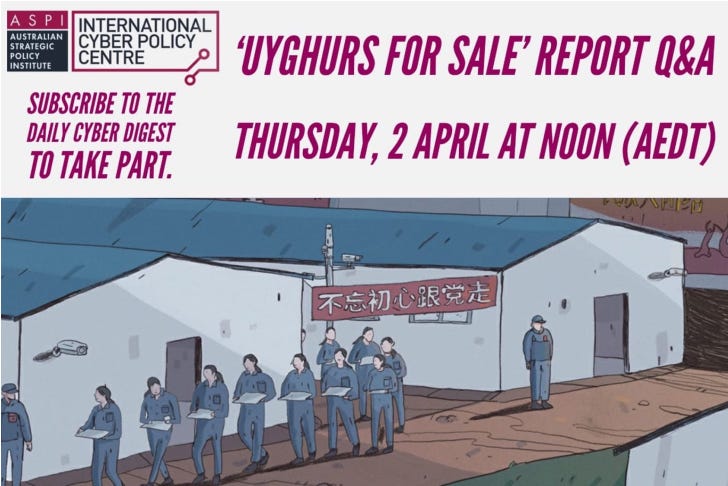 On Thursday, 2 April at noon (AEDT), ASPI's International Cyber Policy Centre is running an online Q&A with the co-authors of the 'Uyghurs for sale' report.
Co-authors Vicky Xiuzhong Xu, Dr James Leibold, Kelsey Munro & Nathan Ruser will be on hand to take your questions for an hour on what has quickly become ASPI's most-read report ever.

If you would like to take part, please email fergusryan@aspi.org.au with your name and 'Q&A' as the subject line.
ASPI ICPC
Regulatory flexibility needed to allow Covid-19 innovations to succeed
The Strategist
@elisethoma5
The Covid-19 crisis has sparked a truly inspiring wave of citizen-led, open-source innovation, from 3D-printed medical devices and open-source designs for personal protective equipment, to virus tests which could allow for more rapid, large-scale testing. It may well be that the answers to some of the biggest challenges countries around the world are facing are found not in large corporate labs or government research facilities, but in open-source technologist communities, creative collaboration spaces and citizen science labs.
World
Zoom Faces Class Action Lawsuit for Sharing Data with Facebook
Vice
@josephfcox
The lawsuit comes after Motherboard analyzed the Zoom iOS app and found it sent analytic data to Facebook once opened.
Tencent and United Nations announce global partnership to hold thousands of conversations online through platforms including VooV Meeting for the UN's 75th anniversary
PR Newswire
Tencent and the United Nations (UN) today announced a new and innovative global partnership for the UN's 75th anniversary, which will host thousands of online conversations through VooV Meeting (international version of Tencent Meeting), WeChat Work and Tencent Artificial Intelligence Simultaneous Interpretation (Tencent AI SI). This partnership means that amid the coronavirus pandemic, the largest global dialogue to date will be conducted with the technical support from one of the world's largest Internet services and technology companies.
UN tackles 'infodemic' of misinformation and cybercrime in COVID-19 crisis
United Nations
In response, a team of WHO "mythbusters" are working with search and media companies like Facebook, Google, Pinterest, Tencent, Twitter, TikTok, YouTube and others to counter the spread of rumours, which include misinformation like that the virus cannot survive in the hot weather, that taking a high dose of chloroquine medication can protect you, and that consuming large quantities of ginger and garlic can prevent the virus.
Australia
China
Chinese social-media platform WeChat saw spikes in the terms 'coronavirus,' 'shortness of breath,' and 'SARS,' weeks before the first cases were confirmed, a study suggests
Business Insider
@Hollysecon
A paper from Chinese scientists found that posts on WeChat, China's main social-media site, used keywords related to the coronavirus in November – weeks before the Chinese government confirmed cases.
USA
Palantir, The $20 Billion, Peter Thiel-Backed Big Data Giant, Is Providing Coronavirus Monitoring To The CDC
Forbes
@iblametom
In the last week, staff at the Centers for Disease Control and Prevention (CDC) started logging into a new web app. It promises to help them watch where COVID-19 is spreading and checks how well equipped hospitals are to deal with the spike in cases of the fatal virus, according to two sources familiar with the tool. According to those sources, it was built by Palantir, a $20 billion-valued big data company whose data harvesting work for the U.S. Immigration and Customs Enforcement agency has provoked criticism from human rights groups.
Restrictions Are Slowing Coronavirus Infections, New Data Suggest
New York Times
Donald G. McNeil Jr.
The company, Kinsa Health, which produces internet-connected thermometers, first created a national map of fever levels on March 22 and was able to spot the trend within a day. Since then, data from the health departments of New York State and Washington State have buttressed the finding, making it clear that social distancing is saving lives.
China Concealed Extent of Virus Outbreak, U.S. Intelligence Says
Bloomberg
@nwadhams @JenniferJJacobs
China has concealed the extent of the coronavirus outbreak in its country, under-reporting both total cases and deaths it's suffered from the disease, the U.S. intelligence community concluded in a classified report to the White House, according to three U.S. officials.
How advanced military medical technology could help in the fight against COVID-19
War on the Rocks
In order to provide medics with remote expertise, the Defense Department has invested in the research and acquisition of telemedicine and data systems that can not only assist medics with care, but can also prepare the receiving medical facility in the upper echelons of care for incoming casualties.
Southeast Asia
Local Music Sharing via Mobile Phones in Melanesia
Australian National University
Amanda H.A. Watson, Denis Crowdy, Cameron Jackson, Heather Horst
Little is known about the use of mobile phones for sharing music content in Melanesia, particularly creative content produced within the region. This In Brief argues that this recent phenomenon is worthy of investigation. It begins by providing a background on music production and mobile phones in Melanesia. It then presents research data from Papua New Guinea (PNG), introduces a specific example of a local music- sharing service in Solomon Islands and offers suggestions for further research.
UK
Europe
Europe shares code for new coronavirus warning app
Politico
@JanoschDelcker @Stephen_G_Brown
European researchers think they have found a way to use mobile phones to contain the spread of coronavirus — and help people avoid infection — without sacrificing the region's high standards on privacy. Eight countries have taken part in the project that will, on Wednesday, release the code for an app that analyzes Bluetooth signals between mobile phones to detect users who are close enough to infect each other, members of the group of about 130 academics, activists and technologists told POLITICO.
How China unleashed Twitter bots to spread COVID-19 propaganda in Italy
Formiche
An exclusive report by Alkemy for Formiche shows an impressive amount of bots flooded Twitter in March to spread China's COVID-19 propaganda in Italy.
Russia
Russia's Planned Coronavirus App is a State-Run Security Nightmare
Gizmodo
@swodinsky
Earlier today, the head of Moscow's Department of Information Technologies, Eduard Lysenko, told the Ekho Moskvy radio station that local authorities had developed a smartphone app meant to be downloaded by Moscow residents that had contracted the disease, which would allow federal officials to keep watch on their movements.
Misc
Maybe we shouldn't use zoom after all
Techcrunch
@zackwhittaker
Zoom's recent popularity has also shone a spotlight on the company's security protections and privacy promises. Just today, The Intercept reported that Zoom video calls are not end-to-end encrypted, despite the company's claims that they are.
Ex-NSA hacker drops new zero-day doom for zoom
Techcrunch
@zackwhittaker
Patrick Wardle, a former NSA hacker and now principal security researcher at Jamf, dropped the two previously undisclosed flaws on his blog Wednesday, which he shared with TechCrunch.
Jobs
Fellowship Opportunity - June 2020 to May 2022
National Security Archive
Through a generous grant from the Hewlett Foundation, the National Security Archive has an opening for a Cyber Fellow to help run the Cyber Vault Project for a two-year period (June 1, 2020 – May 31, 2022).