Why Trump mentioned CrowdStrike to the Ukrainian president / How TikTok censors videos that do not please Beijing / Teenage girls threatened & doxxed for sounding the alarm on climate


Follow us on Twitter. The Daily Cyber Digest focuses on the topics we work on, including cyber, critical technologies & strategic issues like foreign interference.
---
ASPI ICPC

Australia's Cyber Strategy, version 2.0
ASPI ICPC
Back in 2016, Australia launched its first national cybersecurity strategy. The strategy covers a four-year period to 2020, and given the changes in the security environment, an update is now clearly warranted. To that end, the government has just launched a discussion paper to kick off the public consultation. The closing date for submissions on the discussion paper is 1 November.To complement the public submission process, ASPI's International Cyber Policy Centre is initiating a public debate on what should be included in the next cybersecurity strategy. Contributions will be compiled into a report that we will deliver to the Department of Home Affairs to inform the strategy's development.
---
Tech can be a tool for governments to exert control, experts say
The Straits Times
Grace Ho
Technology has brought greater convenience, but governments can also use it to exert political control over many aspects of people's lives, said experts on Wednesday (Sept 25) at the Conference on Foreign Interference Tactics and Countermeasures organised by the Nanyang Technological University's S. Rajaratnam School of International Studies. For developments like smart cities, hard questions must be asked of where data collected by companies goes to, said Australian Strategic Policy Institute analyst Samantha Hoffman during a panel discussion on state actors and foreign interference tactics.
The World
Revealed: how TikTok censors videos that do not please Beijing
The Guardian
@alexhern
TikTok, the popular Chinese-owned social network, instructs its moderators to censor videos that mention Tiananmen Square, Tibetan independence, or the banned religious group Falun Gong, according to leaked documents detailing the site's moderation guidelines. The documents, revealed by the Guardian for the first time, lay out how ByteDance, the Beijing-headquartered technology company that owns TikTok, is advancing Chinese foreign policy aims abroad through the app.
Teenage Girls Are Leading The Climate Movement — And Getting Attacked For It
BuzzFeed News
@zhirji28
A new movement of teenage climate activists — most of whom are girls — are getting dragged, doxed, hacked, and harassed online.
Deadly Kiss: Hit one to rule them all
Telsy
A clear picture emerged that led to the observation of an advanced, rare and extremely evasion-oriented malware, which implements effective stratified obfuscation techniques and adopts many solutions dedicated to operate "under the radar".
Australia
RBA reveals adversaries tried to exploit rare outage
IT News
Julian Bajkowski
When the Reserve Bank of Australia's data centre was unexpectedly unplugged by an errant fire control system test in August last year, it took just seconds for adversaries to start sniffing around some of Australia's most critical infrastructure for holes to exploit.
China-based academic says Australia is naive to rely on US, after Morrison's comments on trade
ABC News
@Amy_Greenbank
Professor Wang, who is an expert in Chinese foreign policy, ...claimed a video which surfaced online showing hundreds of Uyghur men shackled and blindfolded awaiting transport to a detention centre was "fake news" and "China bashing".
China
China Taps Its Private Sector to Boost Its Military, Raising Alarms
WSJ
@Kate_OKeeffe @JNBPage
Beijing is increasingly tapping private Chinese firms to acquire foreign technology for its military, according to officials and a new report, in a strategy that is prompting calls by leaders in Washington to retool U.S. national security policy.
Alibaba unveils chip developed for artificial intelligence era
Financial Times
@YuanfenYang
Alibaba has unveiled its first chip designed for artificial intelligence applications, becoming the latest non-traditional chipmaker to develop its own hardware amid a push from the Chinese government for self-sufficiency in semiconductors.
Bumbling social media scheme hit Hong Kong protestors
Axios
@JoeUchill
Researchers at Graphika uncovered an amateurish social media campaign targeting the Hong Kong protests that spanned across hundreds of accounts on several mainstream Western platforms.. "The campaign focused on video content with short videos supporting police, and attacking protesters," said Nimmo, adding that other elements of the campaign dated back to at least 2018 and targeted billionaire emigrant Guo Wengui.
China's tech giants pledge allegiance ahead of national day
Inkstone
@qinchencq
A week before China's national day celebration on October 1, tech giant Tencent is promoting a red Chinese flag filter to users of its all-in-one app WeChat.
Chinese drone maker DJI says US sales ban an affront to industry
Financial Times
@PatrickMcGee_
DJI, the Chinese drone maker, has said that Washington's bid to block US sales of its products is an affront to an emerging industry, arguing for comprehensive regulatory standards rather than bans aimed at individual companies based on their nationality.
USA
The Truth About Trump's Insane Ukraine 'Server' Conspiracy
The Daily Beast
@kpoulsen
Trump asked Ukraine's president to help prove a bonkers, Russia-friendly conspiracy theory that U.S. intel relied on manufactured evidence to blame the 2016 DNC hack on Moscow.
As Impeachment Inquiry Begins, Facebook Says Politicians Can Post Whatever They Want, No Matter How Fake
BuzzFeed News
@broderick @kantrowitz
On Tuesday, as the country waited for House Speaker Nancy Pelosi to announce a formal impeachment investigation into President Donald Trump, Facebook's vice president of global affairs and communications, Nick Clegg — the deputy prime minister of the United Kingdom from 2010 to 2015 — took to the stage at the Atlantic Festival in Washington, DC, to clarify how the platform handles elected officials: hands off.
Group Behind California Privacy Law Aims to Strengthen It
The New York Times
@natashanyt
Privacy advocates got a big win last year, pushing through a landmark law in California. Now, before the law even goes into effect, they are moving to make the statute tougher. Californians for Consumer Privacy, the nonprofit group behind the privacy law, announced a plan on Tuesday to give Californians new data rights and place new obligations on companies. Most significant, the proposal would require California to establish a data protection agency with the power to enforce the law and issue new regulations.
Chinese Official Charged in Alleged Visa Scheme to Recruit U.S. Science Talent
WSJ
@aviswanatha @Kate_OKeeffe
A Chinese government official and his allies allegedly tried to convince at least seven U.S. universities to sponsor visas for purported Chinese research scholars who in reality aimed to recruit American science talent, according to a recently unsealed criminal complaint filed by the Justice Department. They succeeded at least once, the complaint says. The Wall Street Journal has identified two of the targeted institutions as the University of Georgia and the University of Massachusetts Boston.. The complaint also alleges that the head of one university's Chinese government-funded Confucius Institute offered to assist Mr. Liu in the alleged fraud.
U.S. security experts admit China's 5G dominance, push for public investment
TechCrunch
@jshieber
U.S. security experts are conceding that China has won the race to develop and deploy the 5G telecommunications infrastructure seen as underpinning the next generation of technological advancement and warn that the country and its allies must develop a response — and quickly.
North Asia
Can Taiwan control China's keyboard warriors?
Financial Times
@YuanfenYang
This siege of propaganda comes via social media as well as traditional news channels: journalists working at one Taiwan media group have told the FT that their editors have received instructions on coverage directly from Beijing. As well as propaganda, there's also disinformation — outright falsehoods or conspiracy theories — propagated via Chinese and foreign social media. Taiwan's legislators are mulling how to respond. The government has pledged to monitor the spread of fake news more closely and work with tech giants to take it down.
Canada
Canada's Green Party alters photo of leader using single-use cup
The Guardian
@LeylandCecco
Canada's Green party has admitted to manipulating a photograph on its website to make it seem as if the party leader was using a reusable plastic cup and metal straw instead of a disposable paper cup.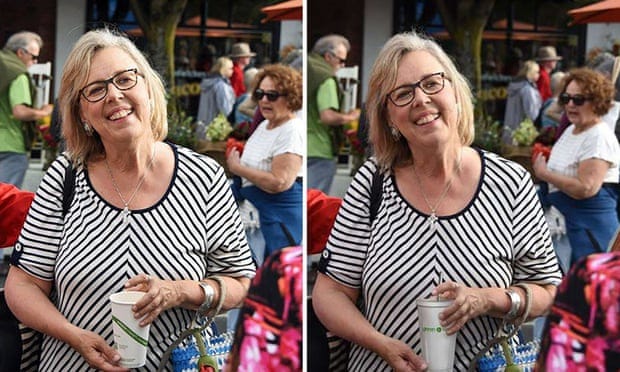 Image of Elizabeth May manipulated to make it seem as if she was using a reusable cup and metal straw instead of a disposable cup. Photograph: Green Party of Canada.
Misc
Looking back at the Snowden revelations
A Few Thoughts on Cryptographic Engineering
@matthew_d_green
Edward Snowden recently released his memoirs. In some parts of the Internet, this has rekindled an ancient debate: namely, was it all worth it? Did Snowden's leaks make us better off, or did Snowden just embarass us and set back U.S. security by decades? Most of the arguments are so familiar that they're boring at this point. But no matter how many times I read them, I still feel that there's something important missing.
Fremont police Tesla runs low on juice during high-speed chase
The Mercury News
@josephgeha16
'I am down to six miles of battery,' officer said during highway pursuit.
Events
The Digital Revolution in the Pacific
ASPI ICPC
ASPI's International Cyber Policy Centre warmly invites you to attend a panel discussion to consider how governments and businesses in the Pacific Islands are reaping the benefits and tackling the challenges stemming from increased internet and mobile connectivity.
The rise of information warfare: in-conversation with Peter W. Singer
ASPI ICPC
ASPI's International Cyber Policy Centre invites you to an in-conversation with Peter W. Singer and Danielle Cave to consider the rise of information warfare. Peter Warren Singer is strategist and senior fellow at New America. He has been named by the Smithsonian as one of the nation's 100 leading innovators, by Defense News as one of the 100 most influential people in defense issues, by Foreign Policy to their Top 100 Global Thinkers List, and as an official "Mad Scientist" for the U.S. Army's Training and Doctrine Command. A drinks and canapes reception will conclude the event. This event is kindly supported by Microsoft.
Thank you for reading the Daily Cyber Digest. If you have any feedback, please let us know via email at icpc@aspi.org.au Know someone who may enjoy getting this? They can sign up here.